Could a mustached man sporting a paisley ascot be the key to overcoming pandemic-era isolation? It's entirely possible, if he happens to be Phoenix creative Steve Wilcox, and he's suavely swirling a bit of amber-colored liquor in a tasteful rocks glass.
Wilcox created the alter ego Parsley Periwinkle, hoping to engage fellow Phoenicians feeling the pangs of social distancing and seclusion. No concerts. No dinners out with friends. No movies. That was life for most people for more than a year.
Now that the city is slowly opening up again, some people are finding their former social butterfly selves reverting to cocoon mode. That's where Parsley Periwinkle comes in, as a masterful facilitator of conversation — with a comic twist.
Wilcox created the character after someone suggested he do a one man show. "I'm a little allergic to those monologue-type things because they can get self-indulgent," Wilcox remembers thinking at the time.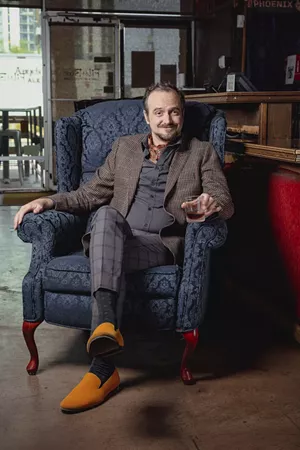 Still, he liked the challenge it presented and the idea of facilitating audience interaction. "Also, I have a really big ascot collection."
The actor found inspiration in an odd mix of personalities, from Fred Rogers of Mister Rogers fame to
Playboy
's Hugh Hefner. "Mister Rogers created a space where the audience felt welcome and willing to explore, and Hugh Hefner invited people into his swanky soiree," he explains.
Other influences include talk show legend Dick Cavett and conservative commentator William F. Buckley, which helps to explain Parsley Periwinkle's fashion choices and mid-century vibe.
The name Parsley Periwinkle stems from Wilcox's fascination with the comedy of funny names, the fact that he considers the letter "P" particularly funny, and his fondness for finding words that fit together. He titled his one-man show
A Perfectly Pleasant Party With Parsley Periwinkle
.
It opened in mid-September inside the FilmBar Lounge, where it continues through October 9.
"I'm a patron of FilmBar and I was looking for a bar so there could be a tasting element," he recalls of choosing the independent Roosevelt Row cinema house as the site for his interactive one-man show.
Tickets to the production are $30
, but patrons have the option of adding a $10 beer flight that comes in handy when Periwinkle starts to flaunt his cocktail expertise.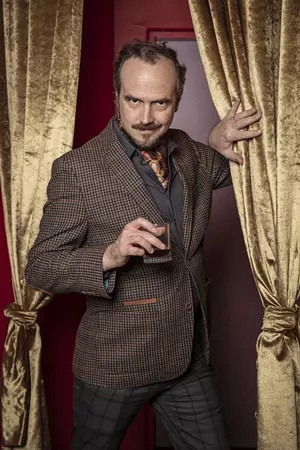 Wilcox trained in classical theater, but says he has a predilection for performing in nontraditional spaces. "These in-between spaces make such an ideal environment for micro-theater," he says. "I want people to feel like they can chat and have their phones on; it creates a more comfortable environment."
A Perfectly Pleasant Party With Parsley Periwinkle
is essentially a cocktail party, although patrons needn't drink to participate or enjoy the show. That's just the setting Wilcox chose for his character, who channels an era when dressing up and sipping drinks was de rigueur.
"We play some games, we mix and mingle," Wilcox says of how the evening unfolds. "There's a lot of general silliness, but I don't put anyone on the spot." Audience participation is welcome, but not required. Whether you don a fun mix of midcentury clothing and accessories is up to you.
Wilcox knows that not everyone is ready to re-enter social spaces, or return to live theater. But he decided to give it a go. And now he's thinking of taking Parsley Periwinkle on the road.
"It's an unusual time to be making art and gathering people," he says. "But there's a lot we can do to help people connect despite the pandemic."