Describing Phoenix Comicon 2013 as busy would be a major understatement. As is the case with each and every version of the annual geek free-for-all, it was a vast hive of activity spread across the entirety of the Phoenix Convention Center, as well as adjacent venues and hotels.
We attempted to capture as much of the action, energy, and movement of Comicon as possible -- including the hubbub of the Exhibitor Hall, the chaos of cosplayers, the frenzied Zombie Walk, and the after-hours verve at various parties -- in more than two-dozen animated GIFs. There's more than a few unforgettable moments from special guests, including the always entertaining John Barrowman.
See Also: Phoenix Comicon 2013: Our Complete Coverage The Costumes and Cosplayers of Phoenix Comicon 2013 The Geek Girls, Booth Babes, and Sexy Super-heroines of Phoenix Comicon 2013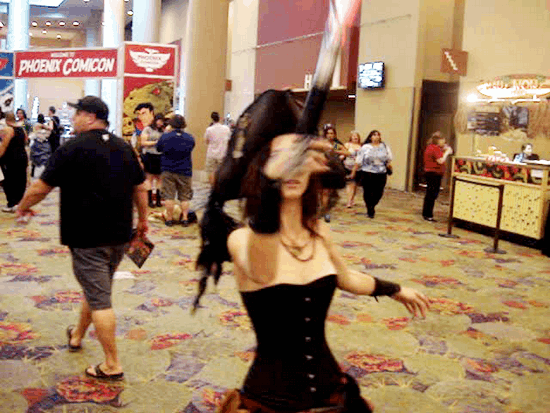 The Force is With Her Nice lightsaber moves, lassie, but any faux Jedi knows you don't grab it by the blade (unless you wanna pull a Luke Skywalker in The Empire Strikes Back).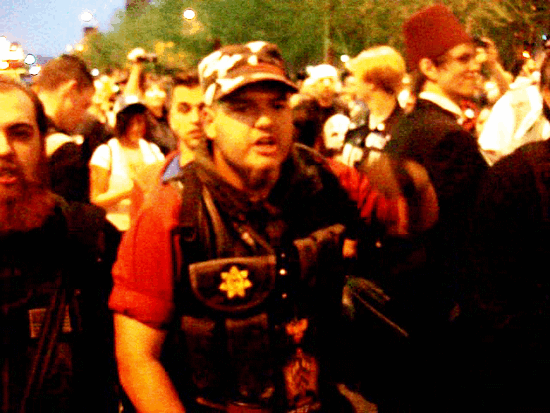 Zombie Bombing This volunteer with the Department of Zombie Defense was freakin' pumped -- especially when chanting "D...O...Z...D!" -- prior to the Zombie Walk on Friday night, but not as much as the wiseacre video bomber behind him.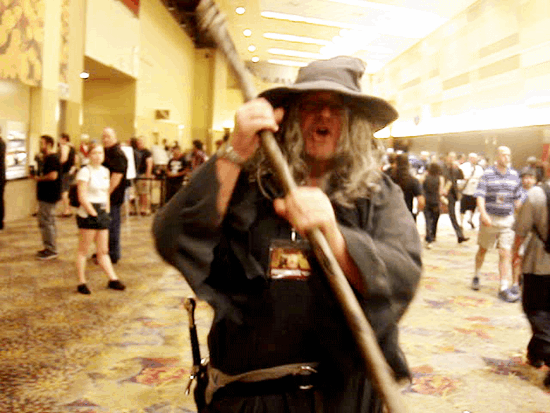 Gandalf's Big Moment Follow along at home as this Lord of the Rings fan portrays the wizard's defining oft-quoted declaration from the trilogy and bellows, "YOU SHALL NOT PASS!"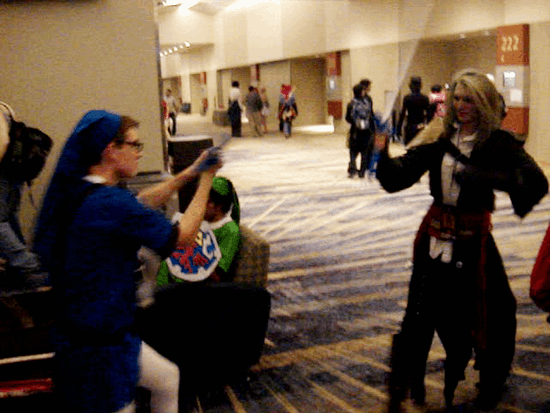 Ancient Geek Warfare A nerd-fight staged in the hallways of the Phoenix Convention Center. It's just like the Renaissance Festival, only with hyperactive costume dorkzoids instead of smelly costumed hippies.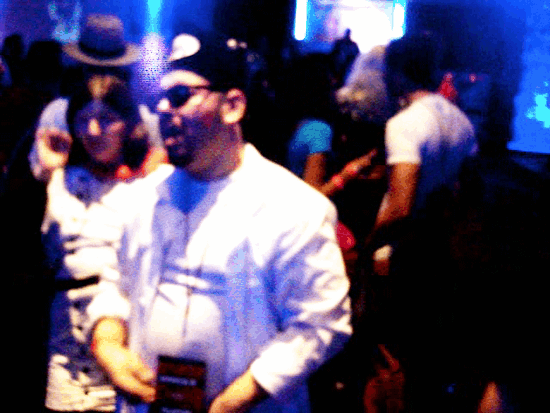 Big Pimpin' Showing off some major swag at the Geek Prom while lip-synching to Weird Al's "All About the Pentiums."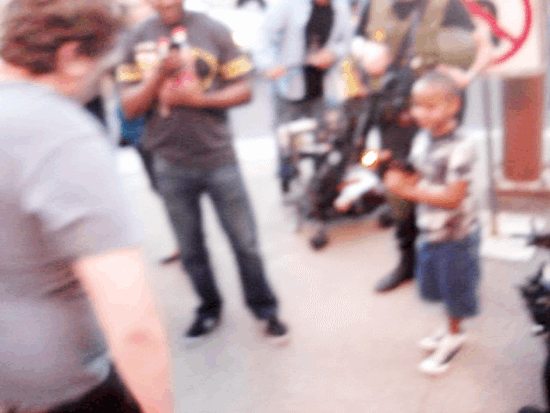 Not-So-Big Shooter A pint-sized guy snuffs out a member of the undead with his toy machine gun at the Zombie Walk outside of the Phoenix Convention Center.
Wesley Crushes It Geek icon Wil Wheaton gets victorious after mumbling through a weird and cumbersome plug at the request of an attendee of his "Awesome Hour" Q&A session on Friday. The Star Trek: The Next Generation star didn't come close to mimicking what the person asked him to repeat, but celebrated "nail[ing] it" nonetheless. No one minded.
You've Got Game, Boy This gigunda, cartoonish version of the classic Nintendo handheld at the Adventure Time Rave on Saturday had more moves than an import copy of Rhythm Tengoku.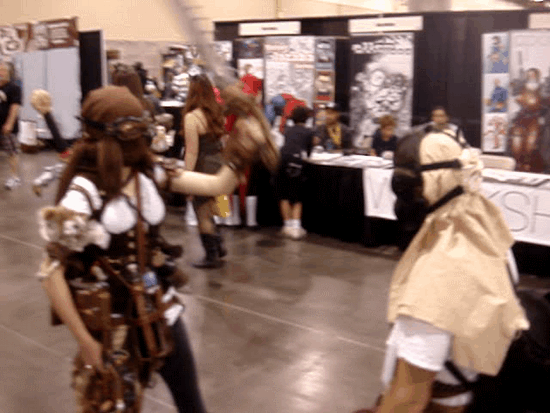 Tough Love Disciplining an unruly and disobedient minion with the business end of a serrated bread knife on steroids.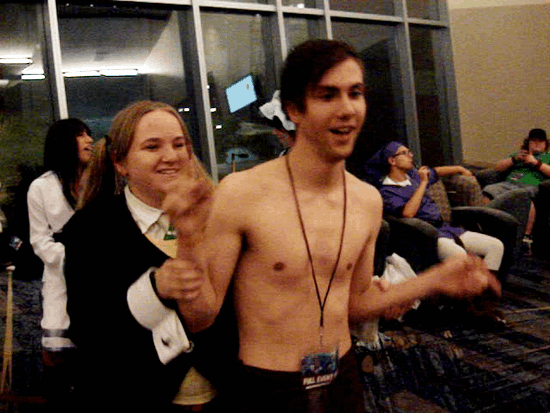 Mischief in Action What happens when you mix sleep-deprived post-adolescents with too much caffeine and a day filled with anime programming at Phoenix Comicon.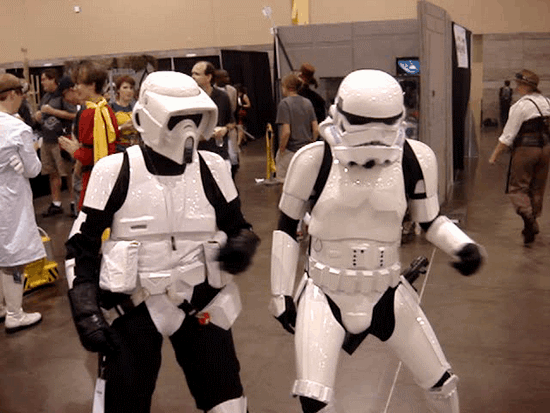 Dance Troopers Although Imperial soldiers can't shoot for shit -- despite years and years of intense military training -- and are especially vulnerable to Ewoks, they can apparently cut a rug big time.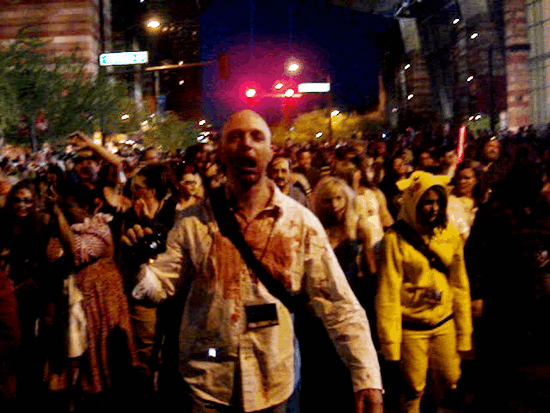 Stumble Upon The last thing you'll see before becoming a light snack for the undead during the impending Zombie Apocalypse.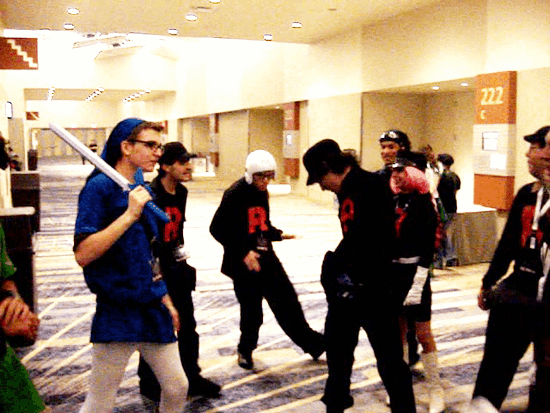 Pokémon: The Broadway Musical These cosplayer youngsters make singing the Pokémon theme song seem like effin' West Side Story. Check out the a longer version with audio via this YouTube clip.
Wil Power Wil Wheaton cheerfully exclaims "I suck!" during his Friday Q&A, even though all the evidence -- like his wealth, various books, blogs, social media ouput, TV appearances, web series, and whatnot -- points to the contrary.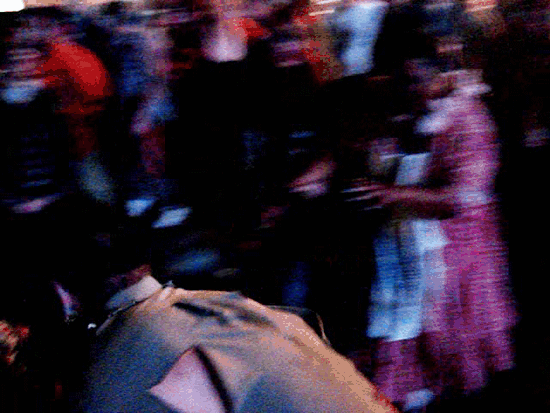 Zombie A Go-Go These shovel-wielding brain-munchers dug hard on scaring the crap outta the crowd at the Zombie Walk on Friday night with his spark-inducing shenanigans.
Hyrule the School Coming soon to the Wii U...Zelda II: Link's Big Adventure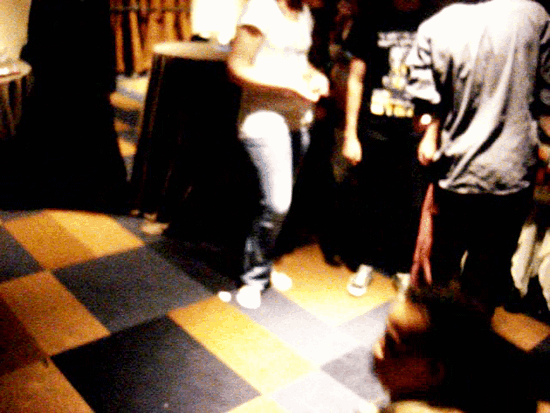 Hump Night A dancer at the Adventure Time Rave on Saturday night flips off the safety and sets his crotch to rapid fire mode.
Jump Around This attendee brought her jumping stilts and ample multi-tasking skills to Phoenix Comicon. She even let out a few bird calls to boot. One astounded onlooker even stated, "I'm not gonna lie, that's pretty epic right there...total props." Word.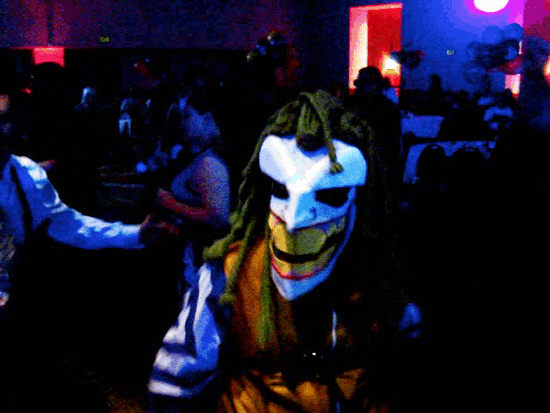 The Clown Prince of Dance The cartoon version of the Joker from The Batman gets animated at the Geek Prom. It definitely will put a smile on that face.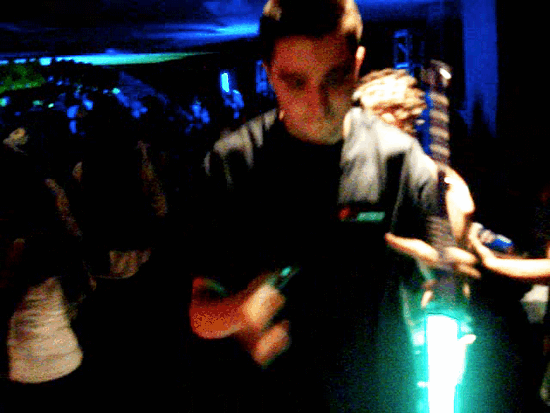 Jedi, Set, Go Yoda himself would be proud of the steps shown off by this young Padawan at the Adventure Time Rave.
And finally, the over-the-top antics of John Barrowman... Captain Jack Gone Wild Those who weren't at the Phoenix Convention Center's North Ballroom on Sunday morning for Barrowman's 78-minute appearance/Q&A session certainly missed out on a memorable experience. The erstwhile Captain Jack of Doctor Who and Torchwood fame was manic, charismatic, and downright hilarious, particularly when he resorted to over-the-top high jinks (which was quite often).
The openly gay Scottish-American thespian had his energy cranked up to 11 as he soaked up the cheers of the packed house and bounded about the stage while acting out the answers to many a fan's questions.
Barrowman's antics included shaking his moneymaker...
...showing off how he drives one of his many pimp rides "like Libe-frickin'-race"...
...and much clowning around and mugging for the audience.
The also got an infamous penchant for snogging on camera and gleefully acted out how he'd make out with a tentacle-faced Ood from Doctor Who...
We Believe Local Journalism is Critical to the Life of a City
Engaging with our readers is essential to Phoenix New Times's mission. Make a financial contribution or sign up for a newsletter, and help us keep telling Phoenix's stories with no paywalls.
Support Our Journalism
...as well as re-enacting how he managed to get in multiple guy-on-guy heavy petting sessions with James Marsters for an episode of Arrow, whether the actor liked it or not.
And then there was our favorite moment of his appearance, if not the entire 'con. After an eager fan asked who he "fan-boyed" over, someone brought up Nathan Fillion, causing Barrowman to do the following:
Guess Captain Jack's a big fan of Captain Malcolm.
Follow Jackalope Ranch on Facebook and Twitter and Pinterest.