Working with tamale wrapper paper and thread, Phoenix artist Annie Lopez created a cyanotype piece titled
Native North American
, including two of her own childhood photos with repeated text including the words "South Central North."
She's
one of more than 70 artists
whose work was shown during "Chaos Theory," an invitational exhibition organized by Randy Slack, who co-founded the annual exhibit more than 20 years ago.
Lopez is one of a handful of artists who've consistently shown work at "Chaos Theory" through the years, often exploring her immigrant roots and Latino identity, as well as the bigotry she's encountered in the art world and the community at large.
Her piece is one of several compelling portraits in this exhibition, which includes artworks in several mediums — including painting, photography, mixed-media, metal, fiber, and more.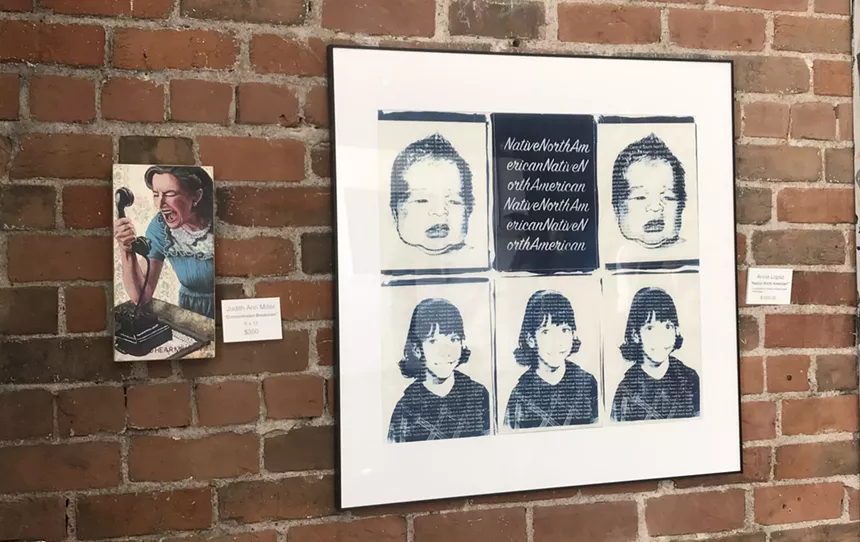 Others were created by Carolyn Lavender, who used acrylic and graphite on prepared paper to manifest her niece as Anne Boleyn for a new series of portraits elevating feminist themes, and Rachel Bess, whose title for her compelling oil painting of a female figure channels a familiar pandemic feeling:
Crumpling Space-Time
.
The artist lineup for "Chaos Theory" has been relatively stable for several years, with modest changes that loop in different emerging and established artists over time. Last year, Slack canceled the exhibit, citing Covid-19 concerns.
Although this year's iteration didn't deliver any surprises in terms of ideas, materials, or form, it did serve as an important milestone for the arts community, signaling the fact that a growing contingent of artists are moving towards negotiating a new normal in the local arts scene.
As you'd expect, several artists greeted this pandemic-era exhibition with humor. The Molten Brothers embellished a small oil painting of a roll of duct tape with two ceramic banana peels. William LeGoullon created a grid with 81 photographs of stucco in various shades of beige.
The landscape offerings were particularly interesting this year, due in part to artists' vastly different styles. Randy Slack's large-scale painting provided underwater and above-the-surface views of a body of water in Japan. Elizabeth Brice-Heames brought a strong graphic element, complete with a radically curved saguaro cactus, to her landscape titled
200 miles down the Salt River
.
For
Lithium
, Christina Ramirez used thick layers of paint and repeating lines to create a hypnotic white mountain, proving that simplicity can have striking results. Andy Brown created patterns at once orderly and random, forming an intriguing maze-like environment with a mixed-media piece called f
inding the way
.
JB Snyder exhibited a fluid oblong painting with a rainbow of hues set amid intersecting curved lines that created playful vignettes of color and form.
Meanwhile, Bill Dambrova showed his facility for creating narrative abstractions infused with human anatomy in a mixed-media on canvas piece titled
I Think I Hit Your Back Button
, amplifying its humorous tone with a pair of ceramic pineal glands suspended from the bottom of the piece.
Working with fabric, thread, and hook and eye tape typically used in garment construction, Denise Yaghmourian delivered a sophisticated field of symmetry she calls
Scattered Blue Field
.
Taken together, these works reveal the ways Arizona artists are transforming their ideas into an intriguing array of aesthetic forms, sometimes working with themes rooted in desert life but often taking a more expansive view.
Artists whose works addressed the natural world include Jennyfer Stratman and Mayme Kratz. For this year's "Chaos Theory," Kratz showed
Twilight Study 2
, a small-scale piece with poppy pods set in resin. Stratman showed a bronze, steel, and enamel wall sculpture she calls
Standing Between Desert and Moon
, setting miniature figures and desert plants amid fluid lines that suggest water flowing through a desert expanse.
Other stand-out artworks included
Creator is a Woman
, Jacob Meders' piece made with found object, acrylic, and gold leaf, and a large-scale sculpture titled
Double Take
. Created by emerging artists Merryn Omotayo Alaka and Sam Fresquez, the suspended chandelier made with Kanekalon hair and braid clamps reflects the ways their identities have been shaped by expectations for Black and Latinx women.
Despite the relative sameness of "Chaos Theory" exhibitions in recent years, the invitational continues to be an important marker on the Arizona arts landscape, where Slack creates space for selected artists to demonstrate a strong mix of conceptual and aesthetic depth.