Sometimes, horrible controversy begats great art.
Such is the case with spray paint artist Ernesto Yerena Montejano, aka Hecho Con Ganas, who cited Phoenix as his "third home" after stopping by in January for a Sheriff Joe protest. His work is killer: clean, bright and graphic, with powerful messages and iconic images like this one of Latino astronaut José Hernández.
All images by Hecho Con Ganas via Photobucket
And at least some of it, these days, is focused on Arizona and Maricopa County.
​Why haven't you heard of this guy before? Montejano has been hiding in the wings (pun intended) behind the legendary Shepard Fairey, working as a design assistant. The two paired up to create several familiar prints, including this one inspired by Nazi propaganda posters:
Montejano is literally a child of two worlds, having grown up in a border town in California. He would go to school every day in the U.S. and then cross the border into Mexico to chat or have dinner with his family. We're guessing that was well before the era of minutemen and Sheriff Joe.
Hard to believe Montejano has never had a solo art show! He's about to break into the art world with his first exhibit at SF White Walls in November of this year, so keep your fingers crossed that some of his works spotlighting Arizona land in the show.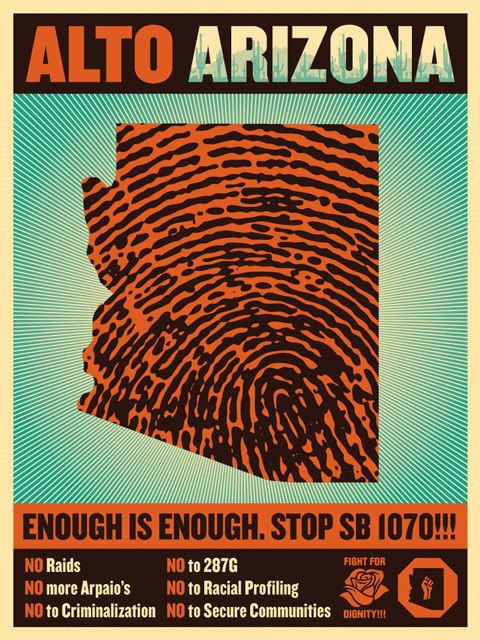 In the meantime, you can always pop by his Photobucket page or his
If you like this story, consider signing up for our email newsletters.
SHOW ME HOW
X
Newsletters
website
to snag a piece of
Hecho Con Ganas
(Spanish for "made with motivation/desire/passion") for yourself.