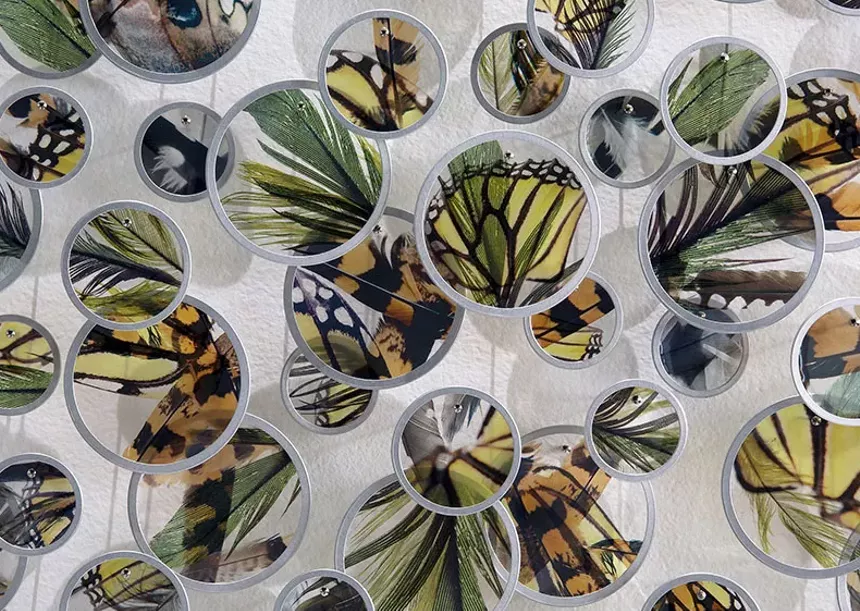 'Temporary in Nature'
You've likely heard the term "Anthropocene era" tossed around a time or two, especially by those who say we've entered a new era of devastating human impacts on the natural world. Now, you can see how a dozen artists working with a curious array of materials are addressing those effects while exploring ways they can be part of the solution. They're part of the "Temporary in Nature" exhibit at
Lisa Sette Galley
, 210 East Catalina Drive, where gallery hours on Thursday, October 21, are 10 a.m. to 4 p.m. Featured artists include Alan Bur Johnson, Mayme Kratz, Yao Lu, and James Turrell, whose creative practice includes developing a monumental land art installation in the Arizona desert. The exhibition is free, and it continues through December 31.
Lynn Trimble
Chris Kattan
When you think of comedian Chris Kattan, memories of such over-the-top characters from his seven-season stint on
Saturday Night Live
(like the feral simian Mr. Peepers or the male exotic dancer Mango) and films like
A Night at the Roxbury
(where he played the perpetually head-bobbing Doug Butabi) easily float to the surface. And while Kattan's stand-up comedy doesn't get anywhere as hyperactive or flamboyant, its still quite animated and lively. Jokes about relationships, annoying pets, or social media nitwittery fly by during his energetic sets. Experience it for yourself when Kattan comes to CB Live, 21001 North Tatum Boulevard, on Thursday, October 21. The comedy starts at 8 p.m. and
tickets
are $25 (plus a two-drink minimum).
Benjamin Leatherman


Moon Viewing
Enjoy a Japanese custom right here in Phoenix, as the
Japanese Friendship Garden
, 1125 North Third Avenue, celebrates the full moon and harvest season with its moon-viewing festival called Otsukimi. It's a chance to stroll along peaceful garden paths, enjoying Japanese arts and culture along with sake and snacks. Festival hours are 5 to 9 p.m. on Friday and Saturday, October 22 and 23. Expect a robust lineup of activities including haiku poetry, calligraphy, flower arranging, bamboo art installations, kimono and candle art displays, and traditional Japanese musical performance. Timed tickets are $25, and you need to get them online before attending. Then prepare to unwind amid the garden's exquisite landscape.
Lynn Trimble
Owl-o-Ween
Owls have been associated with vastly different properties through the years. In some cultures, they signal death. In others, they're harbingers of insight and wisdom. The feathered, head-spinning creatures appear in myriad children's tales, including Edward Lear's
The Owl and the Pussy-Cat
, A.A. Milne's books about Winnie the Pooh, and J.K. Rowling's
Harry Potter
series. Whether you're a diehard fan or merely curious about owls, you can learn a little something about their desert digs during the first Owl-o-Ween event on the
ASU Polytechnic campus
, which is home to the Burrowing Owl Conservation Project. They'll be doing wildlife demonstrations, tours, trivia, and airbrushed tattoos during the family-friendly event that runs from 2 to 5 p.m. on Saturday, October 23, when they'll also be doing giveaways for those who come in costume. The free event happens at 5999 North Backus Mall, Mesa.
Lynn Trimble

Mikiztli Festival

For more than 25 years, the nonprofit Cultural Coalition led by Carmen and Zarco Guerrero has been focused on celebrating, developing, and supporting Indigenous art and artists. On Sunday, October 24, they'll hold their 10th annual Day of the Dead celebration from 1 to 6 p.m. at
Steele Indian School Park
, 300 East Indian School Road. Admission is free. Expect a vibrant mix of storytelling, youth performance, mask art, live music and dance, creative vendors, and a community procession honoring the dead and their connections to the living. The festival's name hails from Indigenous tradition, by the way, and organizers use it to counter the colonizer influence that often reduced the Dia de los Muertos to just another excuse to go all in on the margaritas.
Lynn Trimble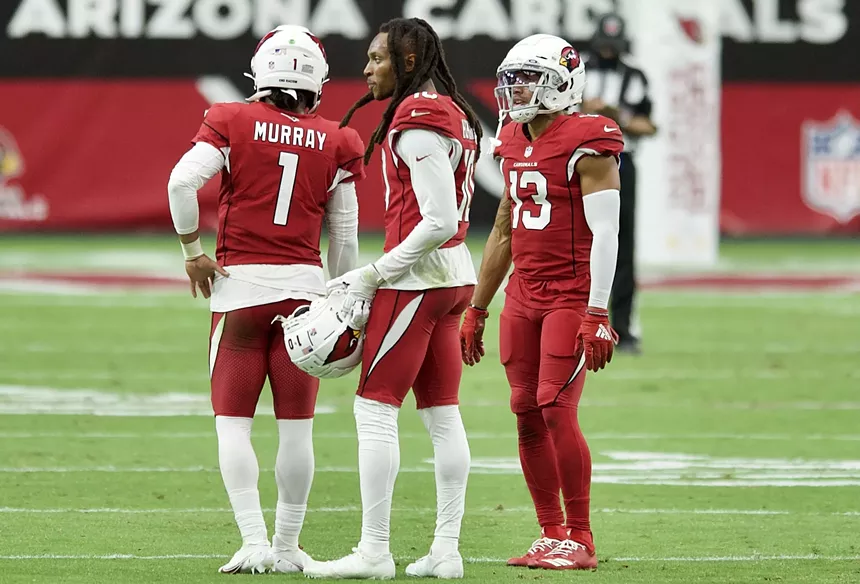 Arizona Cardinals v. Houston Texans
If you're not already on the Arizona Cardinals' bandwagon, there's still time to hop aboard. A third of the way through the current NFL season and the Red Birds are an astonishing 6-0. Every game hasn't been flawless (the team barely beat the Minnesota Vikings in Week 2), but their won/loss record is still perfect. Credit the outstanding play of quarterback Kyler Murray, wide receiver DeAndre Hopkins, and running back James Conner, as well as some great work by the Cardinals' defense. Arizona is on a roll and will try to keep the momentum going against the hapless Houston Texans on Sunday, October 24, at State Farm Stadium, 1 East Cardinals Drive in Glendale. The Texans (1-5) are riding a streak of their own, having lost five straight games, and oddsmakers are
heavily favoring
the Cards to pick up another victory. Anything can (and will) happen in the NFL, though, so nothing is certain. Kickoff is at 1:25 p.m. and
tickets
start at $40.
Benjamin Leatherman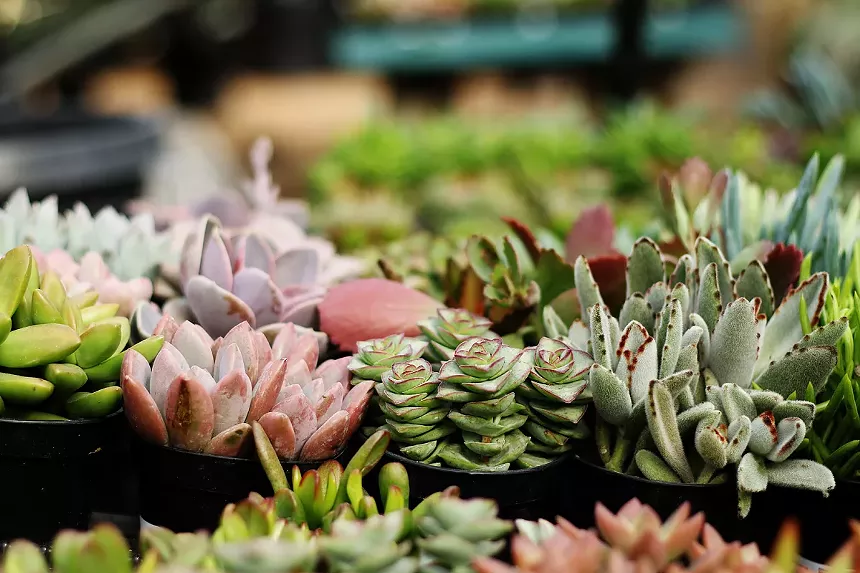 Succulent Skulls
Skulls take center stage this time of year as celebrations of Dia de los Muertos and Halloween abound. We see them on sugar cookies, on T-shirts, on masked performers, and more. Get in the spirit with a Succulent Skulls workshop at
Dig It
, 3015 North 16th Street, where you can make a succulent arrangement in a custom skull planter. It's happening from 10 to 11 a.m. on Sunday, October 24. Never fear if you don't have a green thumb. The Dig It plant experts will guide you through the process, and share tips for keeping your succulent happy once you get it home. The workshop is $45, which includes small eats and beverages. Best of all, part of the proceeds will go to the Phoenix Children's Hospital Foundation, where they're all about helping children thrive and grow.
Lynn Trimble
'Homeland (In)Security'
"Homeland" is a pretty loaded term, which helps to explain why so many artists explore its meanings in their work.
Modified Arts
, 407 East Roosevelt Street, recently reopened its indoor gallery space after a lengthy pandemic pause, with an exhibit titled "Homeland (In)Security." The exhibit features works in several mediums, including drawing, printmaking, mixed media, and more. Participating artists Gloria Martinez-Granados, Karen Nazario, Elizabeth Pineda, and Yvette Serrano seek to share multifaceted expressions of home while exploring complex ideas about belonging and displacement in the context of the pandemic and various sociopolitical factors. Gallery hours are 9 a.m. to 5 p.m. on Monday, October 25, when Local First Arizona staff will be in the space. Gallery staff are on hand during First and Third Fridays, and Saturday afternoons. The exhibit runs through November 5. Gallery admission is free.
Lynn Trimble
Creature Feature
Boomers might get a bad rap, but they can always find solace in returning to their childhood memories of classic films and music. This time of year, the black-and-white film called
Creature from the Black Lagoon
always comes to mind, along with memories of donning blue and red lenses to make the most of its 3D technology. The film imagines a group of scientists stumbling on an amphibious humanoid creature in the Amazon, where violence ensues. Revisit the 1954 movie at the
Orpheum Theatre
, 203 West Adams, during a 6:30 p.m. screening on Tuesday, October 26. Tickets are $16. If you really dig it, find time to watch one of the movies that was inspired by the film: Guillermo del Toro's 2017 movie called
The Shape of Water
, which considers the viewpoint of the creature and takes him deeper into the realm of unexpected love.
Lynn Trimble
Harlem Shuffle
If you follow book releases and all the buzz that surrounds new titles, you're likely familiar with
Harlem Shuffle
by Colson Whitehead. Now, you have a reason to hop right on reading it, because USA Today books editor Barbara VanDenburgh will be leading a free discussion at
Changing Hands Bookstore,
300 West Camelback Road, at 7 p.m. on Wednesday, October 27. Written by Carlson Whitehead, it's a tale of heists, rip-offs, and shutdowns set in 1960s Harlem. The discussion marks the happy return of the First Draft Book Club to the First Draft Book Bar, where you can go beyond sipping, reading, and talking literature when you get a hankering to browse the bookstore in search of new titles for your own collection or book-inspired gifts for all those people in your holiday list.
Lynn Trimble