Congratulations: You've made it through another week. Make the most of those precious weekend hours by seeing comedy legend John Cleese, attending one of the fall festivals happening around Phoenix, or attending a horror convention in Tempe.
John Cleese
Actor, writer, and comedian John Cleese is best known for being the co-founder of Monty Python, but don't expect him to rattle off any routines from the legendary comedy troupe's repertoire when he comes to the Orpheum Theater, 203 West Adams Street, on Friday, October 15. Instead, Cleese will perform his one-man show,
Why There Is No Hope
, which involves his "cynical and funny look at the dysfunctional world we live in." Or as the 81-year-old performer told NPR
in a 2020 interview
, "I'm not saying there is no hope other than there is no hope in expecting that we'll ever have a reasonably intelligent, well-run society." In other words, expect him to skewer the current state of things in his uniquely absurd British fashion. His show starts at 7:30 p.m. and
tickets
are $92 to $119.
Benjamin Leatherman
Plant and Pour
Typically, when you hear the words "green" and "beer" uttered together, you figure it's time to go all-in on St. Patrick's Day. But it's October, not March, so there's clearly another reason they've got beer and going green on the brain over at
The Theodore Beer & Wine Bar
, 110 East Roosevelt Street. Turns out, the plant experts at Dig It will be there from 6 to 7:30 p.m. on Friday, October 15, so you can do a little planting while you imbibe. Tickets to the Beer Succulent Event are $20, which gets you a can of beer, along with a succulent and soil so you can use the empty beer can as a planter. Of course, you'll also get tips for how to keep your succulent alive once it's planted and set in just the right spot at your home or office. Space is limited and you need to get tickets online before attending. If the event leaves you wanting more cactus in your life, start by strolling past murals around Roosevelt Row, where you might be surprised by all the creative takes on desert plant life.
Lynn Trimble
Phoenix Fearcon X
Renowned character actor Bill Oberst Jr. – a star of such cult horror films as
3 From Hell
,
Werewolf Rising
,
Devil's Junction
, and
Scary or Die
– will be one of the featured special guests at
Phoenix Fearcon X
on Friday, October 15, and Saturday, October 16, at Sun Studios of Arizona, 1425 West 14th Street in Tempe. He tops a guest list that includes actors like
Day of the Dead
's Terry Alexander, Fred Williamson of
From Dusk Till Dawn
, and Reggie Bannister from the
Phantasm
series, as well as Troma Entertainment co-founder and director Lloyd Kaufman, and authors like Owl Goingback and Vincent Vena Cava. The con will also feature panels, Q&A sessions, horror film screenings, vendors, and zombies. (Oberst will also perform his off-Broadway solo piece
Ray Bradbury's Pillar of Fire
during the event. Hours are 5 p.m. to midnight on Friday and 11 a.m. to midnight on Saturday.
Tickets
are $30 each day, $50 for the weekend, or $75 for VIP admission.
Benjamin Leatherman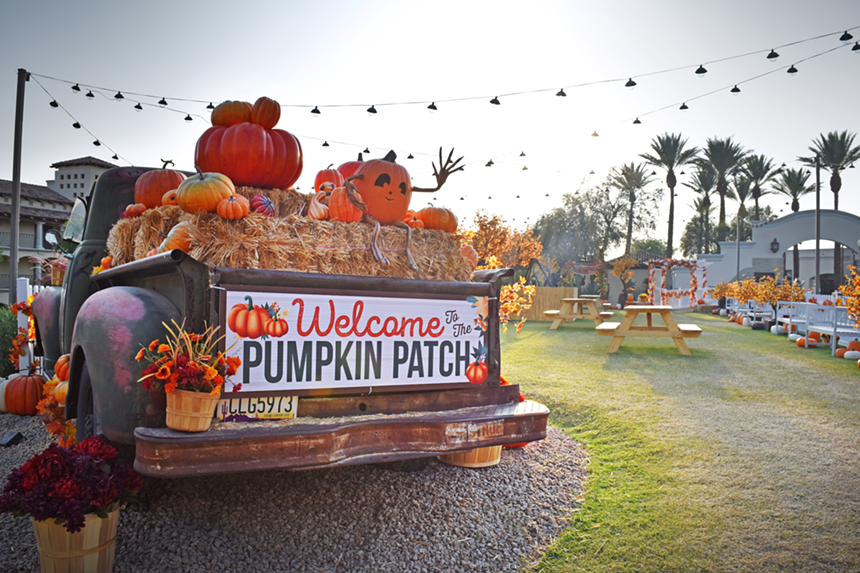 Pumpkin Fest at the Fairmont Princess
A pumpkin patch. Jack-O-Lantern Lane. Apple cider. These are a few highlights at
Pumpkin Fest at the Fairmont Princess
, 7575 East Princess Drive, Scottsdale. You know there will be opportunities to pick out a small or large pumpkin, pose with a pumpkin patch truck, and stand next to the friendliest scarecrows. Have fun navigating the hay mazes with the family or hop on one of the rides — Dizzy Dragons, Black Widow Spider ride, or the Happy Swing ride. Adults can partake in some libations like apple cider, a first at the pumpkin festival this year. Located in Scottsdale, Pumpkin Fest continues through Sunday, October 31. Hours are 5 to 9 p.m. Monday to Thursday and 4 to 10 p.m. on Friday to Sunday.
Tickets
are $72 for four wristbands and self-parking admission or $108 for four wristbands and valet parking.
Rudri Patel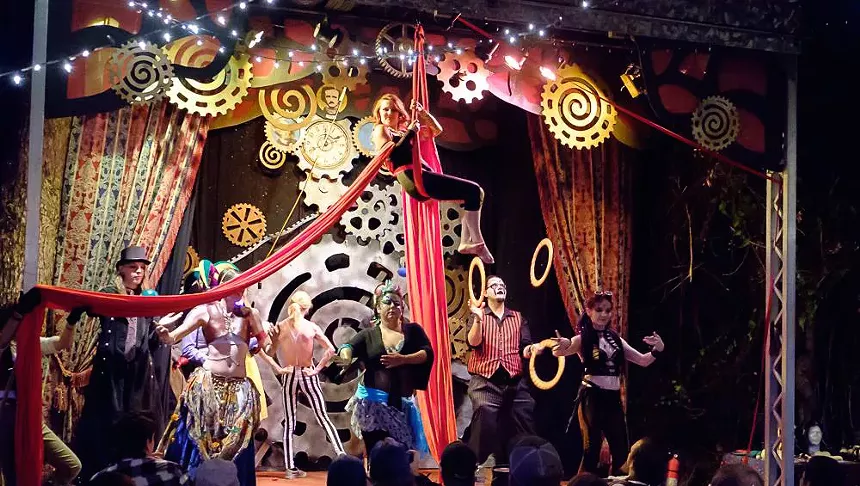 GasLight Circus
You can only spend so much time watching killer clown flicks this time of year, so mix it up a bit by heading over to
Alwun House
, 1204 East Roosevelt Street, for some circus-themed theatrics with a Halloween twist. An urban circus troupe called GasLight Circus is bringing an all-new production called Step Right Up For Murder to the funky arts space at 7 p.m. on Saturday, October 16. Expect a blend of performance and audience participation, because audience members get clues to help them try and solve the crime. Tickets are $10 in advance and $15 at the door. Naturally, you're free to wear your favorite circus-inspired garb, but going overboard with the whole detective trench coat and notepad thing could veer dangerously into tacky territory.
Lynn Trimble

Vertuccio Farms Fall Festival
A mobile petting zoo is the latest attraction at
Vertuccio Farms Fall Festival
, 4011 South Power Road, Mesa. Kids can pick their favorite pony as they trot around on the grounds. If that doesn't hold your kid's attention, there are giant tube rolls, barrel train rides, duck races, a five-acre corn maze, and pumpkin bowling. Hop on a giant jump pad, play some Ping-Pong, or head to the food court to indulge in some carnival grub. The festival continues through Sunday, October 31. Festival hours are Monday to Thursday 3 to 9 p.m., Friday and Saturday from 9 a.m. to 10 p.m., and Sunday from noon to 10 p.m.
Tickets
are $12 per person and kids under 2 are free.
Rudri Patel
Razzle Dazzle
If you want to make a hit Broadway musical, just throw in a couple of old-school gangsters. It worked for
Guys and Dolls
,
Annie
, and
Chicago
, among others. Apparently, tales of greed and corruption are still plenty popular, because
Arizona Broadway Theatre
, 7701 West Paradise Lane, Peoria, is performing
Chicago
as part of its 2021-22 season. The musical premiered on Broadway in 1975, with a creative team that included John Kander, Fred Ebb, and Bob Fosse of jazz hands fame. The revival earned six Tony Awards in 1997, and the 2002 film version won an Academy Award for best picture. See what all the fuss is about on Sunday, October 17, when ABT performs the show at noon. Ticket prices vary. Fun fact: The musical is based on a play written by a reporter who covered a roaring 20s trial. Makes you wonder whose story might inspire the next hit musical.
Lynn Trimble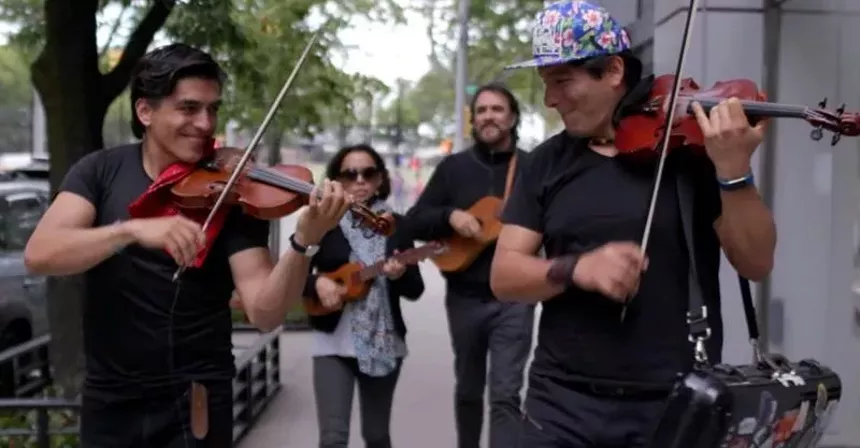 Fandango at the Wall
Back in 2018, Arturo O'Farrill and the Afro Latin Jazz Orchestra joined forces with the Villalobos Brothers for a project called Fandango at the Wall, which featured international musicians performing a live concert at the border wall between Tijuana and San Diego. Now, they're both coming to
Scottsdale Center for the Performing Arts
, 7380 East Second Street, where they'll perform a mix of jazz, classical, and Mexican folk music. The Sunday, October 17, concert starts at 7:30 p.m. Tickets start at $48. By the way, O'Farrill has performed with jazz greats including Dizzy Gillespie and Wynton Marsalis, and the Villalobos Brothers have collaborated with musical artists including Bruce Springsteen and Dolly Parton.
Lynn Trimble