Halloween isn't until next weekend, but holiday-themed events are already in full swing. This weekend, you can check out a Halloween anime event in Phoenix or take the family to a kid-friendly party in Peoria. (For more Halloween fun, check out our lists of
parties
,
haunts
, and
other events
.) If spooky isn't your thing, there's a moon-viewing festival downtown, or you can watch the Arizona Cardinals to see if they make it 7-0.
Moon Viewing
Enjoy a Japanese custom right here in Phoenix, as the
Japanese Friendship Garden
, 1125 North Third Avenue, celebrates the full moon and harvest season with its moon-viewing festival called Otsukimi. It's a chance to stroll along peaceful garden paths, enjoying Japanese arts and culture along with sake and snacks. Festival hours are 5 to 9 p.m. on Friday and Saturday, October 22 and 23. Expect a robust lineup of activities including haiku poetry, calligraphy, flower arranging, bamboo art installations, kimono and candle art displays, and traditional Japanese musical performance. Timed tickets are $25, and you need to get them online before attending. Then prepare to unwind amid the garden's exquisite landscape.
Lynn Trimble
Owl-o-Ween
Owls have been associated with vastly different properties through the years. In some cultures, they signal death. In others, they're harbingers of insight and wisdom. The feathered, head-spinning creatures appear in myriad children's tales, including Edward Lear's
The Owl and the Pussy-Cat
, A.A. Milne's books about Winnie the Pooh, and J.K. Rowling's
Harry Potter
series. Whether you're a diehard fan or merely curious about owls, you can learn a little something about their desert digs during the first Owl-o-Ween event on the
ASU Polytechnic campus
, which is home to the Burrowing Owl Conservation Project. They'll be doing wildlife demonstrations, tours, trivia, and airbrushed tattoos during the family-friendly event that runs from 2 to 5 p.m. on Saturday, October 23, when they'll also be doing giveaways for those who come in costume. The free event happens at 5999 North Backus Mall, Mesa.
Lynn Trimble


Halloween Anime Fest at Collectors Marketplace

Don your anime-inspired costumes, charge up your super Saiyan powers, and head for
Collectors Marketplace
, 1945 East Indian School Road, for this anime-focused geek event from 11 a.m. to 3 p.m. on Saturday, October 23. There will be a cosplay contest for prizes, an artist alley, special sales, live entertainment, and more. Admission is free. Call 480-442-1117 for more details.
Halloween Monster Bash at Peoria Sports Complex
You and your brood are welcome to attend this
family-centric event
from 5 to 9 p.m. on Saturday, October 23, at the
Peoria Sports Complex
, 16101 North 83rd Avenue, which will feature rides, games, live music, interactive experiences, and giveaways. Attractions like a rock-climbing wall, bungee trampoline, a reptile exhibit will be available, and trick-or-treating will take place. Other highlights include an appearance by the Ghostbusters, a photo booth, and an ongoing costume contest for prizes throughout the evening with different age groups up to 10 judged every 15 minutes. There will also be a sensory room for kids with special needs. Admission is free, but donations of canned or nonperishable food items are appreciated.
Benjamin Leatherman
Silver String Circus: Inferno at Alwun House

The performers of the Silver String Circus troupe will take a page from Dante's
Divine Comedy
for their latest show, which will be staged on Saturday, October 23, at
Alwun House
, 1204 East Roosevelt Street. The adult-oriented production will be inspired by the macabre poem and involve "magic, music, and death-defying stunts," according to Silver String's Facebook. It also will be limited to those 21 and older. The performance runs from 7 to 11:30 p.m. and
tickets
are $13 in advance, $18 at the door.
Benjamin Leatherman

Myth and Magic Festival at Irish Cultural Center
Wizards, dragons, fairies, and other fantastical costumed characters are welcome to attend this afternoon-long event at the
Irish Cultural Center
, 1106 North Central Avenue, on Sunday, October 24. In addition to such festival staples as vendors, a photo booth, face painting, giveaways, and live entertainment, there will be a knighting ceremony, a jousting game, and a performance by a fire-breathing dragon.
Tickets
to the event, which runs from 1 to 5 p.m., are $10 for kids and include a magic wand and goodie bag. It's free for adults and kids under 10.
Benjamin Leatherman
Mikiztli Festival

For more than 25 years, the nonprofit Cultural Coalition led by Carmen and Zarco Guerrero has been focused on celebrating, developing, and supporting Indigenous art and artists. On Sunday, October 24, they'll hold their 10th annual Day of the Dead celebration from 1 to 6 p.m. at
Steele Indian School Park
, 300 East Indian School Road. Admission is free. Expect a vibrant mix of storytelling, youth performance, mask art, live music and dance, creative vendors, and a community procession honoring the dead and their connections to the living. The festival's name hails from Indigenous tradition, by the way, and organizers use it to counter the colonizer influence that often reduced the Dia de los Muertos to just another excuse to go all in on the margaritas.
Lynn Trimble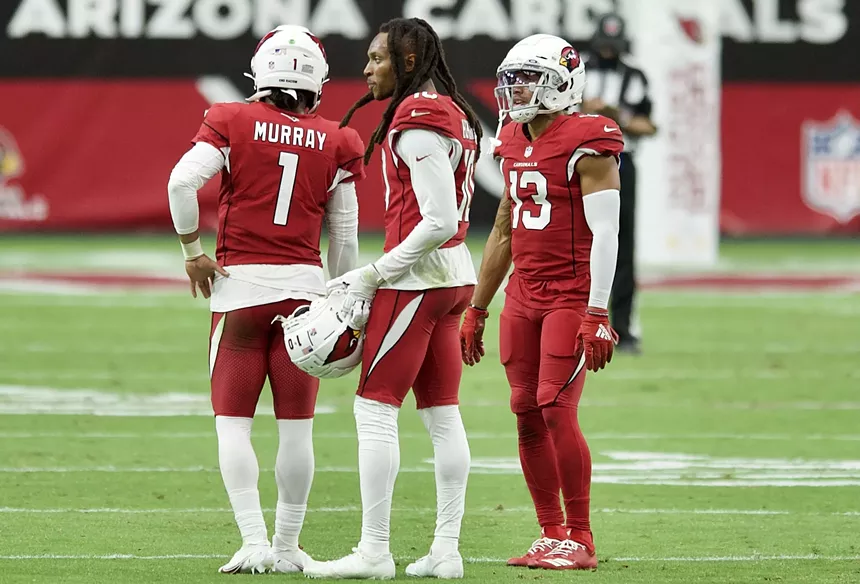 Arizona Cardinals v. Houston Texans
If you're not already on the Arizona Cardinals' bandwagon, there's still time to hop aboard. A third of the way through the current NFL season and the Red Birds are an astonishing 6-0. Every game hasn't been flawless (the team barely beat the Minnesota Vikings in Week 2), but their won/loss record is still perfect. Credit the outstanding play of quarterback Kyler Murray, wide receiver DeAndre Hopkins, and running back James Conner, as well as some great work by the Cardinals' defense. Arizona is on a roll and will try to keep the momentum going against the hapless Houston Texans on Sunday, October 24, at State Farm Stadium, 1 East Cardinals Drive in Glendale. The Texans (1-5) are riding a streak of their own, having lost five straight games, and oddsmakers are
heavily favoring
the Cards to pick up another victory. Anything can (and will) happen in the NFL, though, so nothing is certain. Kickoff is at 1:25 p.m. and
tickets
start at $40.
Benjamin Leatherman