^
I Support
Local
Community
Journalism
Support the independent voice of Phoenix and help keep the future of New Times free.
There was no shortage of movement and color at this year's Phoenix Annual Parade of the Arts, which took place over the weekend. Besides all of the costumed participants and kooky floats that marched through the streets of downtown Phoenix, a flurry of dancers, hula hoop artists, and sideshow characters performed at the Roosevelt A.R.T.S. Market both before and after the parade.
In addition to our slideshow of pictures from the parade, we captured some footage of some of the eye-catching activity that took place at the A.R.T.S. market and during the parade, which has been transformed into 11 humorous animated GIFs.
See also: - Certified Local Fall Festival, Phoenix Annual Parade of the Arts, and Cupcake Shenanigans Over the Weekend - Phoenix Annual Parade of the Arts 2012 (slideshow) - Phoenix Annual Parade of the Arts Announces This Year's Theme: Legend City
Keep your eye on the ball, yo. Just like this dude.
Cult of the Yellow Sign members #138 and #808 take time out from their busy schedule of bringing about doomsday for a little dancing.
If there's one thing that the members of the Heady Hoop Tribe know about, it's how not to get dizzy.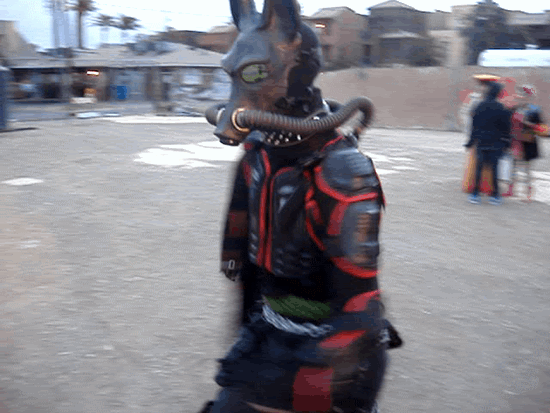 Now that's how you bust out a strut. Good dog!
There wasn't much rain during PAPA, leaving this chickadee to find an alternate use for her umbrella.
Hula hoops: Childhood toy or nifty raver accessory?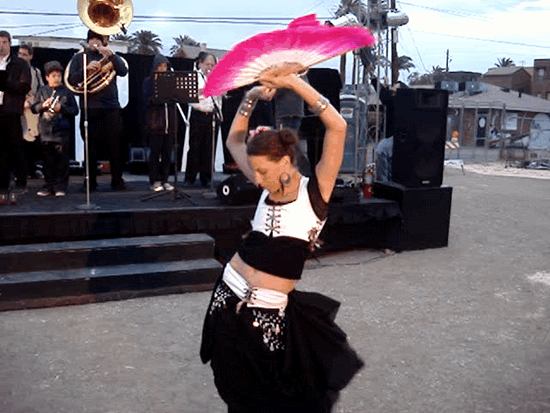 We're big fans...literally.
Another member of the Heady Hoop Tribe goes for a spin.
Rally 'round the, uh...giant bedsheet worm thing.
The good Dr. Stephen Strange leads the Phoenix Annual Parade down Second Street in jaunty fashion.
Showing off some fancy footwork...and handwork.
See more images from this year's Phoenix Annual Parade of the Arts.
Keep Phoenix New Times Free... Since we started Phoenix New Times, it has been defined as the free, independent voice of Phoenix, and we would like to keep it that way. Offering our readers free access to incisive coverage of local news, food and culture. Producing stories on everything from political scandals to the hottest new bands, with gutsy reporting, stylish writing, and staffers who've won everything from the Society of Professional Journalists' Sigma Delta Chi feature-writing award to the Casey Medal for Meritorious Journalism. But with local journalism's existence under siege and advertising revenue setbacks having a larger impact, it is important now more than ever for us to rally support behind funding our local journalism. You can help by participating in our "I Support" membership program, allowing us to keep covering Phoenix with no paywalls.