^
I Support
Local
Community
Journalism
Support the independent voice of Phoenix and help keep the future of New Times free.
"Who's ready to jump?"
If you've ever attended an electronic dance music event anytime in the last few years, its incredibly likely you've heard the frequently used audio drop -- sampled from Dutch house producer Chuckie biggest track -- that asks this question and typically causes a crowd explode with movement.
It was used more than a few times at this past weekend's Sound Wave Music Festival and certainly got the event's attendees bouncing around like mad. They did more than jumping, however, and also pranced, pounded the ground, and busted out with some rather...um, unique action while DJs like Calvin Harris, Designer Drugs, and Crizzly performed.
We captured plenty of weird and wild behavior with our cameras and have put together 20 different animated GIFs of all the some of the more interesting, unusual, and downright funny dance moves.
See also: Sound Wave Music Festival/Red Bull Thre3style Massive at Big Surf
See also: Sound Wave Music Festival/Red Bull Thre3style Massive (Slideshow)
See also: People of Sound Wave Music Festival at Big Surf (Slideshow)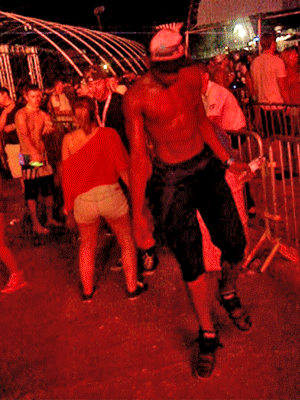 The Tornado Two-Step:
This dude spun us right round, baby, right round (like a record, right round, round, round) with his fancy footwork at the Thre3style stage.
The Camera Mugger:
He's fully aware of the camera in our hands and decides its his time to shine. The goofy expression, finger pointing, and leg pumps all get extra points in our book.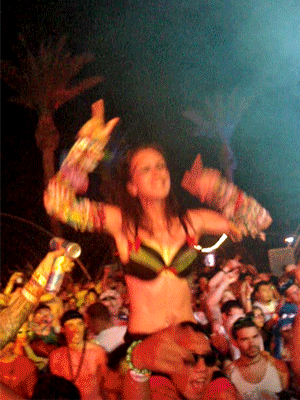 The Shoulder Holder:
When your boyfriend or BFF is willing to become a beast of burden for your dancing shenanigans.
The LED Glove Lightstorm:
For those ravers who want the action and color of a dance party all up in their grill while busting a mean groove. (Rolling balls is optional.)
The Tilt-A-Whirl:
This whacked-out Sound Wave attendee is like a human amusement park ride come to life. Those around him certainly had to make some room.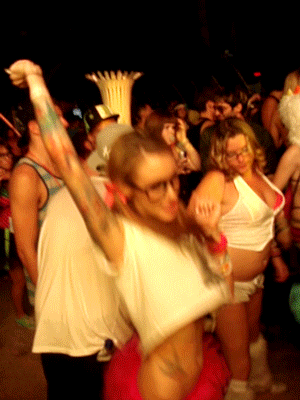 The Babelicious Bunny Hop:
ZOMG! Levels! This is like the best track EVAR~!
The Designer Drugs Do-Si-Do:
The members of this infamous New York City electro duo certainly know a thing or three about cutting a rug in the club, as demonstrated by Theodore Paul Nelson's dance moves during their set on the Thre3style stage.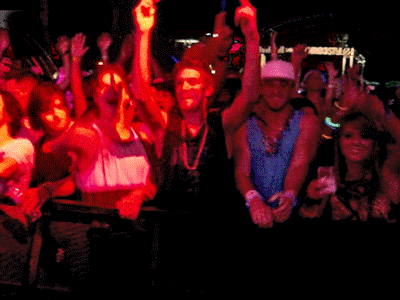 The Brodeo Bounce:
Besides all the scantily clad ladies about, Sound Wave most definitely had more than its fair share of bare-chested bros in attendance. They tended to flock together in groups of four or more, throwing their mack on any females that crossed their paths, and got plenty rowdy, including bouncing around like jumping beans.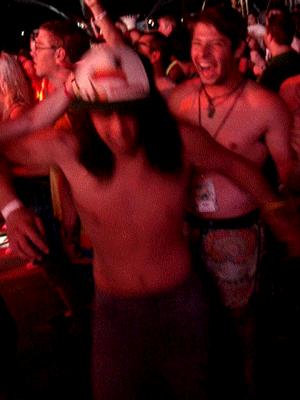 The Upstage:
Yo, Imma gonna let you finish, but first I gotta steal your thunder like a punk.
The Funky White Boy:
He's got some slick moves, ladies. And he's ready to show them off in a more one-on-one setting.
The Close Encounter:
The crowds at each of Sound Wave's three stages were plenty packed with bodies, but some got a little closer than others.
You Go-Go, Girl:
One of the many pieces of elegant eye candy that shook their tailfeathers while up onstage at Wakiki Beach.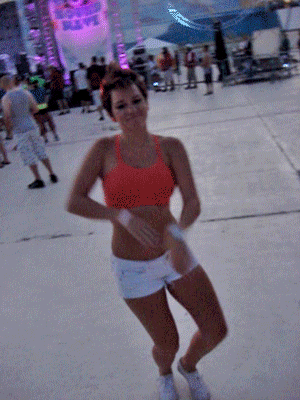 The Tempting Torso Twister:
This lovely lass puts every single belly-dancer in Arizona to shame with her seductive moves.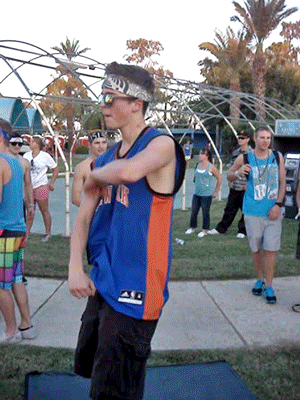 The Finger-Gun:
He's locked, loaded, and ready to fire off a frantic finger-gun salute. As for what he does at the end...um, no comment.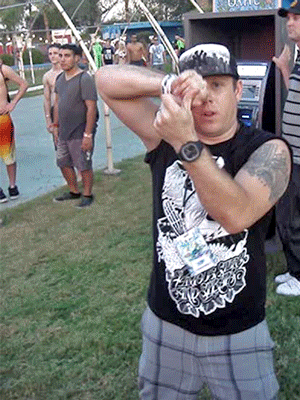 The Hand Jive:
Are you trying to tell us something in sign language, bub? Or just trying to show off your dexterity?
The Big Baller:
From the windows to the wall, this cat sure loves his balls.
The Don't Leave Me Hanging:
She's got high-fives for anyone and everyone. And some killer shades.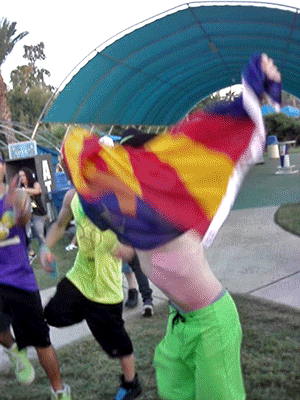 The State Pride Shuffle:
Some cats brought glowsticks to Sound Wave, other brought furry boots, sunscreen, and costumes aplenty. This particular cowboy, however, packed his Arizona flag and his love for our fair state.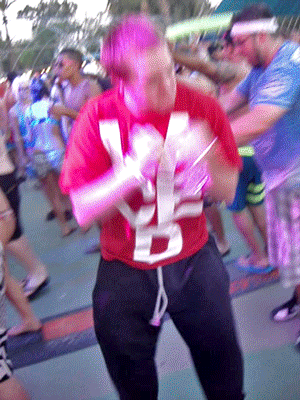 The Touch Myself:
He doesn't care about anybody else, but when he thinks about you...well, you know the rest.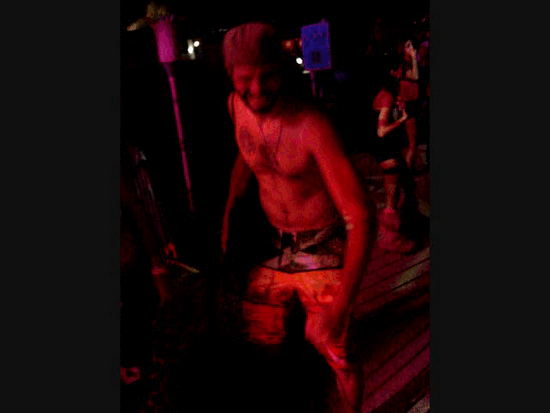 The Invisible Midget Attack:
Perfect for when one is facing off against a never-ending onslaught of unseen little people at a high-energy EDM festival.
---
Follow us on Twitter and friend us on Facebook