^
I Support
Local
Community
Journalism
Support the independent voice of Phoenix and help keep the future of New Times free.
Considering that the operative word in EDM is "dance," it shouldn't come as any surprise that a helluva lot of movement tends to happen whenever tracks from the genre get played. It doesn't matter if it's happening at a club, in your car, or even in the shower, when the beats start flowing, people start moving.
And that proves to be especially true at EDM massives such as the most recent Wet Electric festival where thousands are induced to dance by the sounds being laid down.
See Also: The People of Wet Electric 2014 (Slideshow) The 50 Most Beautiful People at Wet Electric
We saw a lot of people shuffling, shaking, jumping, and bumping during the two-day event at both Tempe's Big Surf and Scottsdale's Talking Stick Resort and got clips of some of the funkiest and funniest dancing taking place, which we present to you in animated GIF form.
BoHo A Go-Go She moves in mysterious ways
Hand Jive Finger pistols followed by a wave and some poppin' and locking. Pimp.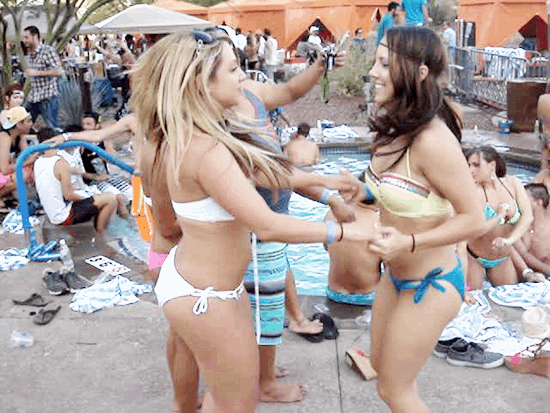 All Hopped Up Partying like a pair of third graders on a sugar bender
EDM Animal What's black and white and funky all over?
Hat Trick Jacko would be proud
VIP Vixens Bradley Roulier of Manufactured Superstars doesn't mind it when you get down next to him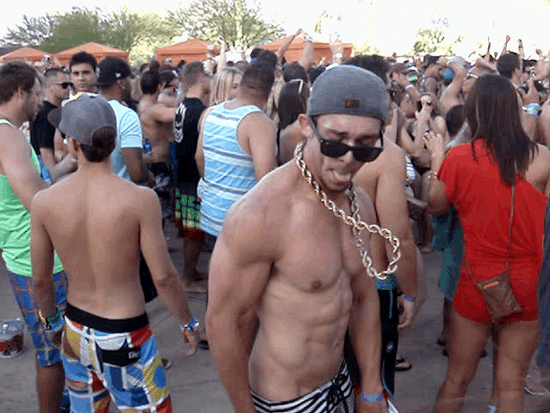 Going Old School This is how you do the Running Man
Spin Session Round and round she goes
On Point Heavenly Father above appreciates the gesture
The She-Jay Shuffle DJ Hemmesphere dishes out both dance tracks and dance moves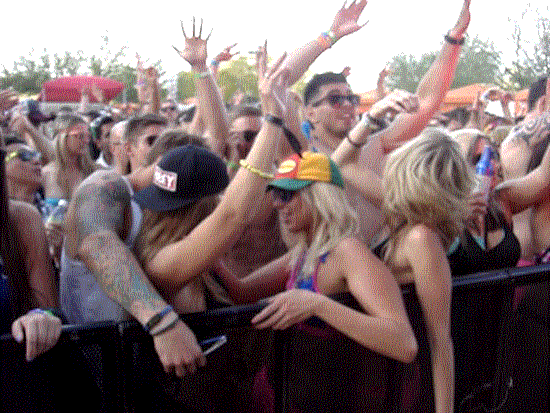 Girls Gone Wild Don't know which is better: the lady-on-lady action or their friend's "WTF!?" reaction
Iron Man Has A Posse And they're bringing the party to you
Party Monster Going wild out at Big Surf
Flip It Good That's one way to dry your hair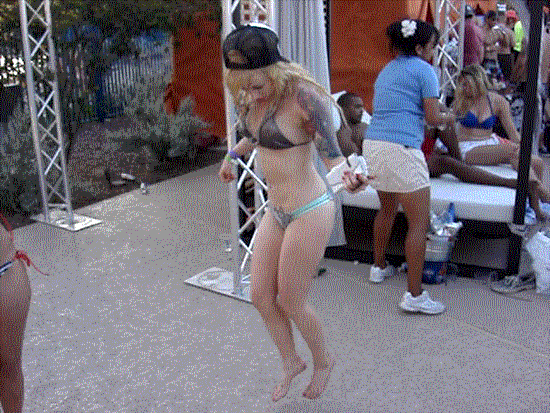 End Game Rump-bumping never looked better
Dapper Dancer Not everyone wears neon tees and snapbacks to an EDM festival, yo
Put Your F'n Hands Up Pitbull will be happy to hear you're following his instructions to the letter
Fancy Fingers Feeling the beat or stroking an invisible beard? You decide.
Dancing Queen Sashaying in style
Woof! Woof! Woof! Channeling his inner Arsenio
Fancy Footwork Everyday he's shuffling
Total Hipsters Shaking their moneymakers with style
Bass Baller Swinging a bat to the beat
Grade School Getdown You never know when the "Ring Around the Rosie" training from your playground days is going to come in handy
Lana's Biggest Fan Like his hat says, there ain't any summertime sadness here, even in the spring
Lord of the Dance This cat puts your fist-pumping routine to shame, dawg
Yeeeeeah! Your rage face is quite epic, sir
Close Encounter E.T. meets EDM
Wayfarer Waltz Stylish shades and slick moves
Find any show in Metro Phoenix via our extensive online concert calendar.
9 Tips for Using A Fake ID To Get Into A Show Here's How Not to Approach a Journalist on Facebook The 10 Coolest, Scariest, Freakiest Songs About Heroin The 30 Most Disturbing Songs of All Time
---
Like Up on the Sun on Facebook or follow us on Twitter for the latest local music news and conversation.