The fourth time will hopefully be the charm for REZZ this weekend. The Ukrainian-born DJ/producer is set to headline her namesake event AREZZONA, which has been postponed three times now, on Friday night at Rawhide Event Center in Chandler.
Other highlights of this weekend's concert offerings in metro Phoenix include an outdoor show by EDM artists Louis the Child, a two-night stint by local band Katastro at Tempe's Marquee Theatre, and gigs by alt-country musician Whitey Morgan and future funk producer Yung Bae.
Details about each of these events can be found below. And for even more live music happening around the Valley, hit up
Phoenix New Times
' new-and-improved
online concert calendar
.
Best Night Ever: A Modern Boy Band Dance Party
Friday, July 23
The Rebel Lounge, 2303 East Indian School Road, 602-296-7013
As polarizing as boy-band music has been over the decades, the fact remains that their music is catchy, fun to listen to, and definitely gets people in the mood to dance. It's why you'll see bodies moving on the dance floor at The Rebel Lounge on Friday during Best Night Ever: A Modern Boy Band Dance Party. The event is inspired by iconic boy bands One Direction and the Jonas Brothers and will offer hits by both bands and other pop-laced tunes from similar modern-day groups. Feel free to sport your finest JoBros T-shirts at the dance party, which starts at 9 p.m.
Tickets
are $15.
Benjamin Leatherman
AREZZONA feat. REZZ
Friday, July 23
Rawhide, 5700 West North Loop Road, Chandler, 480-502-5600
The Cult of REZZ, the collective name for the fanbase of DJ/producer Isabelle Rezazadeh, numbers into the tens of thousands with its members gathering both on social media (there's even an official Facebook group) or at her gigs. And this weekend, local members of the Cult of REZZ will finally get a chance to see Rezazadeh perform her long-awaited and thrice-delayed event AREZZONA at Rawhide Event Center in Chandler.
Originally scheduled for March 2020, the outdoor event has been postponed three times (twice because of the pandemic and once for inclement weather) but will finally happen on Friday night on Rawhide's Sonoran Lawn. Rezazadeh will headline and G Jones, CharlesTheFirst, Of the Trees, and Youms will perform opening sets. Expect a mix of electronica, breaks, leftfield bass, dubstep, and trap. Gates open at 6:30 p.m., and the event goes until 2 a.m.
General admission
is $60 and
VIP tickets
are $150. All previously sold tickets will also be honored.
Benjamin Leatherman
Katastro (Album Release Show)
Friday, July 23, and Saturday, July 24
Marquee Theatre, 730 North Mill Avenue, Tempe, 480-829-0707
The Tempe band Katastro was at the beginning of a national tour in March 2020. The band, like the rest of the world, had no idea how long the pandemic would last. Without any certainty or shows, the members at first had no idea what to do. If they couldn't tour, they'd write, and the result is their sixth full-length album,
Sucker
, which came out last week.
It's a blast of bright summer sounds and sick reggae beats that'll have you dancing. The album, released via Silverback Music's Controlled Substance Sound Labs, reflects the band's usual effortless blend of funk, hip-hop, reggae, and rock, but has retreated from the darker tones of their 2016 album,
Strange Nights
.
To celebrate the release of the album, the band is playing a pair of dates this weekend at Marquee Theatre in Tempe. Performances will be at 8 p.m. on Friday (with opening sets by Kash'd Out and Barefoot) and Saturday (with openers Denm and Cydeways).
Tickets
are $15-$35.
Allison Cripe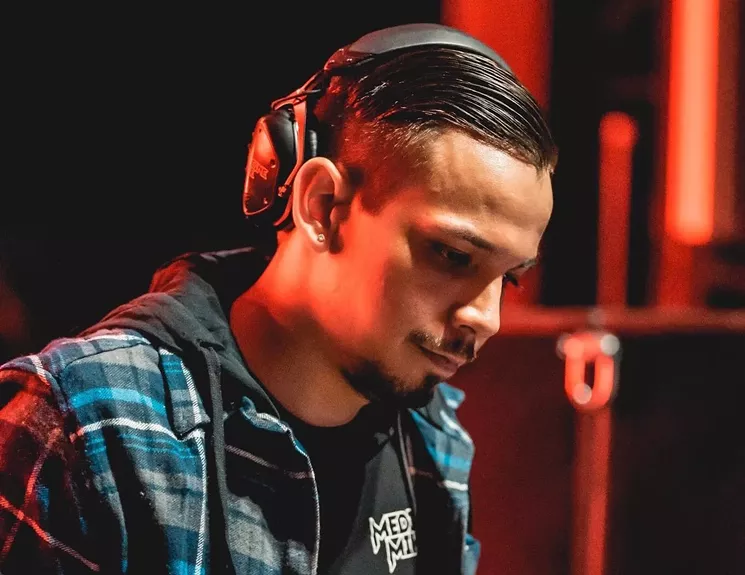 Lady in Red 2021
Saturday, July 24
The Revelry, 1065 North Dobson Road, Mesa, 602-612-3020
More than two dozen DJs of the techno, house, and dubstep variety are scheduled to spin at this one-night electronic dance music extravaganza on Saturday night at "entertainment venue" The Revelry in Mesa. Headlined by acid house/deep house legend Woody McBride (a.k.a. DJ ESP), the event will feature chill lounges, sensory experiences, and separate house, techno, and dubstep stages. The lineup will include sets by Medicine Mike, Dennis Henry, Taycee Mae, Ivan Purple, Monica Lavander, David Buckley, Henri Benard, Adrien Freitas, and others. Doors open at 8 p.m.
General admission
is $20 and
VIP packages
are $40 to $100. Complete details can be
found here
.
Benjamin Leatherman
Whitey Morgan
Saturday, July 24
The Van Buren, 401 West Van Buren Street, 480-659-1641
If Waylon Jennings didn't exist, then Whitey Morgan wouldn't either. The same could be said for Johnny Paycheck and Johnny Cash, not to mention Buicks, twin fiddles, and class struggle. The mold should have been broken with the passing of honky-tonk's golden age, but, somehow, against all the corn pone that still fuels much of the revivalist scene, Morgan is absolutely in that mold. With a rich baritone that stands up to Dale Watson and a hard-as-forged-steel band that stands up to pure shuffles and trucker stomps, Morgan is a heavyweight, hard-country hitter. He hits the stage at The Van Buren on Saturday night with Justin Jeansome opening. The show starts at 8 p.m.
Tickets
are $25-$80.
Tom Murphy
Louis the Child
Saturday, July 24
Rawhide, 5700 West North Loop Road, Chandler, 480-502-5600
Depending on who you ask, EDM – or electronic dance music for those asleep the last decade – might be on the way out. But don't tell that to Robby Hauldren and Frederic J. Kennett (a.k.a. DJ/producer duo Louis the Child), whose subtle variations on the EDM formula suggest the euphoric dance style isn't dying but finally maturing and evolving.
Trading anthemic builds for pop-savvy, hip-hop percussion and fluttering, neon-drenched synths, Louis the Child's singles float more than erupt. Amid glassy keys and sensual, party-ready moods, the duo show what a sea change might look like for EDM — and how much fun surfing those waves could be. This weekend, Louis the Child brings its Euphoria Tour to Rawhide Event Center in Chandler. Jai Wolf, K. Flay, and ilo ilo will open the evening, which starts at 8 p.m.
General admission
for the 18-and-over event is $51 and
VIP tickets
(which features express entry, a souvenir lanyard, and access to VIP deck and lounge) are $126.
Jonathan Patrick
Yung Bae
Sunday, July 25
Maya Dayclub, 7333 East Indian Plaza, Scottsdale, 480-625-0528
No, this is not another SoundCloud rapper: Yung Bae is the leading light of a movement called "future funk," a blend of modern house with classic disco and Japanese city pop that emerged in the wake of vaporwave. Bae basically realized that the weird chopped-and-screwed samples of old pop music sounded pretty good on their own, so he added modern drums and effects such as filters to come up with a new take on a classic sound. The
Sailor Moon
-inspired cover art on most of his releases is a bonus. Bae will play Maya's Sunday Drip pool party. Gates open at noon and
tickets are $20
.
Douglas Markowitz