The downtown Phoenix parking lot
feels like a grill even at dusk, but that hasn't stopped a crowd from gathering. They lean against the wall of Antique Sugar, relax by Cobra Arcade Bar, sit on the curb, bullshit with friends. Finally, 8 p.m. rolls around, and the primal aroma of cooking beef rips through the lot, reminding everyone why they're here:
Burgers!
The smell might as well be a megaphone announcement for
Bad Jimmy's
, a popup started earlier this year by James Piazza, a 32-year-old former chef at Pizzeria Bianco and a current chef at Valentine. Soon, a line coils from a makeshift table, where a woman in a white tank top is taking orders. The burgers — made with Piazza's own blend of grass-fed brisket and grass-fed beef (both from local Rovey Farms) and topped with American cheese, "Jimmy's pickles," onions alchemized in beef grease, and a "not-so-special" special sauce — are prepared by three men in overalls and hats, who scrape, clack, and place row after row of pink patties on a hot griddle. The outfits and cheeseburgers, floats, and strategically parked vintage cars kindle a throwback '70s vibe.
Already, Bad Jimmy's has cooked, promoted, and social-posted its way to a major local following. On this hot weeknight, Piazza sells 160 burgers in less than 90 minutes. He also sells plenty of root beer and orange cream floats. This is partly because his burger is a top-five burger in town. It's also due to his branding — creative social media postings, event flyers and posters made together with local artists like Spencer Ramirez and Taylor Riggs, the vaguely retro getup. But it's also because, more broadly, popups are at the beating heart of the post-Covid Phoenix food zeitgeist.
"With popups, it's like activating a local community," Piazza says. "Everyone gets together and has a good time."
Piazza is just one of many mid-career millennial chefs who have recently shifted some or all of their talents to popups. The trend isn't new, exactly. Professional-chef-level chefs began joining the established culture of soccer game popups, late-night elote vendors, and farmers' market cooked-onsite food stands sometime around the late aughts. (An early pioneer was the France-born Los Angeles chef Ludo Lefebvre, whose popup, LudoBites, became so popular that it crashed OpenTable.) In the decade since, a popup culture has fledged and flourished in cities like Los Angeles, San Francisco, and New York.
That's been less true of Phoenix until recently. Since the pandemic first closed restaurants in spring 2020, hamstringing indoor dining, we've seen a new crop of popups emerge. Many are excellent — some of my favorite places to eat in the Valley.
"I feel like the popularity of popups is at an all-time high, even versus this spring," says David Alton, who coordinates popups through Bones FC in Belhaus, an under-construction mixed-use space on Grand Avenue designed to showcase popups. "Even though it's 110, 120 [degrees], I've seen more popups now than I've ever seen."
The scene changes from night to night. It spans from Buckeye to Queen Creek to Fountain Hills, though its boundaries also change depending on who's cooking and where. Popup chefs cook Filipino and Thai food, vegan and beef cheeseburgers, regional Mexican and regional American food, intimate chef's table dinners and avant-garde coursed meals.
Standouts include
PHX Lechon Roasters, Lom Wong, Shameless Burger, Chilte Tacos, Sabor a Mi, Toduken, Falaf.A.Lot, Shorty's Charpit, Bad Jimmy's, and many more.
Why have all these popups risen? What changed? What does it mean for the future of restaurants in Phoenix? I set out to talk to some local popup operators, learn, and see.
Food popups come in many
shapes and sizes. They can serve single plates of food or eight-course dinners. They're run by restaurant-trained and self-taught cooks, cooks old and young, and often a few cooks and non-cooks from the same family.
They are cheaper, more flexible, and more lightweight operationally than food trucks. Popups can go where food trucks can't: patios, tiny backyards, living rooms, ghost kitchens.
Popup food often explores nostalgia and memories — food from home or food far from home. Chefs often use popups to put food to the trial of public opinion, testing the waters for potential restaurants, fishing for investors, or cultivating a following. Some popups are low-key, just chefs getting together and having fun. Some cook the same menu whenever they "pop up." Some rarely cook the same menu twice. Some keep food traditional. Others improvise, stretching food traditions like melted candy.
Most of all, popups aren't restaurants. In fact, they are about as far from a restaurant as possible. They are defined by and actively ditch restaurant permanence and strictures, abandon the formality, and collapse the psychic barrier and physical distance between cooks and customers.
Creativity, fun, the chance to cook completely unchained from expectations: these are lures popup chefs cite again and again. But in many ways, the rise of popups is driven by money. "The culture is shifting in a way, because it's easy for people who know the industry to know how much it takes to have a restaurant," Piazza says.
According to a survey of more than 350 restaurant operations, the median cost of starting a restaurant is $375,000, which doesn't include rent, food costs, labor costs, or having to fix a busted dishwasher. This amounts to $113 per square foot, to $3,586 per seat.
A food truck might seem to be an answer. But the costs to launch a food truck can exceed $100,000.
Millennials don't generally have access to that kind of money. Today, millennials have 11 percent less wealth than earlier generations and own less than 5 percent of all U.S. wealth. Beginning with the federal reserve's loosening of monetary policy in 2020, inflation has been on the rise, devaluing what wealth young (and young-ish) generations have. On top of that, there is currently a labor shortage across the country and in Arizona, where help is wanted in what feels like every restaurant in town. Food costs are now higher than in a decade, making it even harder for restaurants. Who can blame talented young cooks for striking out on their own?
"These are people who are talented," says Brian Suarez, a Restaurant Progress chef who recently popped up at Belhaus, referring to the new crop of popup chefs. "They love what they do, but the money is the issue, you know. I'm sure if you gave them the money, they would probably open something up."
Brent Kille once co-captained the more formal coursed popup KoSo (together with Donald Hawk of Valentine) and still pops up now and then through his pasta company, Sonoran Pasta. He attributes the recent growth of our popup scene to the pandemic, but also that "people are antsy to do stuff" on more of a creative, career-driven level. He says that when he was coming up, he and his friends had to be sous chefs, to apprentice for years to learn and build their names.
Now, he says, cooks don't necessarily have to spend large chunks of their careers cooking as number-twos and number-threes in formal restaurant kitchens. They can hop around. They can learn new recipes on YouTube. They can gain huge followings, market, and post food on social media.
"Popups are easy entry," Kille says. "There's not the risk involved. I think you're seeing a lot of guys not want to go the traditional route with cheffing and putting in 70-hour work weeks for next to nothing. It's essentially a way for them to start a business without putting in a lot of money." (Kille notes that this "generational shift" has the old guard "kind of upset.")
The majority of pop-up chefs I spoke with do want to open a brick-and-mortar location. Izzy Salazar, who runs the vegan burger popup Shameless Burger, is one such chef. Actually, she envisions more. "I want to be the first vegan burger chain in Arizona," Salazar says.
Mindful of costs as she builds a following, Salazar's dream restaurant simply isn't in the cards for this stage of her journey. She got her start a year-and-a-half ago more economically. Even a food truck was too expensive. "I found a great guy out of LA who does taco carts, and he was able to custom build our setup for less than $5,000."
Lawrence Smith and Aseret Arroyo of
Chilte Tacos
have a kindred origin story. After cooking in restaurants like FOUND:RE and Ghost Ranch, Smith decided it was time to develop his own concept boosted by Aroyo's marketing savvy.
"The pandemic pushed me into doing my own thing," he says. "I feel like maybe I didn't pay all of my dues, but I definitely put in a lot of time and was to able to absorb knowledge where I feel like I was comfortable popping up."
Their genre-bending taco stand was, he says, "the smallest capital startup that I could afford out of pocket, right off the bat."
The urge began for Piazza after the pandemic started, when he found himself wanting to cook more casual food and comfort food. It doesn't get more comforting than a melting double cheeseburger spilling cheese and beefy euphoria into your soul.
Piazza has thought about a brick-and-mortar, about a burger joint down the line. He might incorporate troubled kids, giving them a chance and teaching them how to work. But for now, he has more financial breathing room existing as a popup. In 2021, restaurants are too risky.
"Rent is crazy now in Phoenix," he says. "The list goes on. You don't have to worry about those things when you do a popup."
At
Sabor a Mi
, their two-year-old popup that appears from Buckeye to Glendale to Phoenix to Queen Creek, Desma and Stephen Estrada cook beef birria in a few forms, highlighted by tacos and nachos.
They're quick to say they've been doing birria since before the recent trend, which kicked off locally within the past two years. The pooled beef they stew is so tender it jiggles like jam when scooped onto tortillas.
The Estradas' birria is the same as what they ate on their wedding night 17 years ago. This birria draws crowds, consistently large crowds, to wherever they pop up.
"We can pop up any day of the week and sell out in a few hours," Desma says. "It's not even an issue."
Still, getting to the point where they can cook for people in the first place is a winding, expensive road. "Popups aren't easy," she says. "People don't understand what goes into them."
At first, the Estradas found it "hard to get into the scene." Established popups and newer popups associated with restaurants snagged all the prime locations. They had to prove themselves to get a spot outside a bar or at a farmers' market — but to prove themselves they first needed a place to pop up.
Like other popups, the Estradas, now more established, have to pay for permitting, equipment, food costs, and labor. They had to pay for tables. They had to pay for two sets of canopies, including bigger 10x20s that were $1,000 each. They had to buy a good, quiet generator. Their operation, with places to sit and the sky obscured by canopies, is high-production for a popup. But they're high-volume and family-oriented, so none of these parts are expendable.
"It's almost like a restaurant," Desma says. "We've got four grills running, two burners. We have multiple items on our menu, a cashier, a pickup window."
They get to their location two hours early to set up. They can serve over 200 people in four hours. They stay two hours late to clean up.
Before starting, friends cautioned them to do carne asada and al pastor. People told them that this is what eaters want. But that isn't what they do. The popup allowed them to rock out the birria that Desma learned how to cook with her mom. These days, they're considering a restaurant — but can't fully leave the popup, Desma says. "If we were to move toward a restaurant, that would never stop the popup."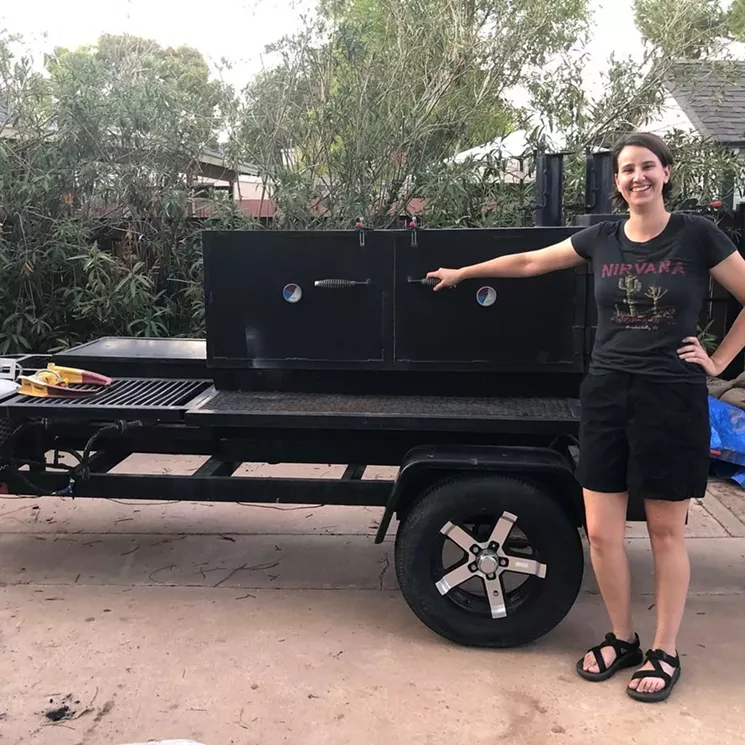 This summer, Cassie Shortino,
the James Beard Award-nominated chef at Tratto, left her job to be a full-time popup chef. The move turned heads in the food scene and, in a way, woke many people up to the state of Phoenix popups. Instead of glorious pasta and the best Italian food in town, Shortino now cooks steak sandwiches that remind her of what she ate growing up in Rochester, New York.
At
Shorty's Charpit
, Shortino grills out of a minimal, temporary, grill-centered setup she puts together outside places like Wren House Brewing Company and Thunderbird Lounge. She grills slices of ribeye cut into floppy rounds — thin pieces with the steak shape intact. She crushes them over charcoal, then layers the charred product on a local bun with American cheese and a Rochester-style ground beef hot sauce spiced not only with chile pepper but allspice, cumin, and cinnamon.
More recently, Shortino has expanded to smoked lamb (more infrequent) and smoked chicken legs served with bleu cheese and olive oil. When she gets rainouts, Shortino, who dislikes having to freeze chicken, prefers instead to smoke them anyway. She solicits orders over social media and delivers to customers' homes.
"The main reason why I want to start doing this is to kind of get the concept down, and, in the meantime, get time for myself," she explains.
The decision to leave Tratto wasn't easy. At Tratto, Shortino was with a fair restaurant group where she had health insurance, two days off a week, and a supportive friend and mentor in Chris Bianco. But when weighing the chef life — 10 years of working nights, the speed and pressure every day — against a more low-key job that came with the chance to work less, travel more, and pivot more into her own food, she heeded the call of the popup life.
Shortino hopes to turn Shorty's into a brick-and-mortar eatery. Her popup is a bridge. "It allows for the concept to evolve without the overhead," she says. "Also, it allows for feedback to come in a way that's more casual. It's not like you're putting all this money down on a restaurant where you don't know how people are going to react."
At the same time, she says, popups are flexible enough that she might never take the restaurant plunge.
Shortino believes the pandemic has created more "freedom" for popups. For example, her friend, Miles Palmer, started selling hummus and falafel in its early months. This evolved into a full-on popup,
Falaf.A.Lot
, now one of the most popular in town. Shortino helps Palmer at Falaf.A.Lot, and he helps her at Shorty's. This collaboration is possible given more fluid work schedules and favorable financials — minimal costs, zero rent, few employees to pay, and lines of customers down the block. Eventual restaurant or no, this soft path to the career fork in the road wasn't available to chefs 10 or 20 years ago.
These days, Shortino is embracing a new challenge and expanding her skill set into graphic and website design. There are new variables: wind, rain, cooking in the elements, what to do with dozens of chicken legs when an event falls through. "It's scary, but also thrilling," she says. "It's a different dynamic than anything I've experienced as a chef."
Still, the choice was hard, and she spoke about it with Bianco and others for months before committing. Ultimately, for this chef, one of Phoenix's absolute best, crushing meat over smoke and charcoal opens up life and career opportunities the widest. "I've been wanting to do this for a while," she says.
And now that she has crossed over to the popup scene, how does she feel about it?
"It's happening," she says. "There are a lot of good popups."