New albums from local artists like rising pop/R&B star UPSAHL and rapper Mega Ran top the latest roundup of recent news from the metro Phoenix music scene. Other highlights include the Musical Instrument Museum announcing its fall concert schedule, an upcoming hip-hop festival organized by Power 98.3's
Beatlocker
show, and some breaking concert news.
All the relevant details can be found below.
Taylor Upsahl's Latest Single Drops on July 30
Phoenix-born pop/R&B artist and songwriter Taylor Upsahl has been prolific during the pandemic, releasing her EP
Young Life Crisis
on Arista Records and penning the Dua Lipa track "Good in Bed" last year. In 2021, the 22-year-old (who performs and records as UPSAHL) has put out two singles from her currently untitled upcoming debut album, "
Douchebag
" and "
Melatonin
," both of which nabbed more than 750,000 views combined on YouTube.
Upsahl's latest single, "Time of my Life," drops
on Friday, July 30
. In a recent appearance promoting the song on Discord, she said the song is "about living my best life, and living my worst life, and having mixed feelings about that." Fans who pre-save "Time of my Life" on Spotify or pre-add it on Apple Music will be entered into a drawing for two tickets to a Six Flags theme park. Full details are
available here
.
Tempe Center for the Arts is Hiring
The Tempe Center for the Arts recently announced it's looking to fill several positions at the venue. According to the TCA website, there are openings for such behind-the-scenes jobs as a production specialist, event assistant, and various stagehands. The venue is also hiring members of the "TCA Experience Team," which provides customer service to patrons in its gallery, audience services, box office, and lounge. Full details, job descriptions, pay, prerequisites, and other information can be
found here
. Anyone interested can
apply online
or drop off their resume at the TCA box office at 700 West Rio Salado Parkway in Tempe.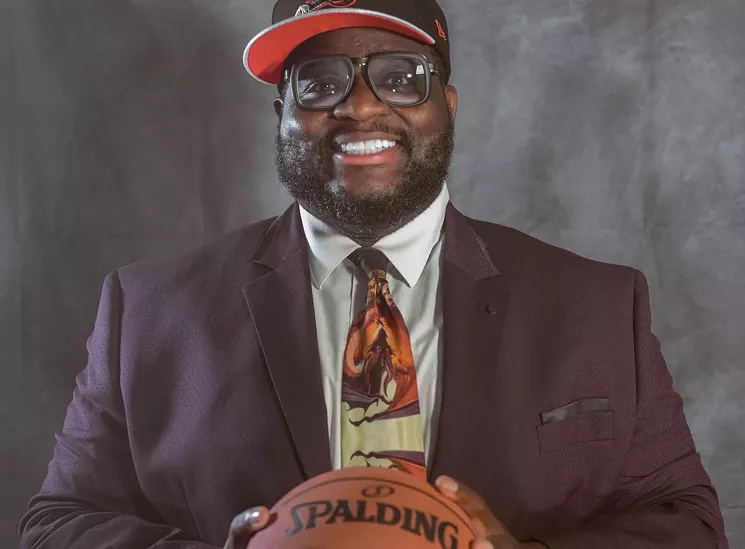 Mega Ran Announces 1995-Themed Album

When he hasn't been performing, live-streaming, or dealing with the
recent theft of his gear and merch
, Phoenix-based geek rapper Mega Ran has been busy working on his newest album,
Live '95
. And in true Mega Ran fashion, it's partially inspired by a video game.
The rapper recently told
Phoenix New Times
the album will be "loosely based" on the old-school Sega Genesis game
NBA Live 95
and basketball but will largely be about how important the year 1995 was significant to him both personally and professionally. "It's the year I left home to go to college and learned so many of the things that made me who I am today," he says.
A
Kickstarter launched
by Mega Ran on July 24 raised more than $11,000 to fund the production of
Live '95
, which will also feature beats and rhymes from DJ DN3, K-Murdock, Esoteric, Del The Funky Homosapien, and Storyville. According to Mega Ran, the album will be released in the fall.
Cat Power Replaces Liz Phair on Alanis Morissette Tour
Alanis Morissette's tour celebrating the 25th anniversary of her landmark album,
Jagged Little Pill
, which is set to visit Ak-Chin Pavilion
on Sunday, October 3
, has undergone a lineup change. Influential singer-songwriter Liz Phair, who was scheduled to open for Morissette, announced on July 23
via her Twitter
that she's dropping out of the tour because of "unforeseen circumstances." Indie/folk-rock songstress Cat Power will replace Phair for the U.S. leg of the tour, which starts on August 12 in Austin, Texas.
Musical Instrument Museum Announces Fall Concerts

North Phoenix's
Musical Instrument Museum
recently unveiled its
concert schedule for the fall
and it features more than 50 dates by a number of high-profile artists from a wide variety of genres. Notable names include folk/Americana singer James McMurtry on Saturday, September 4; ska legends The Skatalites on Thursday, September 23; singer-songwriter Rickie Lee Jones on Saturday, September 25; Tuareg ensemble Tinariwen on Wednesday, October 27; swing kings Squirrel Nut Zippers on Thursday, October 28; and folk-pop artist Dar Williams on Friday, November 19.
The schedule kicks off on Wednesday, September 1, with a performance by Tucson country/folk-rock act Eric Schaffer and the Other Troublemakers. All concerts will take place in the MIM's 300-person capacity Music Theater. A presale for museum members starts on Wednesday with tickets going on sale to the general public on Thursday, August 5. The full schedule can be
found here
.
Southwest Sound Fest Takes Place in Early August
Local hip-hop stars Richie Evans, Vee Tha Rula, and Rum Nitty are set to headline the
Southwest Sound Fest
on Saturday, August 7, at
Endgame
in Mesa. The event is being put on by
The Beatlocker
, the local-oriented hip-hop show that airs every Sunday evening on FM radio station Power 98.3. Other Valley artists scheduled to take the mic include Dann G, Marquel Deljuan, Dayline Neohop, Qiayz, Dela Preme, Delly Everyday, Nov the Zoner, Joseph Bills, Murkemz, and Coe Yante. Local DJs Marvel and DJ John Blaze will also be in the mix. The show starts at 5 p.m.
Presale general admission tickets
are $20 through July 30 and $30 thereafter.