If you've been paying attention, concerts are returning in earnest. In Phoenix, promoters are already setting their calendars for
autumn into early 2022
. But with that sense of excitement comes the inevitable nerves: After a year-plus away, it'll be an adjustment to once more pack ourselves into crowded venues. To ease those anxieties, we asked several Phoenix artists to recall their least favorite shows (either as performers or attendees). Some were more mundane, involving broken instruments, while others proved a tad R-rated (no spoilers). Either way, these tales will likely break the ice and help the average concertgoer return — responsibly, of course — to a regular schedule of live music.
Chris Del Favero, Jerusafunk
It was our first unofficial tour with Wavelengths. We ended up rolling into this club in Oakland called the Stork Club with 17 or 18 people. The whole time, this old, grungy guy kept going, "Welcome to this cursed place, man. It's not going to go well."
The bartender seemed shocked; they didn't have a guy to run the door. Some dude sitting at the bar, who'd just gotten out of prison that day, said, "I could do your door." The sound guy is already drunk and he says, "I barely know how to use this damn sound system." A couple of my band members had already started drinking at that point. Then, one of my other bandmates took some mushrooms because he thought that would be a great idea. And the people in the audience didn't even pay to get in because they're regulars.
After the show, we're hoping to get some sort of payout from the bar owner. He was this Russian guy, about half my height, with one eye and a German Shepherd. He says, "You guys are only getting $12 between the two bands." So we got $6 each. Plus, this was the end of 2014, and there were riots happening following some police killings or beatings. The riots were actually cruising down the street that we were playing. Rocks were being thrown through windows and cop cars are being vandalized. But I didn't know that was happening. I think I was still preoccupied.
There are ways to learn from bad, bad shows. But sometimes it's totally out of your control. I typically carry myself with a lot of positivity, so I find bad shows to be usually pretty hilarious. Unless I actually have to fight somebody or somebody wants to fight me.
Courtney Marie Andrews

It was 2013, and I was on a DIY tour, which is always a crapshoot. There weren't any labels or managers involved, so I was playing anywhere that would have me.
I was looking for an anchor gig in the desert between Los Angeles and Phoenix, and ended up unknowingly booking a show in Landers, California, in a dirt pit, 10 miles down a dirt road in the middle of nowhere. The owner of the place was a pirate-looking man with an eye patch, and his staff were primarily derelicts and runaways. Our entire audience were carnies and convicts, with teardrop tattoos — all of them packing heat. There was even a man dressed up as Elvis, with spurs on his boots, and a dirt-covered suit.
During the show, my band and I silently endured one of the strangest nights of our lives. At the end of the night, shady drug deals began to happen — a man even tried to trade me a CD for a pocket knife. That was our cue to hit the road. As we drove away, we let out a burst of laughter, so happily confused by what just had happened.
It truly felt as if we had entered a vortex — a mirage in the desert.
Robbie Pfeffer, Playboy Manbaby

We were playing in Flagstaff in 2013 or 2014. We're on this classically poorly booked bill of five bands. The sun's still out, and it's maybe 6 p.m., and this band from Cottonwood starts playing.
They're immaculately dressed as if it's 2005 — the entire Myspace-era screamo outfit with the haircut and everything. It was literally like someone walked out of my high school, like a time traveler. They launched into the set and I legitimately have never seen so many different people play so poorly in so many different ways. They were all playing entirely different songs. Like, a different Knights of the Abyss or Job for a Cowboy or Black Veil Brides song at the same time. They were full bore, 110 percent with it, and they were doing it for us alone.
In the middle of song No. 3, the lead singer, who is very abrasive, stops the show and points at one guy and says, "David, we've talked about this, you're out of the band." I want to be clear: Nothing different happened. So, with guitar still on his body, he becomes the sixth person in the audience and just watches the rest of this set with us. They end the set and they look at each other and say, "This is definitely the best show we've ever played." They load up their stuff into the van and drive away.
It went on to be this totally good show. But I still to this day think like if that was a comedy bit. But we couldn't talk about it to anyone else, because no one else saw it. It just existed in this vacuum. If we just hallucinated that, there would be no way to know. It was legitimately the worst performance I've ever seen in my entire life. I've seen so many different types of bad shows. It takes a whole lot to stand out. There's an expectation of "Oh, you played well," or "Man, better luck next time." It's all on a spectrum of expectation. This was so far out of that spectrum of expectation, we were legitimately shaken by it.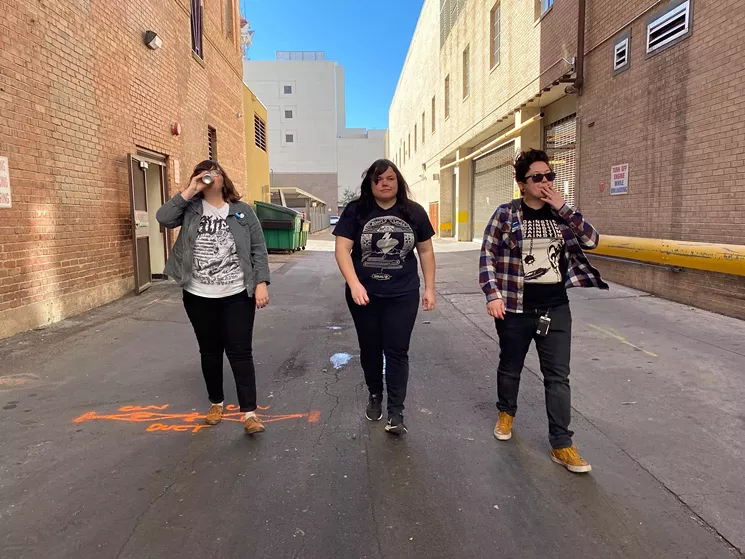 Alexis Whetzel, It's Embarrassing

It was the last night of The Fest in Gainesville, Florida, at a place called The Kickstand. The night before, someone tried to play a house show. Cops showed up after an actual riot happened, and one of them got kicked in the head. They completely banned, like, [most] of the house shows after that year.
I was going to see Bomb the Music Industry!, but before they came on there was this guy called The Emotron. He was kind of like Atom and His Package but he wore a Speedo. He's performing and then he starts to throw flour around, or maybe baking soda. Then he busts out the chocolate syrup. From there, he precedes to give himself a chocolate syrup enema. He then preceded to get naked and try to light his dick on fire. He ends his set by, very gloriously, collapsing on the stage, which is still absolutely covered, and pees all over himself. It was, hands down, the most bizarre set I've ever gotten to see.
I don't want to call it the worst because the music was kind of awesome. I'm glad I got to witness a chocolate syrup enema. It's not something I ever want to see again. But I'd rather see that piece of performance are then something that's super boring. It's those ones that are memorable. I never want to forget this one.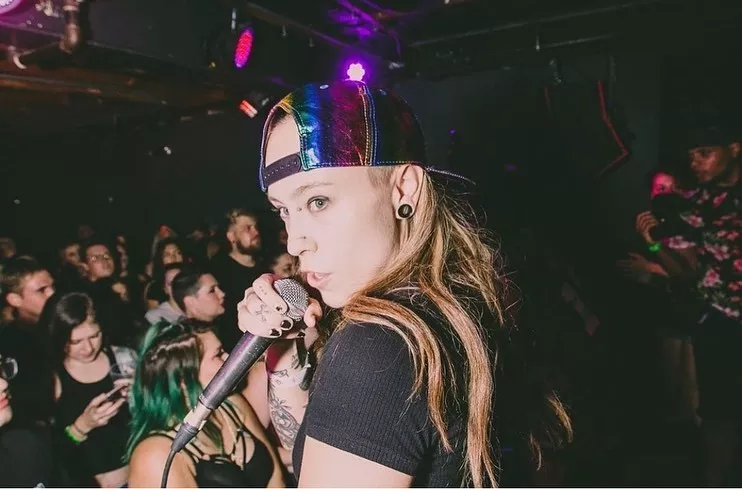 Chelsey Louise, Poor Life Choice/Fairy Bones

The one I always think about is when that band Three Bad Jacks
set the Rebel Lounge on fire
. I worked there forever, and it flooded the venue and caused all this water damage and stuff. Then [the band] went on social media and said, "Yeah, we know what we're doing. You guys are really mean to us." That was possibly the worst thing that's happened right here close at home.
In 2016, [Fairy Bones] went to this place called Jub Jub's Thirst Parlor in Reno, Nevada. And everything went wrong for us at this show. Like, we weren't making a ton of money, and they wanted a certain percentage of the merch table. It was, like, "No, you can't have a percentage, we don't have any money." Then, I was on stage playing guitar and a string broke. Somebody tried to come up on stage and actually fix it, and they did, only then my amp stopped working. So my tour manager just looks at me and says, "Just keep going!" Then our van broke down and we needed some expensive new parts right after the show. So, that's my story: I'm not going to Reno.
I work with bands now, and I have had this conversation with Sydney [Sprague] and some other artists. I always seem to have a story that can beat their stories. The point of live shows is the danger factor, you know. It's like, yeah, we're all doing this together, and it could just fall apart at any time. But that's why we're doing it live.
Bryan 'Dadadoh' Preston

The biggest disappointment I ever went to was seeing Frank Ocean at FYF Fest [2017] in California. A part of me feels like the bar was almost set a bit too high because, you know, he rarely ever performs. So you're hoping maybe he just kind of gets into deep cuts or, obviously, some songs from his catalog.
But he really decided to do a lot more covers than I really expected him to do. The thing that kind of threw me for a loop, though, was he had the nerve to be like, "Oh, you know, we've only been practicing these songs for a week or two. Can you tell?" And I was like, "Yeah, totally." It's when you could tell because the musicians are looking around at each other, asking, like, "When do we stop?"
Part of me feels like maybe there's a stigma of being a Black artist, you know, especially being a great Black artist, like Jimi Hendrix or James Brown. You almost have this level that you have to bring it all the time. I totally get him [Ocean] being reclusive and not being in the spotlight or whatever. Prince was like that, too, but he did a show and was on fire all the time. I think Frank and Prince are alike, and Prince is definitely a big influence for Frank. So you really expect that musicality. It just wasn't there.
I think at some point Brad Pitt was hanging out next to the stage. And they put a camera on him. It was very, very weird. I mean, I'm all about artistic expression, but it was just [Ocean] flexing. You know, maybe we could have worked on the music a little bit more.
Naveen Borojerdi, Acne Superstar

One time, about five years ago, my high school band was playing and there was this noisy hardcore band on the bill. The lead singer got really into it. He took a water bottle and just started rolling around on the floor like a child having a temper tantrum and just spraying it everywhere. Then there was one point where he just fucking tackled someone in the crowd — and that person was me. I've seen a lot of hardcore bands, but I definitely haven't seen a hardcore band go that hard.
Believe it or not, that wasn't the [only] time I was actually fell to the ground at a hardcore show. I saw that band Lagwagon a couple years back and there was this hardcore band opening up for them. There was just one dude, a big, bulky kind of dude, just watching. The next thing you know, he's a bull at the rodeo, and he straight up runs into me. I was just standing there and then I fell down.
Naveen Borojerdi, Acne Superstar This was just some hardcore guy, and what threw me off about the first one is that it's the lead singer in the band. Maybe they think, "Oh, this guy can take it, he's a huge fan. He won't mind as a real fan." Or, "Man, this guy is like really skinny; I can totally assert my dominance over him."
Sometimes you just have to go through those weird experiences. You never forget those. I will always be a hardcore fan. We like hardcore and we respect hardcore. But for me, personally, I've just always kind of been like, "Hey, how's it going?" when I'm on stage. I'll just play and get off stage and talk to people after. Very nonconfrontational about it. I learned everything I know about getting up on stage from The Descendants. They were just these dudes who just really liked playing punk rock.
Ari Epstein, I, the Tiger

I'll preface by saying it was by no means the worst show of all. But it was definitely one of the most eventful shows [Tigerface] ever played.
It was literally one of our first times performing [circa 2007-2008], back when Modified Arts was still sketchy. So the stage then was really wobbly. At the time, I was all about that live performance, and going really hard, and so I was bouncing around. I used to play with no shoes on and I had my little my white star-studded belt — I was a true emo scenester, man.
I was playing, at the time, this Roland Fantom-8 Workstation. The next thing I know, the keyboard is flying into the air right toward the ground. It takes like a good 10 to 15 seconds for these to boot up. My first inclination is that I've got to get this thing turned on again. Until I saw that it started booting back up and I said, "It's ready to f**king go, man." So I just jumped down and I was playing the rest of the song on the ground.
Everybody was super impressed with it afterwards. They were like, "Oh my god, dude, that was amazing. Did you plan that?" I would never throw a $3,000 keyboard on the ground intentionally. My whole thing was just hitting that next note and getting back on plan. So, I don't think that it ever came into my mind of thinking like, "Oh, shit, the keyboard is done for."
A couple years later, we were performing using live backing tracks. We would play our live show and it really made the setlist just flawless, man. But it lost the nuance of it all, what music is supposed to be live when somebody actually does it. Everything is in your perspective. So how do you want to look at it? Like, we had the worst show ever? There were highs and there were lows, just like everything else.