There's a little something for everyone in metro Phoenix galleries and museums this summer, whether you're into social justice, self-enlightenment, or space exploration.
Here's a quick look at 10 exhibits where you can see artwork by more than 100 artists, including dozens based right here in metro Phoenix.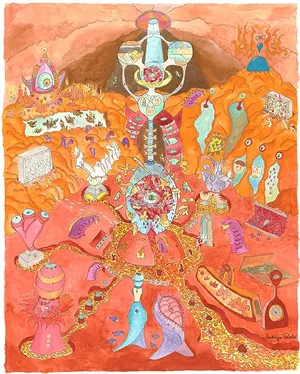 'The Myth of the Incomplete Self'
Mesa Contemporary Arts Museum
Through August 8
Flagstaff-based artist Rodrigo de Toledo spent more than 10 years creating a personal mythology shared through visual iconography that reflects the influence of personal experience, ancient symbolism, and mass media. Get a good look during his solo exhibition at
Mesa Contemporary Arts Museum
.
'Annual Summer Exhibition'
Bentley Gallery
Through August 13
See works by more than three dozen artists, including many who create with unexpected materials such as glitter, hook and eye fasteners, lava, Mylar, and accumulated smoke. The summer exhibition at
Bentley Gallery
features an intriguing mix of primarily abstract artworks.
'Plus One'
Five15 Arts at Chartreuse
Through August 29
Artists in the
Five15 Arts
collective are presenting the latest iteration of a longtime tradition, a group exhibition that includes their own works plus pieces by artists they've invited to show alongside them. Expect an eclectic assortment of ceramics, painting, photography, and other mediums.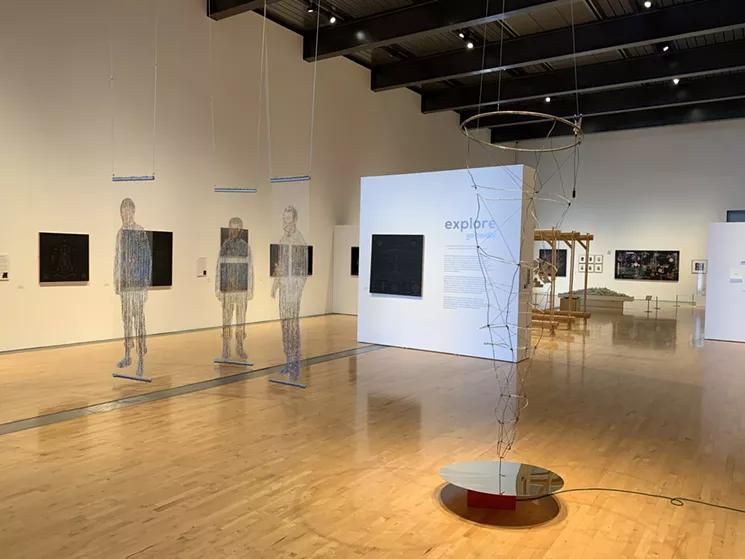 'Explore: Go Boldly'
The Gallery at TCA
Through September 11
Walking into
The Gallery at Tempe Center for the Arts
, you'll see
Star Trek
figures created by Devorah Sperber suspended near an interactive sonic sculpture by Joe Willie Smith. There's also Roy Wasson Valle's installation rooted in imaginings about humans living on Mars, plus additional works united by the themes of space and exploration.
'Things We Carry'
Lisa Sette Gallery
Through September 25
See how three artists explore identity and self-expression at
Lisa Sette Gallery
. Angela Ellsworth used thousands of corsage pins to create sculptures influenced by her Mormon upbringing. Collaborators Merryn Omotayo Alaka and Sam Fresquez used synthetic hair and braid cuffs to address public expectations for women of color.
'Small Wonders'
Heard Museum
Through September 26
This exhibition of small-scale artworks includes jewelry and other objects drawn from the
Heard Museum
's collection. Created with silver, gold, and a variety of gemstones, these works are beautifully crafted. Several of the rings, brooches, and earrings feature animal designs, and there's a selection of silver miniatures ranging from a yo-yo by Daniel Sunshine Reeves (Navajo) to a teapot by Darrell Jumbo (Navajo).
'Future Ecologies'
The Gallery at Mountain Shadows
August 3 to September 30
Through woven tapestries, videos, and both found and crafted objects, artist Erika Lynne Hanson considers the possibilities of place. For this exhibition at
The Gallery at Mountain Shadows
, she'll show works exploring climate, ecology, and desert life in relation to human temporality.
'XSCAPE'
FOUND:RE Phoenix
Through November 14
Works by more than 50 Arizona-based artists are on view in public spaces throughout
FOUND:RE Phoenix
, where the "XSCAPE: Landscapes, Cityscapes and Mindscapes" lineup includes Fausto Fernandez, Jill Friedberg, Hyewon Hong, Marilyn Szabo, and Chris Vena. Expect a mix of sculpture, mixed media, photography, painting, and more.
'Freedom Must Be Lived'
Phoenix Art Museum
Through January 2, 2022
Phoenix Art Museum
and the Center for Creative Photography in Tucson organized this exhibition of photographs by Marion Palfi, who used her camera to document economic, racial, and social inequalities after immigrating from Germany to the U.S. during World War II. These photographs are part of the center's archives at the University of Arizona.
'Voice-Over'
Scottsdale Museum of Contemporary Art
Through January 30, 2022
See how London-based Zineb Sedira, a French-born Algerian artist, recreated her living room inside
Scottsdale Museum of Contemporary Art
for this exhibition that elucidates the ways culture can serve as a form of protest. Themes addressed in her work include migration, hybridized identities, and environmental impacts of globalization.