Your bags are packed, you're ready to go. Maybe walking through the airport isn't your favorite travel experience, but there's a simple way you can improve your airport time: Leave a little extra time for art.
Phoenix Sky Harbor International Airport
is filled with a fascinating assortment of artwork. Here's a quick look at where to find summer airport exhibits, whether you're catching a plane or just looking for fresh ways to explore the local arts scene.
Terminal 3
Level 1
'Artist Spotlight'
Head to the north side of the terminal to see paintings by Billy Schenck, who brings his pop-art sensibilities to depictions of the American Southwest.
'Handles and Spouts'
You might need a good cup of tea by the time you reach your destination. In the meantime, you can explore teapots from the Phoenix Airport Museum collection, which reflect a wide range of artistic styles. Featured artists include Michael Lambert, Xiaoping Luo, Betsy Rosenmiller, and many more. You'll spot their pieces under the escalators on the west end of the terminal.
'People Watching'
Take a quick break from people-watching to see a trio of figurative works that put a creative twist on human idiosyncrasies. These ceramic pieces, including one by artist Jane Kelsey-Mapel, are on view at the east end of the terminal.
Terminal 3
Level 2
'Animals at the Airport'
The Phoenix Airport Museum pulled 10 works from its collection for this exhibition designed to showcase "the playfulness and companionship" of animals through a variety of mediums. Featured artists include Esmeralda DeLaney. The exhibition is located near the security checkpoint.
Terminal 3
Level 4
'Myth, Legend and Lore'
See works by eight artists who retell cultural stories using imagery rooted in mythology inside the west end of the terminal, as well as a post-security gallery. Featured artists include Marco Albarran, Esao Andrews, Carol Eckert, Christy Puetz, Kazuma Sambe, and Yuko Yabuki. Find additional works in this exhibit in the gallery on the third level of Terminal 4.
'Vanished Tempest'
Look for one of Laura Spalding Best's installations featuring desert landscapes painted on leaf-shaped candy dishes and trays on the east end of the terminal. Like her larger body of work, the installation puts a creative twist on everyday landmarks in the urban desert.
Terminal 4
Level 1
'Saguaro: Giants of the Arizona Landscape'
If you're in the post-security area of the international walkway, you can check out an eclectic assortment of paintings, photographs, and prints featuring the saguaro cactus, which were created by several different artists.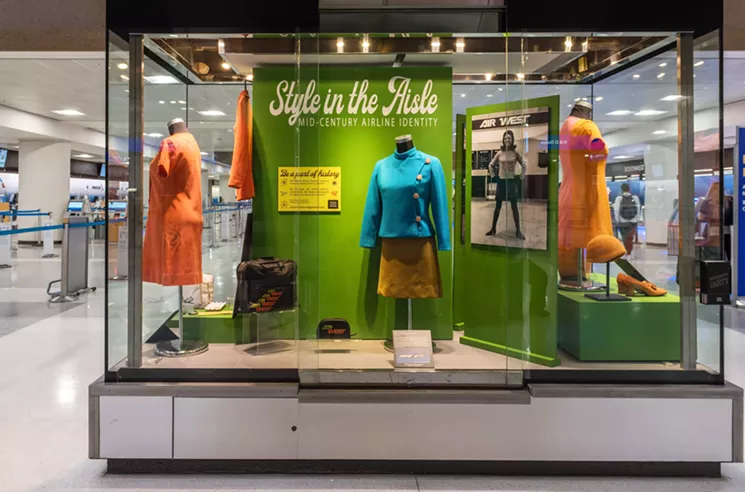 Terminal 4
Level 2
'Artist Spotlights'
The Phoenix Airport Museum is spotlighting artists featured in its collection through temporary, rotating exhibitions you'll find in three display areas. Expect a wide selection of works in various mediums, because the museum's collection includes more than 900 art objects.
'Style in the Aisle'
Seeing today's flight attendants dressed in khaki shorts and polo shirts, it's easy to forget that crew members working the aisles once wore far more elaborate fare, from fancy dresses to go-go boots. Take a trip down memory lane with this exhibit highlighting mid-century airline identity, which you'll find inside a pair of display cases.
Terminal 4
Level 3
'Just Add Water'
More than two dozen artists affiliated with the Arizona Watercolor Association are showing works that reveal the wide variations in their creative styles and techniques. Featured artists include Candace Diaz, Kimberly Harris, Yvonne Joyner, and Bruce Sink. Look for their paintings in two display areas just east and west of the food court.
'Line, Shape, Color'
See how 15 artists reflect the intersections of art, mathematics, and color theory in this exhibition filled with geometrical forms from acute angles to concentric circles. The exhibit includes work by Kyllan Maney, Patricia Sannit, and James Turrell. They're on view inside eight display cases on the east and west ends of the terminal.
'Historic Fly-In Weddings at Sky Harbor'
Imagine searching for the perfect wedding spot, only to decide an airport wedding chapel would do the trick. Phoenix Sky Harbor International Airport actually opened a fly-in chapel in 1937, and you can learn more through this exhibition of historical images located near the center of the terminal.
'Hall of Flame'
The world's largest museum of firefighting is located near the Phoenix Zoo and Desert Botanical Garden, but airport visitors can explore a selection of artifacts and equipment without leaving Terminal 4, where this exhibit featuring items from the Hall of Flame collection occupies a central space.
Rental Car Center
'Stories from the Local Community'
Paintings by Frank Ybarra capture the everyday experiences of people living in local communities while the importance of family, land, culture, and history.
Coming Soon
'Art on Deck'
See how five artists transform skateboard decks into canvases for their creativity in this exhibition scheduled to open on August 20 just east and west of the food court on the third level of Terminal 4.
'Phoenix Muralists'
Explore the local mural scene as eight Phoenix-based artists bring their street art indoors for this exhibition opening on November 18 inside eight display cases on the third level of Terminal 4.