Once upon a time, Arizona had these things called blue laws. Also known as Sunday laws, they prohibited certain activities; for instance, bars were banned from selling alcohol on Sundays from 2 to 10 a.m.
When the law was repealed in 2010, Dana Armstrong, Valley Fever DJ and co-owner of The Dirty Drummer, and a group of friends headed to Yucca Tap Room at 6 a.m. on a Sunday to celebrate.
"We thought it would be funny to go just because we could," Armstrong says. "When we got there, it was kind of crowded. The jukebox was going. It felt like 8 p.m. on a Friday night."
Armstrong and her friends dubbed themselves the Rooster Club and decided to make their early-morning outing an annual event on the first Sunday in August, getting bands from the beloved Valley Fever Country Music Night to play at Yucca.
This year, at 6 a.m. on Sunday, August 1, the tradition will pick back up at The Dirty Drummer after being canceled last year due to the pandemic. The bar will be selling breakfast burritos and Bloody Marys as the early birds celebrate.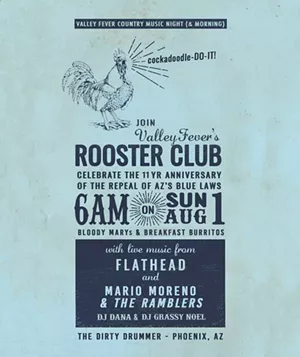 "People flood in at 6 in the morning," Armstrong says. "We didn't do it last year, but the year before, the Yucca was packed." In 2019, about 150 people attended the event.
When the clock strikes 6, country music band Flathead, who have been playing the Rooster Club event since its inception, will play their first note.
"We thought it was a novel thing the first year Dana asked us to do it," says Vince Ramirez, drummer of Flathead. "Then it got bigger and bigger. Two years, ago it peaked. There were people waiting outside and showing up at 5 a.m. to pre-party.
"It's just so unique that we're up there playing our hearts out so early and people are dancing and having fun," Ramirez adds. "It's unlike anything we do any other time of the year."
In addition to Flathead, Mario Moreno and The Ramblers will perform, and Armstrong and Grassy Noel will spin tunes between sets. Armstrong describes Mario Moreno and The Ramblers as "Mexican Hillbilly rock 'n' roll."
According to Ramirez, people travel from as far as Casa Grande to get to the Rooster Club before the sun comes up. And when the party ends at 11 a.m., many people drift to after-parties that have become traditions unto themselves: drinks at Casey Moore's, or beers poolside in someone's backyard.
"It's hard to explain the feeling," Armstrong says about the Rooster Club. "It's 6 in the morning and you feel this sense of accomplishment. I'm happy it's become a Phoenix tradition."