Are you ready for the week? Plan to fill your calendar with cool things to do over the next several days, including a singalong movie screening at FilmBar, the return of comedy show This Week Sucks Tonight, a mini dessert cooking class, and much more.
Explore Public Art
Sometimes you just want to kick around and see what's new on the local landscape. Ease into your Monday on August 2 with some public art time in Tempe, where you can do a self-guided art tour using easy-to-follow maps on the city of Tempe website. Odds are, you've strolled past several works of public art without taking notice, so this is a chance to really focus some of the ways local artists are adding their flair to the city. Dozens of artists have created
public art works in Tempe
— including Jake Early, Laurie Lundquist, and John Randall Nelson. Several are located on and around Mill Avenue, as well as Tempe Town Lake and Tempe Center for the Arts.
Lynn Trimble
Tai Chi and Qidong
You'll see a stream of ads for fancy exercise equipment when you sit down to relax with a bit of TV time. But you don't have to make a huge financial investment to prioritize your health and wellness. Several community spaces, including public libraries, offer classes that can help you get in shape and devote more time to nurturing your emotional life.
Desert Foothills Library
, 38443 North School House Road, Cave Creek, offers classes in the ancient practices of tai chi and qigong every Tuesday and Thursday. Led by Bina Bou, the $10 class is designed to enhance balance, flexibility, and other aspects of wellness. The class on Tuesday, August 3, runs from 9 to 10 a.m.
Lynn Trimble
Muppets Singalong
Who doesn't love a little kumbaya time with the furry creatures of the Muppets? Musical interludes like Kermit the Frog singing
Rainbow Connection
are the perfect anecdote to a tough day, and singing along takes the experience to a whole new level. You'll get the chance this week as
FilmBar
, 815 North Second Street, presents
The Muppets
as part of its Big Gay Singalong lineup. The 2011 film imagines Kermit and a trio of friends teaming up to save the Muppets theater from a greedy oil tycoon, a theme that surely resonates with people concerned about gentrification in and beyond Roosevelt Row. Muppets-inspired costumes are encouraged for the 7 p.m. screening on Wednesday, August 4. Tickets cost $14.
Lynn Trimble
This Week Sucks Tonight
If you missed the long-awaited return of
This Week Sucks Tonight
to the Valley in June, the good news is that comedians Anwar Newton and Michael Turner are bringing the popular live comedy show back this week. For those unfamiliar with
TWST
, it involves the pair skewering recent headlines and current events with satirical (and often dark) humor. Originally launched in Phoenix in 2013, Newton and Turner moved the show to L.A.'s The Comedy Store in early 2020 with the intention of staging occasional return performances. The pandemic delayed those plans until earlier this summer when
This Week Sucks Tonight
came to Stand Up Live, 50 West Jefferson Street. They're planning another visit on Thursday, August 5, at the club and promise to "cover all the topics in the most aggressive way possible," as well as "praise George Bush and listen to Pitbull." The laughs start at 8 p.m.
Tickets
are $10.
Benjamin Leatherman
'Summer Spectacular' Exhibit
The streets of Old Town Scottsdale have been busy this summer, as people return to restaurants, shops, and other simple pleasures taken for granted before the advent of pandemic life. If it's been a while since you popped over to that part of town, head over between 6 and 9 p.m. on Thursday, August 5, to explore the local arts scene.
Royse Contemporary
, 7077 East Main Street, Scottsdale, is presenting a "Summer Spectacular" exhibition featuring works by more than a dozen artists based in metro Phoenix — including James Angel, Fred Tieken, Marilyn Szabo, and Casey Wakefield. Collectively, their work provides a fun glimpse into the local contemporary arts landscape.
Lynn Trimble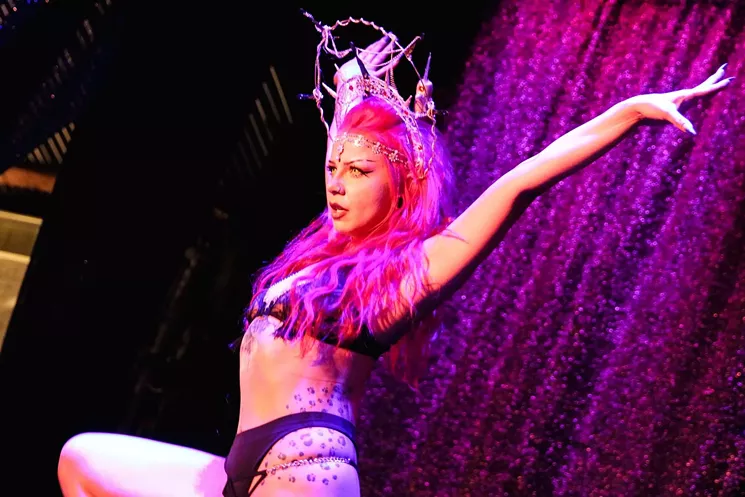 Roulette Sideshow
Going for a simple dinner out and a movie feels downright exciting right about now, after months spent laying low while favorite eateries and theater were temporarily shuttered. Even so, you might want to spice things up a bit, now that more performers are returning to Valley stages. The Pain Proof Punks can help you with that, because they've put together an evening of live music, burlesque, body painting, and sideshow-inspired performance called Roulette: A Sideshow of Chance. It's happening from 9 p.m. to midnight on Friday, August 6, at
Pub Rock Live
, 8005 East Roosevelt Street, Scottsdale. The lineup includes Katara, Lexi Locket, Brinti Bloodshed, Rusty The Clown, and Kimikal Warfare, and Scarlett Purr. Tickets are $20.
Lynn Trimble
Miniature Desserts
If hearing the words "lemon curd" or "chocolate cheesecake" sends your spirits soaring, check out the Miniature Desserts class coming to
Sweet Basil Cooking School
, 10749 North Scottsdale Road, Scottsdale. You can learn to make ice cream bon bons, pecan-lemon curd kisses, peppermint and chocolate cheesecakes, and brownie cups filled with peanut butter ganache, during the class that runs from 9:30 a.m. to noon. Best of all, you'll get schooled in how to bake financiers, which are small French almond and browned butter cakes. Taught by Lisa Brisch, the class might well inspire you to up your summer entertaining game, or add some new delights to your holiday baking repertoire. The cost is $70 and you can register online.
Lynn Trimble
Mixed Martial Arts
If you're still looking for ways to shake off the Phoenix Suns' recent championship loss, or missing all that wall-to-wall sports coverage during the Olympics, try something a little different at select Alamo Drafthouse Cinemas. They'll be showing a mixed martial arts mashup between Derrick Lewis and Ciryl Gane, which is happening in Texas on Saturday, August 7. It's part of UFC 265, which also includes contenders Amanda Nunes and Julianna Peña. Showtime is 7 p.m. at
Alamo Drafthouse Cinema
, 5478 South Power Road, Gilbert as well as their theaters in Chandler and Tempe. Just one simple request: Leave these moves to the professionals.
Lynn Trimble
Electric Feels: Indie Rock + Indie Dance Party
If you were to assemble a list of the most danceable indie songs of all time, there's a good chance tracks like the M83's "Midnight City," Tame Impala's "Elephant," and the MGMT banger "Kids" would be included, owing to their infectious beats and high-energy vibes. It's the same reason you'll hear these same anthems coming from the sound system inside the Marquee Theatre, 730 North Mill Avenue, on Saturday, August 7, during the Electric Feels: Indie Rock + Indie Dance Party. The touring 18-and-over event features a mix of DJs and live elements playing a soundtrack of indie hits as a crowd of dancers moves to the beats underneath an array of multicolored clouds. Doors open at 9 p.m. and
admission
is $10.
Benjamin Leatherman
'The Uncolonized' Exhibit
There's a parallel universe inside a gallery space at
Mesa Contemporary Arts Museum
, 1 East Main Street, Mesa, where Texas-based artist Angel Cabrales imagines the Americas in the absence of colonization. Inspired by science fiction, the artist is showing sculpture, installation art, and an elaborate timeline that celebrates "the cultural heritage and technological achievements" of the Americas' original inhabitants. Sunday, August 8, is your last chance to see this intriguing exhibition, along with three other exhibits at the museum. Sunday hours are noon to 5 p.m. and admission is free.
Lynn Trimble
Sunday Drip Pool Party feat. A-Trak

While most Valley residents spend their Sundays dreading the return to work, the patrons of Maya Dayclub, 7333 East Indian Plaza, are busy living it up and getting down to electronic dance music. The club's weekly
Sunday Drip Pool Party
sees plenty of fun in the sun happening both in and out of the water as the see-and-be-seen crowd downs drinks, pops bottles, and shows off their dance moves while guest DJs drop beats. This weekend's session on Sunday, August 8, will feature a set by EDM superstar A-Trak, founder of influential record label Fool's Gold, on the ones and twos. Gates open at noon. Early-bird tickets are $25 and general admission is $20. VIP cabanas and tables are also available by calling 602-810-0167.
Benjamin Leatherman


Arizona Rattlers v. Tucson Sugar Skulls
You can't blame the Arizona Rattlers if they're feeling confident lately. The Valley's Indoor Football League franchise has won eight of their last 10 games, are undefeated at home, and are currently riding high atop the standings. So it's probably safe to say they aren't sweating their upcoming game against the Tucson Sugar Skulls on Sunday, August 8, at Footprint Center, 201 East Jefferson Street. The Rattlers (9-2) have already beaten the Sugar Skulls (4-7) twice this season, including a 54-38 drubbing last month that saw Arizona quarterback Drew Powell throw a season-high 173 yards and five touchdowns. Tucson will likely put up a fight, though, as the team is hoping to keep their postseason dreams alive with a win over their in-state rivals. Kickoff is at 3 p.m. and
tickets
are $16 to $90.
Benjamin Leatherman