Counting the days until you can attend a blockbuster con like
Phoenix Fan Fusion
again? Yeah, us too. The good news is that there are plenty of nerd-friendly activities and events happening between now and then around the Valley to keep geeks like yourself occupied, particularly during the month of August.
The next few weeks will offer the chance to engage in almost everything you could do at an average con, including cosplay, buying collectibles, getting autographs, and interacting with notable names.
You could also utilize your extensive
Harry Potter
knowledge, catch professional wrestlers duking it out in the ring, watch shooting stars zoom through the skies, or sing along with some favorite characters from childhood.
Grab your costumes and get ready to geek out, y'all. Here are all the details.
Happy Birthday Harry Potter Movie Trivia
If you've memorized every
Harry Potter
film (including the spin-offs) and can rattle off all seven Horcruxes and other factoids from memory, load a few friends into your flying Ford Anglia and head for Desert Ridge Marketplace on Thursday, August 5.
CB Live
, 21001 North Tatum Boulevard, is hosting a
Harry Potter
movie trivia night starting at 6 p.m. in honor of the character's birthday. (And, yes, before you go all Hermoine Granger on us, we realize the official date for the occasion was in late July.) Groups of up to six people will answer five rounds of questions worthy of the OWLs (or "Ordinary Wizarding Levels" to you muggles) examination with prizes being awarded to the top-ranking teams. It's free to participate but you're required to
RSVP online in advance
.
Sunday, Bloody Sunday Signing Event

Local artist and illustrator Jay Fotos will team up with fellow horror comic book creatives Tone Rodriguez, Rob Dieterle, and Albert Morales for a special signing session on Sunday, August 8, at Glendale's
Justice Comics
, 5434 West Glendale Avenue. Each artist will have new projects to show off at the event: Rodriguez will be signing copies of his Image title
Stray Dogs
(described as "
Lady and the Tramp
meets
Silence of the Lambs
"), while Dieterle will bring issues from his independent horror anthology series
OMG!
and Fotos will debut his recently released title
Gorgon
. As gory as their respective works can get, no one will be signing their names in blood. Event hours are from noon to 4 p.m. Autograph prices will range from free to $5, depending on the artist. More info is
available here
.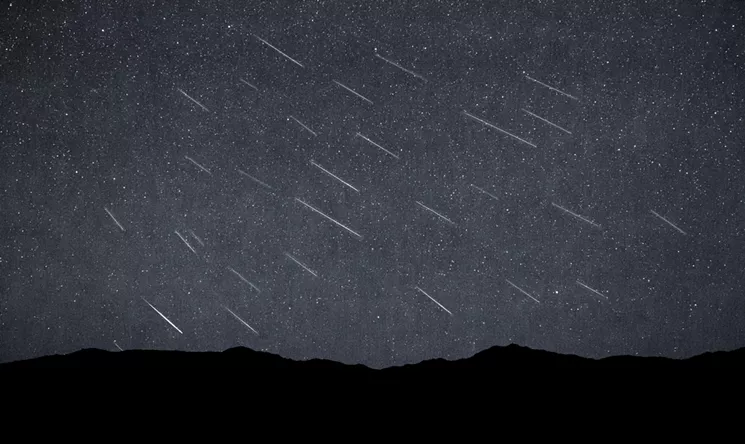 Perseid Meteor Shower
Heads up astronomy geeks: The annual Perseid meteor shower will light up the nighttime skies over Arizona (and the entire northern hemisphere for that matter) during the first half of August. The annual summertime celestial event, widely considered to be the biggest meteor shower of the year, will peak on the evening of Wednesday, August 11, into the early morning hours of Thursday, August 12. There aren't any official watch parties happening locally, but anyone willing to stay up late or get up early will be able to see a multitude of meteors. Your best bet is to look towards the northeastern sky between midnight and dawn in an area of the Valley that's as dark as possible (read: the outskirts of town).
Phoenix Film Festival

After putting on a smaller-scale version last year because of COVID-19, the
Phoenix Film Festival
will stage its 2021 edition starting on Thursday, August 12. More than 200 flicks will be screened at Harkins Theatres Scottsdale 101, 7000 East Mayo Boulevard, over 11 days and (as you'd expect) will include a mix of independent movies, artier fare, documentaries, and short films. Various parties and discussions will also happen throughout the festival, including an opening-night celebration at 7:30 p.m. on August 12 with a showing of Sian Heder drama
CODA
and a post-screening interview with actor Troy Kotsur. (
Tickets
are $25 per person.) The festival's full schedule is
available here
.
Admission prices
range from $15 per film to $175 to $200 for every film and $375 to $425 for a platinum pass.
Marc Maron

Better act fast if you'd like to see Marc Maron perform at
Stand Up Live
, 50 West Jefferson Street later this month. Tickets for the popular comedian, actor, podcaster, and geek icon's gig on Thursday, August 12, have already sold out and we're betting they will for his follow-up show on Friday, August 13. And it'd be no surprise, considering the popularity of Maron's long-running podcast WTF and his comic talents, which we
described in 2016
as "hilarious, brutally honest, insightful, and engagingly sincere."
Admission
to the second show, which starts at 7 p.m., is $35 per person (plus a two-drink minimum).
Free Comic Book Day
As its name implies,
Free Comic Book Day
involves local shops across the U.S. giving away special editions of dozens of titles on Saturday, August 14. It's more than a chance to score free comics, though, as the day is a celebration of superheroes and the sequential art form. Notable events will be happening locally at stores like
Gotham City Comics and Collectibles
, 46 West Main Street in Mesa, which will feature live music and a visit by pro wrestling legend Sabu from 11 a.m. to 6 p.m. Meanwhile,
Samurai Comics
in Mesa and Chandler will both host the Arizona Comic Mini Expo with appearances by a slew of local artists and writers. Hours are from 10 a.m. to 4 p.m. Every event is free to attend.
WWE Friday Night SmackDown

Pro wrestling geeks from across the Valley will flock to
Footprint Center
, 201 East Jefferson Street, on Friday, August 20, for the first WWE event in the Valley in 18 months when
Friday Night SmackDown
is broadcast from the arena. It should be a big episode, as it will take place the night before
SummerSlam
, better known as the WWE's second-largest pay-per-view of the year. Ongoing storylines will get their final developments prior to the big event and superstars like Roman Reigns (a.k.a. the current Universal Champion), Rey Mysterio, Kofi Kingston, and John Cena are all scheduled to appear. The action starts at 4:45 p.m. and
tickets
are $20 to $75.
Arizona Toy Con 2021

In the market for some vintage playthings or collectibles to add to your growing collection? The annual
Arizona Toy Con
will happen on Saturday, August 28, at
Glendale Civic Center
, 5750 West Glenn Drive. As in previous years, dozens of vendors and collectors will have tables filled with old-school offerings for sale, ranging from Star Wars and Hot Wheels to Barbie, as well as a number of video games, decor items, and more modern toys available for purchase. Hours are from 10 a.m. to 4 p.m. and admission is $5 per person.
Animaniacs in Concert

Many a '90s kid spent time in front of the tube watching
Animaniacs
and witnessing the antics of the Warner siblings, Yakko, Wakko, and Dot. The animated show was "zany to the max" (according to the theme song) and offered wise-cracking, slapstick-loving fun that frequently broke the fourth wall. It also featured a variety of memorably humorous tunes sung by the siblings, including songs respectively listing every U.S. president (up to that point, at least), all 50 states, and the nations of the world. The touring production
Animaniacs in Concert
– which comes to Madison Center for the Arts, 5601 North 16th Street, on Saturday, August 28 – showcases many of these tunes, which will be sung by Rob Paulsen, the voice actor behind Yakko, while backed by an orchestra.
Tickets
are $39 to $49 for the 7 p.m. performance.