Phoenix's concert scene might not be back to 100 percent yet, but it's recovered enough that big shows on weeknights are a thing again, at least for the moment. During the next several school nights, for instance, you've got opportunities to see technicolor psychedelic rockers The Flaming Lips, the equally amusing Electric Six, and pop-rock singer NateWantsToBattle.
Other options include a nighttime pool party featuring electronic dance music ensemble Fatum and local hip-hop showcase Rumble at the Rebel. Details about each of these gigs can be found below. And for even more live music happening around the Valley this week, hit up
Phoenix New Times
'
online concert calendar
.
Keep in mind, though, that the Delta variant of COVID-19 is a growing danger right now and venues will be crowded with people at many events. If you're going to attend, we encourage you to take precautions like wearing masks or maintaining social distancing.
Fatum at Maya
As it turns out, pool parties aren't just a daytime thing. Granted, most swim soirees tend to happen during sunlight hours, but some local party havens around the Valley with a pool on the premises are also known to host ragers after the sun goes down. Case in point: the semi-regular Monday Night Swim over at
Maya
, 7333 East Indian Plaza in Scottsdale, where local party monsters extend their weekend fun an extra day and go wild out while frolicking in and around the pool as DJs drop beats and bottles pop.
The latest session on Monday, August 23, and will be headlined by DJ/producer ensemble Fatum. Comprised of Daniel Davis, Bruce Karlsson, and Chad Newbold, they've been nominated for Grammy awards, topped the Beatport and Billboard dance charts, and remixed the track of some of the biggest artists in EDM. Their latest EP,
Stream Starting Soon
, came out on Anjunabeats in June and features several styles ranging from melodic house and trance to trap. Expect to hear tracks from the project during their set. Gates open at 9 p.m. Limited free admission is available before 11 p.m. for those who RSVP online. VIP table service is also available. Details can be
found here
.
Benjamin Leatherman
The Flaming Lips at Marquee Theatre
Many people are familiar with The Flaming Lips only because of the song "Yoshimi Battles the Pink Robots, Pt. 1," a cult classic about a Japanese girl training in kung fu to fight an army of colorful robo-warriors. The band has been touring and recording steadily since 1983 and released its 16th studio album,
American Head
, last year. In other words, these musicians have a vast catalog of music outside of "Yoshimi."
Over the years, the band has always balanced free artistic expression with the demands of pleasing various crowds. But the fact is, you don't have to be familiar with the Flaming Lips' music to be entertained by their stage show. Coyne and company typically incorporate any number of absurd props, costumes, and video displays, such as dancing Teletubbies or unicorns. Coyne often makes grand entrances via a descending UFO, and at virtually every show he climbs into a plastic "space bubble" and rolls offstage like a hamster in a ball, relying on hands in the crowd to keep him moving. Such is likely to be the case when the band performs at Tempe's Marquee Theatre, 730 North Mill Avenue, on Monday, August 23. Doors are at 6:30 p.m. and Greer opens. General admission
tickets
are $45 and
balcony access
is $65.
Howard Hardee
NateWantsToBattle at Crescent Ballroom
Singer-songwriter Nathan Sharp is a hardcore gamer a heart, which explains his moniker and much of the prolific content on his popular
YouTube channel
since 2012. More than 1.5 million people have smashed the "subscribe" button and are treated to weekly uploads of the 32-year-old vocalist, pianist, and guitarist performing songs inspired by video games and anime, as well as covers of Paramore, My Chemical Romance, and other hitmakers. Then there are Sharp's high-energy original tracks, which are firmly in the rock/pop-punk vein and lean heavily into emo territory.
His discography is equally prolific, featuring 13 albums from the last five years that range from theme albums riffing on
Five Nights at Freddy's
and
The Legend of Zelda: Ocarina of Time
to the less geek-oriented effort
Paid in Exposure
. Sharp's scheduled to perform at Crescent Ballroom, 308 North Second Avenue, on Tuesday, August 24. CG5 and Vespera will open the 8 p.m. show.
Tickets
are $15.
Benjamin Leatherman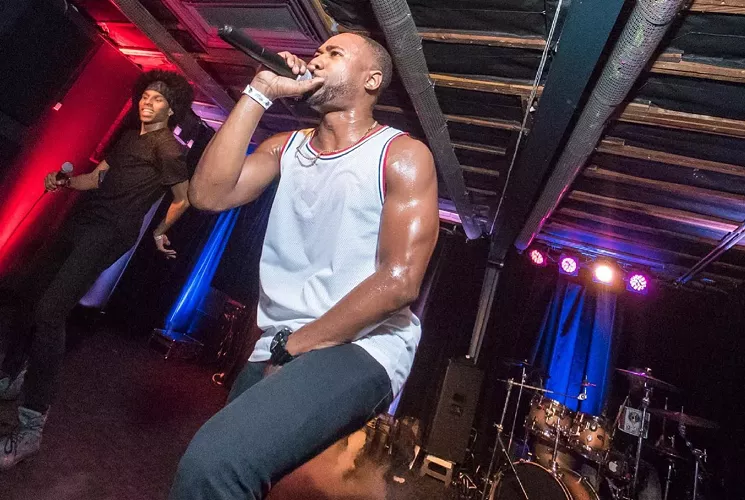 Rumble at the Rebel 3 at The Rebel Lounge
Want to check out the current state of Phoenix hip-hop? Sure, you could hit up the YouTube, BandCamp, and SoundCloud accounts for dozens of local rappers, or you could head for The Rebel Lounge, 2303 East Indian School Road, on Tuesday, August 24, for the latest Rumble at the Rebel session. Put on by local hip-hop artist and promoter Amani Jae, the ongoing event taps into the scene and showcases some of its most promising and unique rappers. This week's event will feature artists like BenFly, Javistar, Bruce the Violinist, and Zanezor (best known for his
viral Phoenix Suns-themed raps
) taking the stage and spitting bars on the mic. DJ Tonelow will also be on the ones and twos throughout the night. Performances start at 9 p.m. and
admission
is $10.
Benjamin Leatherman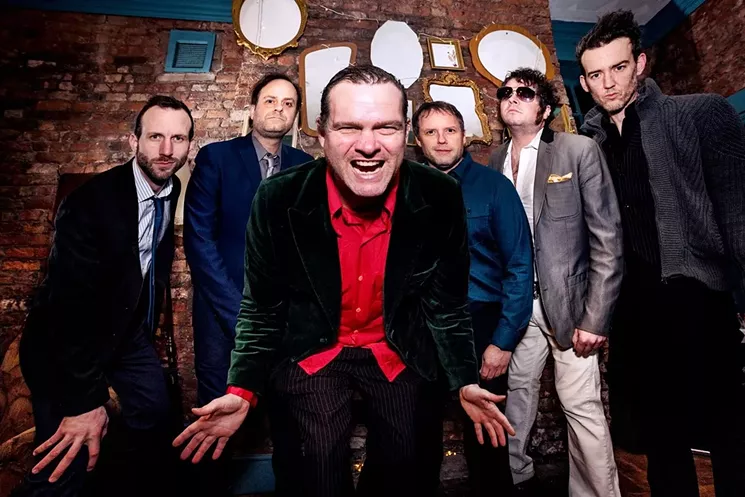 Electric Six at Pub Rock Live
Most of America got to know Electric Six in the video for the 2003 single "
Gay Bar
," which featured the sextet's members gyrating and cavorting while dressed as hot-pants-clad Abraham Lincoln impersonators. That song, from the band's debut,
Fire
, represents the height of their commercial success, but not their creativity.
In the 18 years since, Electric Six have released more than a dozen albums, from the hyperactive, funk-filled
I Shall Exterminate Everything Around Me That Restricts Me From Being the Master
to their 2018 LP,
Bride of the Devil
. (Their latest,
Streets of Gold
, dropped last month.) But the members, who perform under stage names like Dick Valentine and Smorgasbord, have never lost their playfulness. Electric Six is scheduled to perform on Tuesday, August 24, at Scottsdale's Pub Rock Live, 8005 East Roosevelt Street. Me Like Bees and Wurmfur open the 7:30 p.m. show.
Tickets
are $15 in advance, $18 at the door.
Adam Roy