Phoenix artist Lucretia Torva is taking issue with Artlink, after submitting work that wasn't accepted into its latest juried exhibition.
Torva decided to create her own group exhibit, featuring works by artists who've had similar experiences with Artlink, a nonprofit founded in 1989. Headed by CEO and president Catrina Kahler, its mission is "keeping the arts integral to development by connecting artists, business and community."
The "Salon des Refusés" exhibition, which opened at The Icehouse during First Friday on September 3, was conceived partly in response to the "21st Annual Juried Exhibition," which ran from February 20 to June 13 at FOUND:RE Phoenix.
"I decided to do the show as soon as I was refused again from an Artlink show," Torva recalls. "I had been accepted into the show when they were begging artists to enter, but I've applied and been rejected for four out of the last five years."
Artlink began offering a $5,000 cash prize in 2016, which is one reason Torva says she's paying careful attention to the selection process.
That year, Artlink showed 50 works by 45 artists after getting 257 submissions. Jurors included artist Fred Tieken and Chartreuse gallery owner Nancy Hill, as well as Ann Marshall, who was director for curation and education at the Heard Museum, where the exhibit was held.
Torva's exhibition includes her own work, as well as pieces by Darrin Armijo-Wardle, Judith Dauncey, Maggie Keane, Kris Kollasch, Harold Lohner, Ellen Nemetz, Ann Osgood, and Tara Sharpe. It's titled after a famous 19th-century exhibit in Paris, where artists who didn't get selected included Edouard Manet and Claude Monet.
For a reception happening on Thursday, September 16, Torva posted a
Facebook invitation
that explains the rationale for the exhibit she created and curated: "Dedicated to those excellent artists, with hope in their hearts, who submitted to the Artlink Annual Juried Show ever since the award prize grew, only to be rejected."
In most cases, the "Salon des Refusés" artists are showing three artworks each. Keane's pieces include two works from an ongoing series that originated with an artwork stolen several years ago from an exhibition space at The Hive on 16th Street near Thomas Road.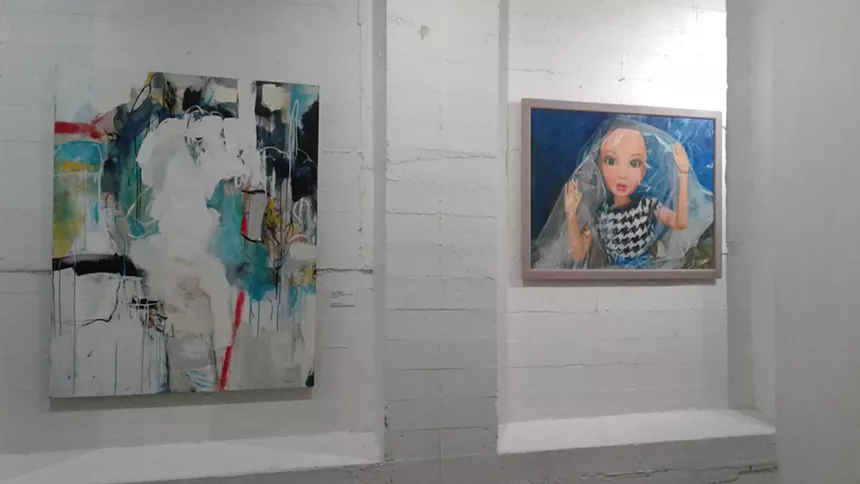 Torva invited artists to participate, and did studio visits where she talked with artists about which works she wanted to highlight in the show.
The lineup includes three pieces that didn't make this year's juried exhibit, including Tara Sharpe's
The Seeker
, Armijo-Wardle's
Trespasser
, and Torva's
Artist as Saint
.
Three works not chosen in 2019 are included as well, including Keane's
Catnap
and Dauncey's
Gentle as a Lamb
and
Scold Bridal
. Torva says Osgood's
White Water
was rejected, but doesn't have the year it was submitted.
For Artlink's 2021 juried exhibit, 300 artists submitted artwork for consideration after Artlink issued a public call for art. A five-member jury reviewed more than 700 pieces, and selected 85 of them for the exhibition.
After Torva's work wasn't selected, it renewed her ongoing concerns about how Artlink chooses artists for everything from exhibits to mural commissions.
And Torva isn't alone.
"We're both in the same boat with applying and getting rejected over and over again," says Keane. "It's bullshit."
Keane recalls getting first place in an Artlink show about 10 years ago, but says her submissions have been rejected numerous times since then. "I just got tired of counting them; I just got so disgusted."
She's concerned about both exhibits and the mural selection process, because Artlink often helps businesses looking for muralists issue and manage their public calls for art. "I just started seeing a pattern of the same people getting chosen for the big-money contracts," she says. "It makes you suspicious."
Antoinette Cauley, one of five people who served on the jury for Artlink's big 2021 show, says she understands the frustration of submitting artwork that doesn't get accepted, although she's had some
very visible successes in recent years.
The Berlin-based artist with Phoenix roots created the
Dear Mr. Baldwin
artwork installed on a building at Central Avenue and Roosevelt Street in August 2020, and her painting titled
Excuse Me I Have On Too Much Jewelry
was awarded first place in Artlink's juried exhibit in 2019.
"I remember being rejected for an exhibit that I was sure I was going to get into at Phoenix College about six years ago," Cauley says. "I had poured my heart into my pieces, and they didn't tell me until the night of the exhibit; I remember I cried, because was just certain I'd get it."
When Cauley picked up her paintings, a woman at the gallery told her they were cute. Of course, she was aghast. And she sought out a professor, who explained that her color work wasn't that strong. "I'm going to ramp up my game," she thought.
Years later, she won that first place prize at the Artlink exhibit, but also felt the pride of being chosen for the exhibit along with John Randall Nelson, her painting professor at that same college.
This year, Cauley was one of three visual artists on Artlink's annual exhibition jury, which also included Rafael Navarro, who is based at The Lodge on Grand Avenue, and Mark Pomilio, a professor of painting and drawing at ASU.
The jury also included Tiffany Fairall, chief curator for Mesa Contemporary Arts Museum, and Julie Akerly, a dancer/choreographer who founded the arts incubator [nueBOX] and recently relocated to Washington, D.C., to work for the John F. Kennedy Center for the Performing Arts.
They individually reviewed more than 700 works of art online, giving Artlink feedback that determined who was ultimately selected for the annual exhibit. "It's basic numbers," says Pomilio. "We couldn't choose every piece of artwork."
The jury used a different process for selecting the three cash-prize winners. Cauley was in Germany, but the other jurors saw all 85 works in person before all five came to a consensus about who should receive those awards.
First place went to Jamilla Naji for her painting titled
Rumspringa
, which pictured an Amish woman and Latino woman interacting in an urban desert landscape surrounding by small red dice.
The
We Be
dance video by Lady Caress and Epik Dance Company was named first runner-up, which carried a $1,500 cash prize. Joel Coplin received $750 for his painting titled
Mad Dance
.
Four artists received honorable mentions: Brian Boner for
Guard Rail,
Bill Dambrova for
You Have A Great Body. May I Use It?,
Danielle Wood for
Corazon
, and YBTheArtTrapper for
Hi, I'm Susie
.
"It was a hard decision," recalls Akerly. "I remember being struck by the amazing number of talented artists making work in Phoenix."
Artlink ended up creating four additional exhibits so they could show more of the submitted artworks.
But that only heightened Torva's concern about the number of artists that get rejected when cash awards are at stake.
"There's no real transparency in the juried show process," she says. "We'd like to believe that getting chosen means something, but does it?"
Moving forward, she's hoping Artlink will issue a mission statement about its juried exhibition, so artists have a better idea of what the jury will be looking for.
"The jurying thing is confusing to some people, and artists are just left in the dark," she says. "We have no idea how they're making the decision."
She's also hoping that Artlink will offer feedback to artists who aren't selected for future annual juried exhibitions. "It can be educational for the artists and it helps the jury be more concrete."
As Torva seeks to bring more attention to Artlink's process for choosing artists, it's clear her own experience continues to inform her efforts.
"Having done this for many years, it's not that I can't handle rejection," she says. "I just don't have to put up with this shit anymore."