Angelica Urrego, owner of
Arepa Babe
in Phoenix, started cooking Colombian food to reconnect with her roots, heal her soul, and represent her culture. At her stand at the
Downtown Phoenix Farmers Market
, she prepares regular and vegan cheese arepas, a Colombian street food. Arepas are corn patties most commonly stuffed with cheese, but sometimes cut in half and filled like a sandwich.
Urrego says there are many distinct types of arepas, depending on the type of corn that is used – the color, fresh or dried, sweet or savory, the region and how it is cooked. You can eat arepas for breakfast, lunch, dinner, or as a snack. In Bogotá, where she's from, breakfast arepas have cheese with other ingredients as a filling, or on top of them.
At Urrego's stand, arepas come with a side of plantain chips and a small serving of hogao, a sortilege of flavors she's created from tomato, garlic, onion and cumin. Hogao is the cooking base for many Colombian stews, and pairs well with snacks like tostones (fried plantains).
"I paired [hogao] with my arepas because I live in a part of the country where salsa is important, so I thought I'd show people something different," she says. "We eat it with eggs, legumes, meats – everything."
Urrego says she began cooking in earnest after her divorce.
"I loved to eat, but cooking mostly fell to my ex," she says. "Once I took over the kitchen, the floodgates opened. Everything came pouring out."
One goal was to clean up her home country's image, says Urrego.
"Through food, I hoped to show America that we are more than what you see on TV," she says. "We are beyond Narcos and coffee. I want to bring hope that you can go to my country without being afraid. I want you to eat my arepas and be inspired to visit Colombia."
Her work and love of her home country have paid off.
"The most beautiful thing I've gotten from my business is people coming to me, saying I was ashamed of being an immigrant," she says. "But the way you relate to Colombia makes me proud of my own heritage."
Urrego immigrated to the United States in 2016 as an au pair to take a break from her job as an administrative assistant at a petroleum company.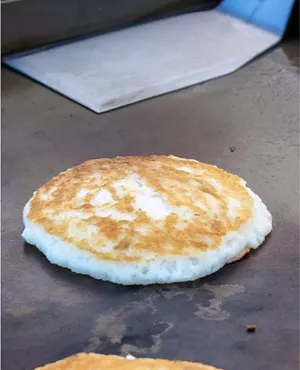 "My income was great, but I didn't like the culture," she says. "These companies destroy the little towns they work in."
Fast forward to 2020. For her 30th birthday, she decided to visit her parents in Colombia. Then the pandemic hit, converting her short visit into a three-month cooking internship with her mother.
"When I came back in June, I kept doing it, inviting my friends over and cooking for them," she says.
Impressed by her skills, her friends encouraged her to consider starting a business.
In September 2020, Urrego and four friends, who had all lost their jobs in the pandemic, came together for a brainstorming session about their futures.
"We were joking about Salt Bae," Urrego says, referring to the Turkish chef who became an internet meme for his unique approach to seasoning meat. "I thought, 'How about Arepa Babe?' It's catchy, it's cheesy, it's funny, and it has nothing to do with Colombia."
Thus, her business was born. She had her first popup in November 2020 at Stoop Kid in The Churchill in downtown Phoenix. By September 2021, she was set up at the Downtown Phoenix Farmers Market.
"My 10-by-10 canopy, my grill, and my social media have been the way I've been healing and reconnecting," she says.
Urrego says she wants to be an example for other women.
"If it weren't for women empowering women, I wouldn't be here," she says.
Arepa Babe is holding a pop-up at
Palabras Bilingual Bookstore
, 906 West Roosevelt Street, on Sunday, November 21. Urrego will be collaborating with
Antonjito Colombiano
on December 16 for the annual
Phoestivus Festival
in downtown Phoenix.
Follow Arepa Babe on
Instagram
for more information.