There's no rule that nachos have to stack chips and nacho cheese. Heck, they don't even have to start with tortillas as their base. And while we're on the subject, who says they must be served hot (ice cream nachos, anyone)? We've tracked down the best rule-breaking nachos, rebels with a cause that highlight a totally surprising ingredient, or defy what you think nachos should be. Dig in!
Brussels Sprouts Nachos at Diego Pops
4338 North Scottsdale Road, Scottsdale
The Brussels sprouts nachos at
Diego Pops
are ready for their closeup. Dressed in street corn queso, queso Oaxaca, Fresno chili peppers, pickled onions, and perfectly crispy Brussels sprout halves, and finished with a flourish of very pink roasted garlic beet crème (not to mention a fried egg), the whole colorful creation stands out, even against Diego Pop's totally Instagrammable backdrop. Bonus: The pretty platter is half off during happy hour.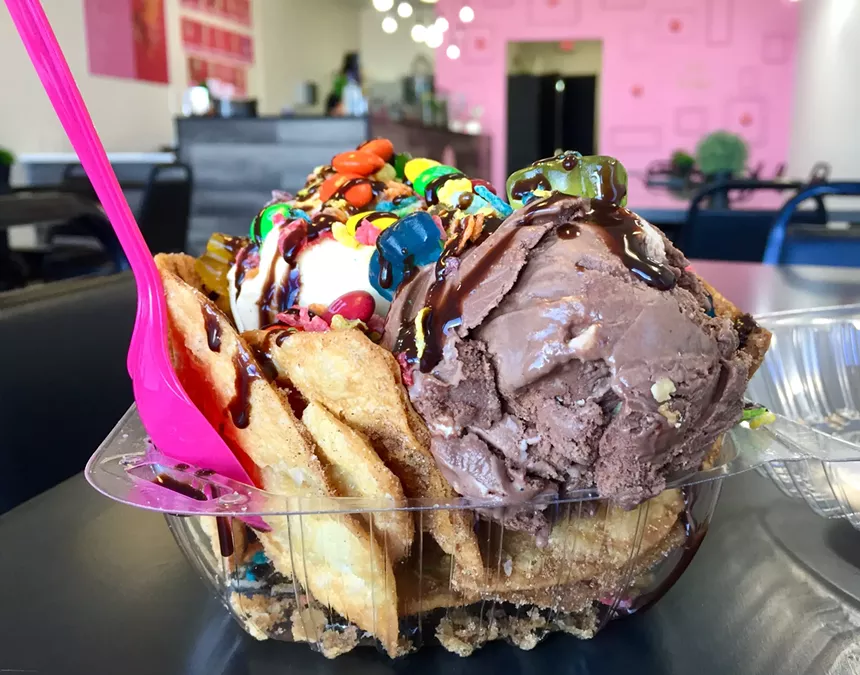 Buñuelo Nachos at Azuquita
7539 West Peoria Avenue, Peoria
Here's the scoop: The Buñuelo nachos at
Azuquita
– in Peoria come with cinnamon sugar flour tortilla chips topped with two scoops of Thrifty ice cream and unlimited toppings. Yes, you read that right, unlimited toppings. So, whether you go with pineapple coconut and cotton candy ice cream, or vanilla and rocky road, you've got a whole candy counter of treats like Fruity Pebbles, M&Ms, Oreos, gummy bears, caramel, and cajeta to choose from. The Peoria shop's pretty pink interior and sweet-as-her-treats owner Veronica Flores are just the sauce on top.
Head Honcho's Nachos at Gadzooks
Multiple locations
There's no such thing as one-size-fits-all nachos at
Gadzooks
. These bad boys are totally build-your-own, meaning you start with chips, single or double layer, and work your way down the assembly line picking your personal toppers. That could mean braised short ribs, asadero cheese, pickled onion, pico, and an over-easy egg or tomatillo chicken, melty chihuahua cheese, crumbled cotija, crunchy slaw and jalapeno ranch. Go super spicy, super meaty, super cheesy – the combos are endless, really. No need to share: The single-layer nachos will only set you back $5.25, yet totally fill you up.
BBQ Nachos at Tom's BBQ
115 East Baseline Road, Tempe
BBQ nachos at
Tom's BBQ
start with homemade potato chips. Thinly sliced and made-to-order, these fried foundations stand on their own, but pile them high with their famous pulled pork, melty nacho cheese, pico de gallo, pickled jalapenos and housemade BBQ sauce, and you have a mammoth mountain of dig-in deliciousness that somehow delivers meaty, tangy, cheesy, and crunchy with each mouthful. Yes, even when you get to the bottom of the basket.
Buffalo Chicken Tot Chos at Cold Beers & Cheeseburgers
Multiple locations
Just like nachos don't have to include tortilla chips, tater tots don't have to be relegated to breakfast. Case in point: Buffalo Chicken Tot Chos from
Cold Beers & Cheeseburgers
. Like cronuts, they have a catchy name, but as fun as it is to say (try it: tat chos, hee hee), the real joy is in the eating. An impressive layer of crispy tater tots is combined with shredded buffalo chicken, green onions, bleu cheese crumbles, and a squiggle of ranch for a breakfast-meets-bar-food, wings-meets-nachos mega mashup.
Nachos at Tru Tacos
4041 East Thomas Road
Tru Tacos
is a three-night-a-week taco pop-up at Jewel's Bakery & Café that serves Nopal tacos on pink prickly pear tortillas, loaded elote bowls finished with hot Cheeto dust, and, yes, nachos. Built on house fried corn tortillas, nachos come loaded with your choice of topping (al pastor, carne asada, lengua, sautéed squash, nopal), plus onions, cilantro, creamy Oaxaca queso and smoky cacahuate salsa for a saucy stack without a dry edge on the plate. For the win, chase it with a jalapeno peach margarita.
Ice Cream Nachos at The Screamery
10625 North Tatum Boulevard
140 North Arizona Avenue, Chandler
Let's face it: The best part about eating ice cream is when you get to the cone and can combine crunch and creamy in every bite. Enter
The Screamery's
ice cream nachos, a bowlful of bliss with waffle chips drizzled in hot fudge that brings the cone to the ice cream. But which flavor to choose? Handcrafted locally from natural milk and cream, your best bets are Sweet Sonoran Dessert (honey ice cream with a peanut butter swirl and homemade toffee pieces) or Mississippi Mudpie (organic coffee base with chocolate cookies and fudge swirl), but you really can't go wrong.
Bulgogi Nachos at Drunken Tiger
1954 South Dobson Road, Mesa
The Bulgogi Nachos at
Drunken Tiger
in Mesa have mullet appeal, but in reverse. It is a total party on top, with nacho cheese, pico, olives, and jalapenos invited, plus the guest of honor: heaps of Korean bulgogi, succulent slices of grilled beef/marinated meat that practically melts in your mouth. But it's all business in back with a base of thick-cut tortilla chips you could find in any supermarket. Not that you'll be complaining, especially armed with an ice-cold Cass beer, a full menu of drunken Korean munchies – from ramen chips to chicken gizzards – and K-pop group Blackpink playing over the TVs.