We made it, kids: The official start of autumn is just days away (even if the thermometer hasn't gotten the memo). Celebrate a new season with a host of fun events this week, including a Jimmy Buffett-themed musical, the annual Free Museum Day, a Fall Equinox fundraiser with music and refreshments, and more.
'Divine Paradigm'
Magic mushrooms. Friendly extraterrestrials. Colorful chakras. They're all part of the new exhibition lineup at
Mesa Contemporary Arts Museum
, where it's all about the Visionary Arts movement exploring the world of consciousness and transcendent experience. See how artists working in and beyond Phoenix are exploring mystical and spiritual themes, with a group show called "Divine Paradigm." Located at One East Main Street in Mesa, the museum has free admission, which means it won't cost you a thing to expand your consciousness with art. Get a good look on Thursday, September 16, when museum hours are 10 a.m. to 5 p.m. While you're there, look for works by Arizona-based artists including Marco Albarran, Daniel Martin Diaz, Kyllan Maney, and Beth Ames Swartz. It'll blow your mind.
Lynn Trimble
Escape to Margaritaville
You've got a license to chill this summer, as
Madison Center for the Arts
, 5601 North 16th Street, presents a touring production of the musical
Jimmy Buffet's Escape to Margaritaville
. Critics didn't love the musical when it had a brief Broadway run a couple of years ago, but it's easily forgiven by those who just want an excuse to relive memories of palm trees and margarita glory days. The musical features music and lyrics by Jimmy Buffett, whose 1977 song "Margaritaville" was inducted into the 2016 Grammy Hall of Fame in light of its historic and cultural significance to the generation that embraced it. Don your best mash-up of theater and tropical attire and join the fun, as the center joins a growing roster of creative spaces eager to bring audiences back for live performances after a pandemic pause. The musical follows the adventures of a laid-back island bartender who falls for a career-minded tourist, so you can only imagine the twists and turns that transpire amid the Hawaiian shirts and sunglasses. Tickets for the 7 p.m. shows on Friday and Saturday, September 17 and 18, start at $80. Look for a buy-one, get-one free offer when you buy your tickets online.
Lynn Trimble
Junk in the Trunk
These days the expression "junk in the trunk" could easily apply to all those pandemic pounds put on during the last year or so. But there's a better way to spin the expression, by thinking instead about all the treasures you haven't been able to shop for at festive fairs and artisan markets since the advent of early Covid-19 shutdown days. The popular vintage market is back for its 10th year in Scottsdale, where more than 130 crafters, curators, and artisans with local and national roots will be sharing their custom wares at
WestWorld of Scottsdale
, 16601 North Pima Road, Scottsdale. On Friday night, September 17, you can shop from 4 to 9 p.m. with a $40 ticket. Or you can get a $25 early bird ticket for 8 to 10 a.m. on Saturday, September 18. They've even got select Saturday and Sunday hours when admission is just $8. Besides 12,000-square-feet of shopping space, you can check out a fun lineup of live entertainment and food trucks. Take along your holiday shopping list, because winter holidays will soon be upon us, and this is a great way to explore the small creative businesses hustling every day to make the vintage magic and charm happen.
Lynn Trimble
Smithsonian Magazine Museum Day

Writer and illustrator Maira Kalman once described visiting a museum as "a search for beauty, truth, and meaning in our lives." And on Saturday, September 18, metro Phoenix residents can engage in such high-minded hunts during this year's
Smithsonian Magazine Museum Day
. The annual event, which is put on by the Smithsonian Institution's official journal, involves participating museums across the U.S. offering free admission to the general public. Here in the Valley, eight institutions will take part, including the
Scottsdale Museum of Contemporary Art
, 7374 East Second Street; the
Tempe History Museum
, 809 East Southern Avenue; and the
Arizona Commemorative Air Force Museum
, 2017 North Greenfield Road in Mesa. You can spend the day strolling through a particular spot while soaking up history, culture, and some of the aforementioned concepts on the cheap. Operating hours vary. Free tickets and a list of participating museums are available on the
Smithsonian Magazine's website
.
Benjamin Leatherman
Tiki Bingo
There's plenty of lore around the game of bingo, where people try to match the numbers on their game cards with numbers that get called out for the crowd of eager participants hoping to take home the night's winnings, which vary depending on where you're playing and what's at stake. It's thought to have originated in 16th century Italy, but by the 1920s it had made its way to New York. Naturally, a traveling salesman was involved, but that hasn't dampened the enthusiasm of its fans through the years. Join fellow geeks for a unique spin on bingo on Saturday, September 18, as
Atomic Age Modern
, 140 West Mesa Street, Mesa brings Tiki Bingo to the table. It's happening from 7 to 10 p.m., and you can get two bingo cards for $10. Here's your chance to rock your best tiki-inspired fashion and accessories, and say goodbye to another stressful week with a night of old-fashioned fun.
Lynn Trimble
Masks Alive Festival
Perhaps you haven't heard that there's a master mask-maker in our midst. He's Zarco Guerrero, a Mesa-based artist who has a long history of making masks for theater, festivals, exhibitions, and other events centers around culture and community. Experience his work during the free Masks Alive Festival happening from 2 to 5 p.m. on Sunday, September 19, at
Pioneer Park
, 526 East Main Street, Mesa. The family-friendly gathering will include giant puppets, masked musical and dance performers, food trucks, and hands-on activities for children. The performance lineup folklorico ballet, Brazilian Capoeira drumming, mariachi music, African music and dance, and Japanese Taiko drumming. It's totally cool to show up in your own creative or outrageous masks. Masks may have gotten a bad rap in some circles amid public health mandates, but the festival, presented by a Mesa-based nonprofit called Cultural Coalition, is a perfect opportunity to explore the wider historic prevalence and significance of masks in myriad cultures.
Lynn Trimble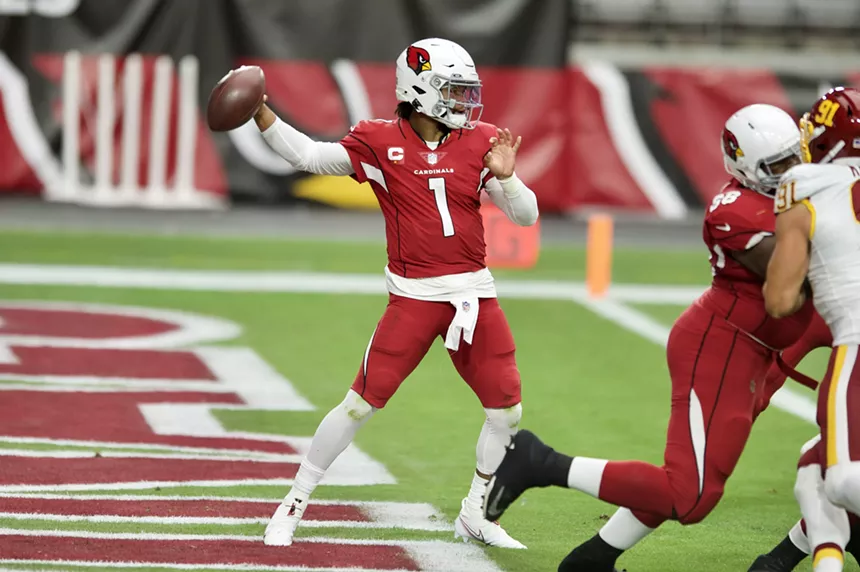 Arizona Cardinals vs. Minnesota Vikings
Are you ready for some football? The Arizona Cardinals certainly hope so, since they'll need plenty of fan support during what's expected to be a tough season. The NFC West is one of the most competitive divisions in the NFL, particularly with such perennial contenders as the Los Angeles Rams, Seattle Seahawks, and San Francisco 49ers vying for supremacy. The Cardinals (1-0) are already off to a good start, having dominated the Tennessee Titans during Week 1, but third-year quarterback Kyler Murray (who threw for 289 yards and landed four touchdowns) and the rest of Arizona's offense will have to continue to be golden all season if the team has any hopes of making the playoffs. Next up are the Minnesota Vikings (0-1), who visit
State Farm Stadium
, 1 Cardinals Drive in Glendale, on Sunday, September 19, for Arizona's home opener. The Red Birds are favored, but the Vikes won't be as much of a cakewalk as the Titans. Kickoff is at 1:05 p.m.
Tickets
are $72 to $443.
Benjamin Leatherman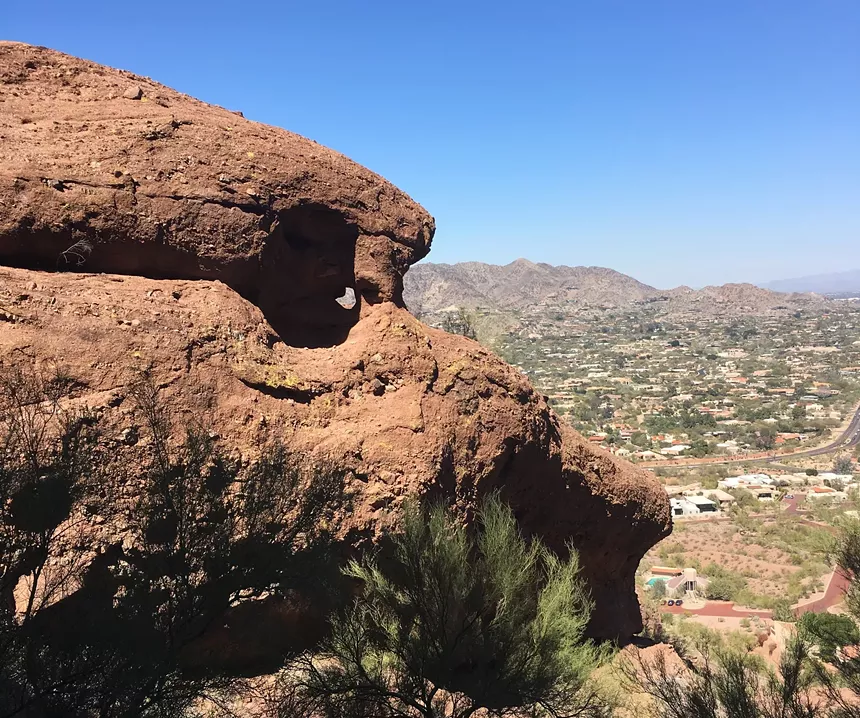 First Aid Class
Nobody wants to watch a child choking or see a fellow hiker take a nasty spill, only to realize they don't have the know-how to render the right kind of assistance in the heat of the moment. Before you find yourself in a bad situation where not knowing first aid means you can't render proper aid, make time to take a first aid class. The American Red Cross keeps a robust roster of class options, including the Adult and Pediatric First Aid Class taking place from 9 a.m. to 1 p.m. on Monday, September 20, at
HeartSavers
, 5133 West Thunderbird Lane, Glendale. The $85 class includes instruction in how to recognize and care for various first aid emergencies, including burns, cuts, and scrapes, as well as head, neck, back injuries. You'll learn how to respond to sudden illnesses, heat and cold emergencies, and both breathing and cardiac emergencies. When you successfully complete the class, you'll get a certificate for adults and pediatric first aid, CPR, and AED that will be valid for two years. The four hours it'll take you to get up to speed is a relatively small investment of your time, when you consider all the ways it could help you and your family minimize potentially dire consequences down the road.
Lynn Trimble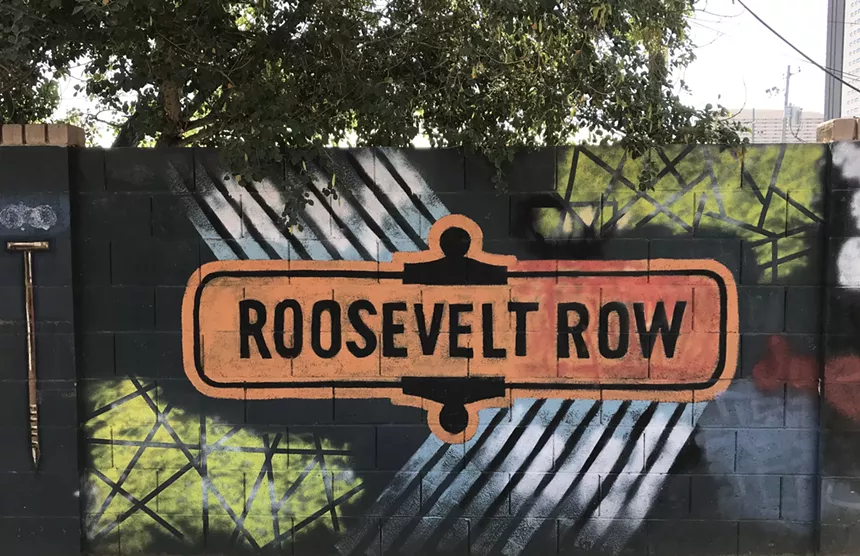 Fall Equinox
Roosevelt Row has looked more like a massive construction zone than a thriving arts district in recent years, but that doesn't mean the area won't emerge with fresh creative energies once all the dust settles. The Roosevelt Row CDC, which includes a variety of community members, creatives, and small business owners, has been thinking about the big picture for some time now, and tried various ways to gather community feedback. Soon they'll unveil the results of a community survey that invited people to offer their input about what they want the future of Roosevelt Row to look like, during a Fall Equinox fundraiser the group is presenting with an Indigenous-led platform called Cahokia PHX. It's taking place from 6 to 9 p.m. on Tuesday, September 21, at
Cahokia
, 707 North Third Street, #130. The evening will include live music from New Groove, plus hors d'oeuvres and drinks from crafted beer to coffee. Tickets are $60 to $100.
Lynn Trimble
Moon Meditation

People tend to focus on the sun around these parts, especially when it beats down on the pavement during steaming summer days. Consider the alternative for a while, as the
Japanese Friendship Garden
, 1125 North Third Avenue, presents a Moon Meditation from 7 to 8:30 p.m. on Wednesday, September 22. Wear your comfortable clothes, and take along a water bottle plus blanket or yoga mat. Then be prepared to enter the world of ancient traditions, where ceremonies marking the phases of the moon hold special meaning. The event is happening on the Autumn Equinox, making it a wonderful day to honor the fall harvest. Participants will be guided through the meditation complete with calming instruments that mimic the sounds of chimes and ocean drums, and take home a moon-themed healing kit from Biophilia. Tickets are $50.
Lynn Trimble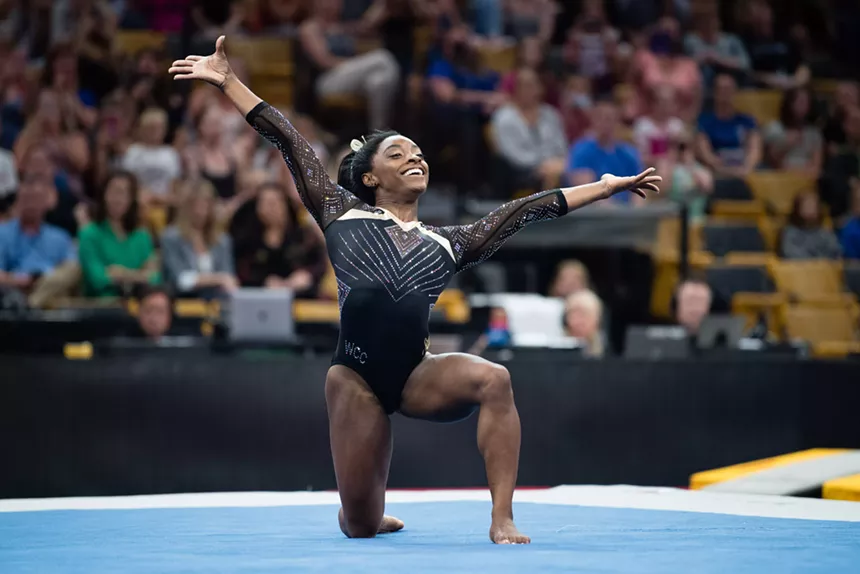 Gold Over America Tour
Simone Biles may have endured some difficulties (and completely undeserved criticism) after her psychological struggles at the Tokyo Olympics, but the fact remains she's still a once-in-a-generation athlete and among the best gymnasts in the world. She'll prove it during the Gold Over America Tour, which will feature Biles and fellow Team USA gymnasts Jade Carey, Jordan Chiles. Grace McCallum, and MyKayla Skinner performing floor exercises and routines on the uneven bars and balance beams. Described as a "gymnastics-meets-pop-concert spectacular," former Olympians like Laurie Hernandez and Melanie De Jesus dos Santos, NCAA National Champion Katelyn Ohashi, and others will also be featured. The tour comes to
Gila River Arena
, 9400 West Maryland Avenue in Glendale, at 7:30 p.m. on Wednesday, September 22.
Tickets
are $21.50 to $325.50.
Benjamin Leatherman