How's your week been so far? A little lacking in fun? We've got the antidote with a host of cool events over the next week, including sports events, a dinosaur drive-thru, and
Animaniacs in Concert
.
Sunsets and Sips
Try a different take on happy hour at
Taliesin West
. It's the winter home of famed architect Frank Lloyd Wright, who used to work in his office created next to an entertainment space called the Cabaret Theater. That's where Wright once hosted formal dinners, often followed by a film or live musical performance. There's a Cabaret Terrace just off the entertainment space, where Wright once stood while surveying desert sights including Camelback Mountain. Taliesin West, 12621 North Frank Lloyd Wright Boulevard, is holding its next Sunset and Sips happy hour in these distinct spaces, where people can experience a taste for how the architect interacted with his desert surroundings. The event runs from 6 to 8 p.m. on Thursday, August 26. Tickets are $35, which includes a complimentary beer, wine, or soda. The sunset views are just an added bonus.
Lynn Trimble

Dance Refresh

It's been more than a year since most Phoenix-based dance companies have taken to actual stages, which means anticipation is building over at
Phoenix Center for the Arts
, 1202 North Third Street. That's where MAC & Company, which was founded in 2014 by Micaela Church and Li Pei Khoo as a way to share the joys of dance performance and promote dance education, will be returning from their pandemic hiatus. The dance company will be presenting new works and reimagined pieces from their existing repertory, giving audiences a chance to once again experience the thrill of live dance. Titled
ANEW
, the production happens at 7:30 p.m. on Friday, August 27. Tickets are $10.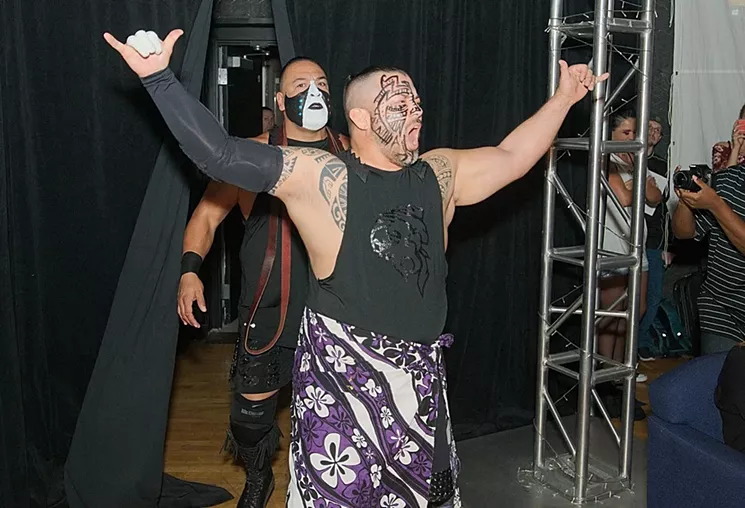 IZW Grand Prix/Nothing to Lose
Long before burgeoning professional wrestlers can compete in WWE or AEW (a.k.a. the big leagues), they typically spend years honing their craft in regional indie promotions. Here in the Valley, that includes
Impact Zone Wrestling
, the long-running local fed that features grapplers from around Arizona and the southwest doing battle in the squared circle.
At IZW Grand Prix on Saturday, August 28, at
Sun Studios of Arizona
, 1425 West 14th Street in Tempe, six tag teams will be battling for supremacy, bragging rights, and a trophy. Participating teams include The Tribe (Navajo Warrior and Hawaiian Lion), Cookies N Cream, and the Brothers of Wrestling. Elsewhere on the card, Gabriel Gallo will fight Graves and a four-way match will feature Mr. Classic, Bryce Saturn, Da Shade, and Miracle Mike James. Doors open at 7 p.m. and
tickets
are $20. If you'd like even more action, IZW's current wrestlers-in-training will participate in the Nothing to Lose student showcase earlier in the day at the venue. Start time is 2:30 p.m. and
admission
is $10.
Benjamin Leatherman

Fashion Sense
If you've missed getting out there to shop for new clothes and accessories, a Tempe-based fashion incubator called
FABRIC i
s here to help you ramp up your personal style again. The organization is presenting a pop-up marketplace called FABRIC Fest from 10 a.m. to 4 p.m. on Saturday, August 28. Happening at FABRIC's studio and maker space, 132 East Sixth Street, the event will benefit both the organization and a group called Friends of Phoenix Public Art. The free event will feature fashions by Laura Tanzer, Leeetie Lovendale, and several additional Arizona-based designers. It's a great way to freshen up your closet while supporting the local arts and fashion scenes.
Animaniacs in Concert

Many a '90s kid spent time in front of the tube watching
Animaniacs
and witnessing the antics of the Warner siblings, Yakko, Wakko, and Dot. The animated show was "zany to the max" (according to the theme song) and offered wise-cracking, slapstick-loving fun that frequently broke the fourth wall. It also featured a variety of memorably humorous tunes sung by the siblings, including songs respectively listing every U.S. president (up to that point, at least), all 50 states, and the nations of the world.
The touring production
Animaniacs
in Concert – which comes to
Madison Center for the Arts
, 5601 North 16th Street, on Saturday, August 28 – showcases many of these tunes, which will be sung by Rob Paulsen, the voice of Yakko, and Maurice LaMarche, the actor behind The Brain. Randy Rogel, the show's composer, will accompany them on piano.
Tickets
are $39 to $49 for the 7 p.m. performance. Masks are required, but baloney in your slacks is optional.
Benjamin Leatherman


The GasLight Circus' Speakeasy Live
The circus will be in town this weekend, only it's not the Barnum & Bailey variety. The aerialists, jugglers, clowns, and other members of the
GasLight Circus
– the local troupe that incorporates elements of fire artistry, sideshow culture, comedy, and musical theater into its performances – will bring its Speakeasy Live showcase to
Endgame
, 1233 South Alma School Road in Mesa, on Sunday, August 29. It's their first gig since the troupe took pandemic-induced hiatus 18 months ago and the antics of Connor the Clown, Lyra the Mermaid, Jero the Jester, and other characters will be featured. The troupe's ringmaster, known only as The Proprietor, will host the event, which runs from 7 to 9 p.m. It's free to attend.
Benjamin Leatherman
Find Balance
Maybe you've heard references to the chakra system during a yoga class or other gathering focused on bringing balance to your life. If you're not familiar with the system but you're eager to learn more, try taking a beginners class called Practical Intro to Chakras that's being presented by
Fantasia Crystals
, a New Age shop that helps people explore a wide variety of world views and spiritual practices. It's being taught by Neil Rasmussen at the shop's off-site classroom located at 10850 North 32nd Street. The class costs $15, and there's a cash-only policy for the class. Participants will get an introduction the seven chakras believed to hold the body's energy, and discuss ways to keep the chakras in balance. The class runs from 3 to 4:30 p.m. on Sunday, August 29.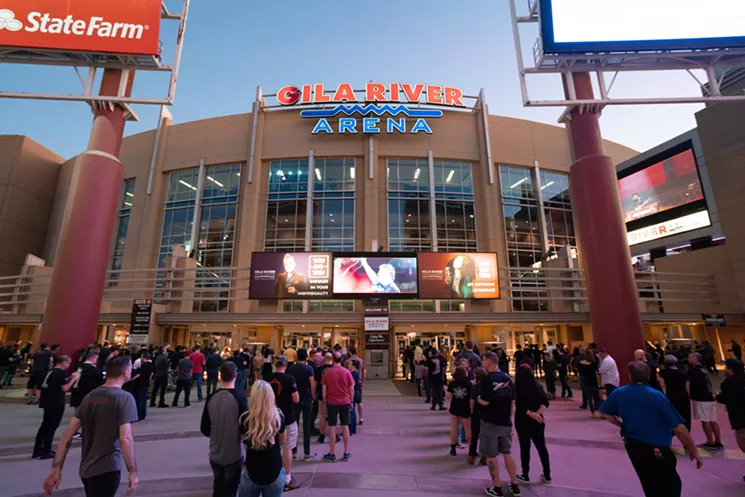 Dinosaur Day

You don't have to be a kid to get excited about the fascinating dinosaurs that once roamed the planet, or wonder what it might have been like to live among them. There's a drive-through dinosaur experience called Jurassic Quest happening in the yellow lot at
Gila River Arena
, 9400 West Maryland Avenue, Glendale, where you can experience more than 70 man-made dinosaurs, including a 50-foot-long Megalodon, on Monday, August 30. You can stay in your car, listen to an audio tour, and encounter extinct creatures that once lived on land or sea. Timed tickets for the attraction start at $49, and you won't have to worry about getting off an island to survive your dinosaur time.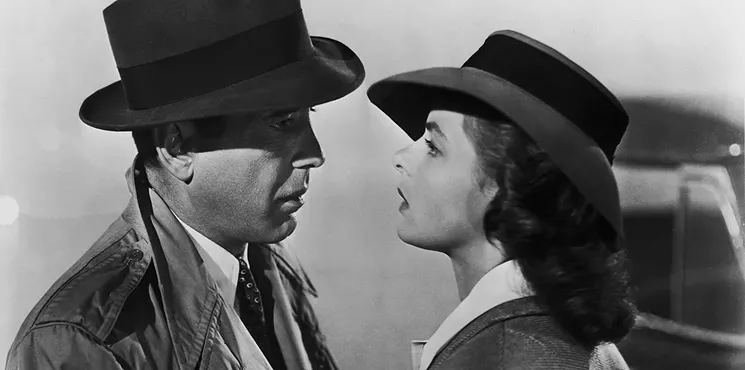 Film Classic
Here's looking at you, kid. It's one of many famous lines from the 1942 film Casablanca, a romantic comedy that starred Humphrey Bogart, Ingrid Bergman, and Paul Henreid. It's being screened at the
Orpheum Theatre
, 203 West Adams Street, from 6:30 to 9 p.m. on Tuesday, August 31, as part of a classic film series presented by FilmBar and The Friends of the Orpheum Theatre in partnership with Downtown Phoenix. After spending more than a year watching most movies from your couch, you can bring a touch of glamour to watching films on the venue's big screen surrounding by its stunning architectural elements and design. Tickets are $11 to $16. There's no extra charge for the viewing's "theatrical surprises."
Trading Posts
Artist Katharine L. McKenna spent two summers in the late '70s documenting her travels through Northern Arizona, where she experienced the cultures of the Navajo and Hopi Nations. Now, a selection of her photographs and excerpts of her travel journal are part of an exhibition at the
Arizona Heritage Center
, 1330 North College Avenue, Tempe. The exhibition includes her black and white images taken at 24 trading posts, during a period of time when she also volunteered with the Museum of Northern Arizona. "Unframed: A Photo Journey Through Navajo and Hopi Nations, 1977-1978" is included with general admission to the Arizona Heritage Center, which is $15. Hours on Wednesday, September 1, are 10 a.m. to 2 p.m.
Batter Up

If the only reason you watch baseball is to see the home team win, you've been having a lousy fan experience this year. We get that. But there's more to baseball than seeing your favorites rise to the top every time. There's all that good stuff that comes with baseball. The fan camaraderie. The fresh air. The popcorn getting passed between a mom and her daughter, or the brothers who fight over who's going to fetch the next round of beer. It's not called the great American pastime because every team wins every season. Show the Diamondbacks some love when they play the San Diego Padres, another team that's been struggling lately, at 12:40 p.m. on Wednesday, September 1. Standard tickets to the game at
Chase Field
, 401 East Jefferson Street, are $19.