Attendees of last weekend's McDowell Mountain Music Festival at Margaret T. Hance Park found plenty of ways to feel the music during all three days of the event, including those folks of crunchier, groovier, and dread-headed bent.
Over the past decade, the springtime concert festival has been a popular destination for hippies, granola munchers, tie-dye fanatics, and the disciples of Jerry Garcia, probably because it typically boasts a healthy dose of jam bands, reggae acts, and prog rockers in addition to its diverse lineup of indie and Americana acts. And -- along with others in attendance -- they're in a mood to dance, with or without hula-hoops in hand. We grabbed more than a dozen clips of hippie activity that transpired at MMMF, which are presented in animated GIF form.
14. Spin Cycle We're getting major dizzy just watching this.
13. Wired for Sound He's a gangly, hyperactive tornado wrapped in a kilt/sarong/man-dress/burlap sack.
12. Lord of the Ring Hula-hooping: the official sport of hippies and dread-heads everywhere.
11. Juggle Low Didn't your mother teach you not to fiddle with your balls in public, son?
10. Infectious Grooves This chickadee's throwing off so much funk with her moves that it spreads to the dude behind her.
9. Flip Out He's got good form, but he winds up flubbing the dismount. He'll have to settle for the bronze.
8. Bongos A Go-Go Matthew McConaughey ain't got nothing on this cat.
7. Sweet! Hippie nunchucks are just as awesome as the regular kind.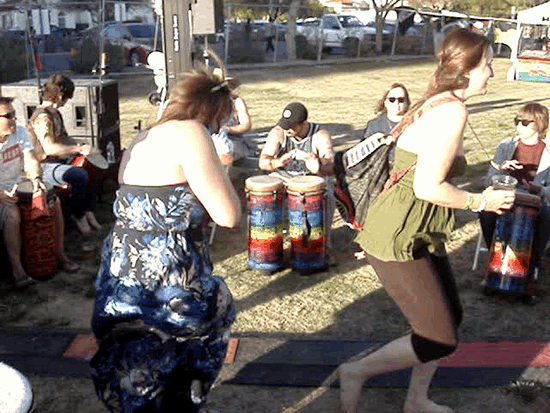 6. Two Girls, One Beat These ladies were the center of attention with their Elaine Benes-style spazzery.
5. Tall Wonders The walking puppets of MMMF: whimsical caricatures or fiendish nightmare fuel? You be the judge.
4. Just Didgeridoo It The traditional wind instrument used by Australian aboriginals for 1,500 years also make for a great dancing accessory for funky white boys everywhere.
3. Twirled Champion Gliding like a patchouli flower in a gentle breeze.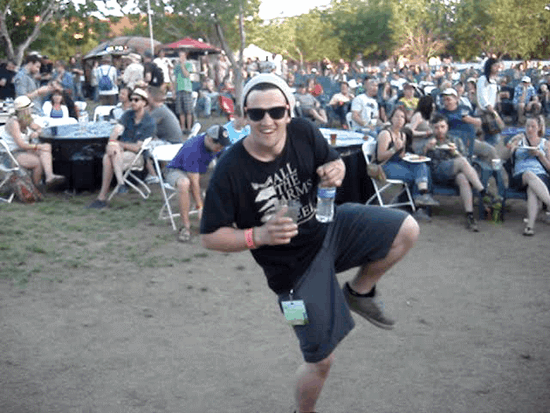 2. Leg Beater We hear he's dynamite at ass-kicking contests.
We Believe Local Journalism is Critical to the Life of a City
Engaging with our readers is essential to Phoenix New Times's mission. Make a financial contribution or sign up for a newsletter, and help us keep telling Phoenix's stories with no paywalls.
Support Our Journalism
1. Night Light A lass from the Heady Hoop Tribe goes with the flow and gives off the glow.
See Also: - 10 Things We Learned at McDowell Mountain Music Festival 2013 - The Shins, McDowell Mountain Music Festival - Day One, 3/22/13 - The Roots, McDowell Mountain Music Festival - Day Two, 3/23/13 - Dr. Dog and Les Claypool's Duo de Twang, McDowell Mountain Music Festival - Day Three, 3/24/13
---
Follow Up on the Sun on Twitter and friend us on Facebook