The concert offering in metro Phoenix this week will see August ending and September beginning with two of the biggest shows of the summer. Guns N' Roses will bring their long-awaited and much-anticipated tour to Footprint Center on Monday, August 30, along with Wolfgang Van Halen's Mammoth WVH for an evening of rock 'n' roll theatrics. Two nights later, homegrown music heroine Lindsey Stirling will be at Arizona Federal Theatre on Wednesday, September 1, with her Artemis tour.
Other concert highlights this week include performances by Brooklyn drill rapper 22Gz at The Rebel Lounge, Americana rock act The 40 Acre Mule at The Rhythm Room, and jazz king John Pizzarelli at Musical Instrument Museum.
Details about each of these events can be found below. For even more live music happening around the Valley, check out
Phoenix New Times
'
online concert calendar
.
Keep in mind, though, that the Delta variant of COVID-19 is a growing danger right now and venues will be crowded with people at many events. If you're going to attend, we encourage you to take precautions like wearing masks or maintaining social distancing.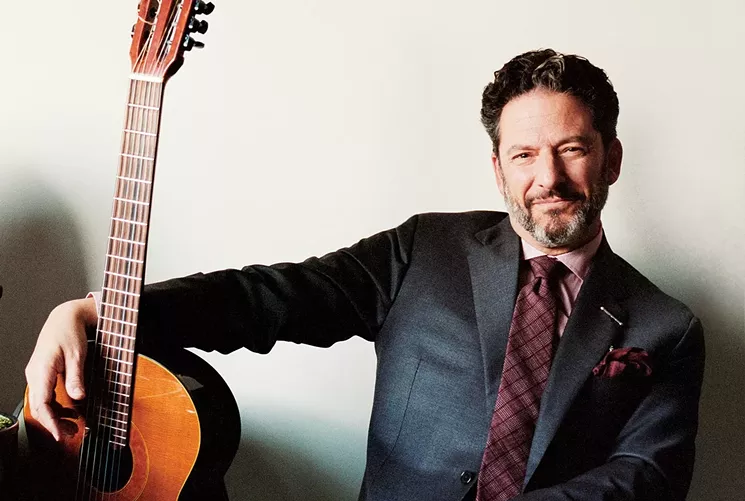 John Pizzarelli Trio at Musical Instrument Museum
Do you have affection for big-band jazz and classic pop but can't stand the cheese that tries to pass for it in recent decades? John Pizzarelli is your man. He comes by the style honestly as the son of celebrated jazz guitarist Bucky Pizzarelli, with whom he cut his teeth as a player and performer before heading out on his own. And he's not just a guitarist of exceptional taste and agility, but a smooth-as-silk pop-jazz singer who begs comparison to the Chairman himself, Frank Sinatra. As the foremost contemporary interpreter of the Great American Songbook, he delivers swinging songs for romantic lovers that aren't mere nostalgia. Hear it for yourself when Pizzarelli bring his trio to the Musical Instrument Museum, 4725 East Mayo Boulevard, at 7 p.m. on Monday, August 30.
Tickets
are $49.50 to $54.50.
Rob Patterson
Guns N' Roses at Footprint Center

Earlier this month, Guns N' Roses released its latest single "ABSUЯD," a reworking of a previously performed song called "Silkworms" that was written but never recorded in the
Chinese Democracy
sessions. Heavy and abrasive as GN'R has always been, the new song was met with mixed reviews from fans and critics who generally seem to dig the riff but find the mixing and the lyrics a bit messy.
While lead singer Axl Rose may not be able to get his voice quite as high as he could once upon a time, he can prove he's capable of handling his duties Wednesday night when the band swings through Footprint Center, 201 East Jefferson Street, on their rescheduled North American tour after a month of being on the road. Guns N' Roses will receive opening support from Mammoth WVH, the new band fronted by Eddie Van Halen's son Wolfgang. The concert starts at 7 p.m.
Tickets
are $34.50 to $224.50.
David Fletcher

Chris Duarte at The Rhythm Room

Chris Duarte is an electric guitar ace in the same illustrious lineage as fellow Texas-born stringbenders Johnny Winter and Stevie Ray Vaughan. Like them, he's paid his road dues with the blues but is no hardcore traditionalist. Duarte played in an Austin jazz combo and isn't shy about rocking out, covering Dylan ("One More Cup of Coffee," an inspired choice), or letting loose the lightning of a Jimi Hendrix-like cascading catharsis. Duarte values the blues (and its bastard offspring, rock 'n' roll) too much to treat them with stuffy, museum-like "reverence." He's bound for the Rhythm Room, 1019 East Indian School Road, for a performance at 8 p.m. on Wednesday, September 1.
Admission
is $12.
Mark Keresman
22Gz at The Rebel Lounge

If you aren't already on the 22Gz hype train, better climb aboard now. The 23-year-old rapper, born Jeffrey Mark Alexander, is affiliated with Kodak Black and is one of the major figures behind the resurgence of Brooklyn drill, a subset of trap music involving 808 percussions, and has released several hot mixtapes and tracks. The video for "Twirlanta," which came out in March, has nearly 7 million views on YouTube and his most recent single, "Steppers," dropped earlier this month and features 22Gz spitting bars like "Told 'em to bring me his chain, they ended up ripping his neck off" over the piano. His current tour comes to The Rebel Lounge, 2303 East Indian School Road, on Tuesday, August 31. PNV Jay, King Tut King Shad, Tullis, and BXMMY will open the 8 p.m. show. Tickets are $18.
Benjamin Leatherman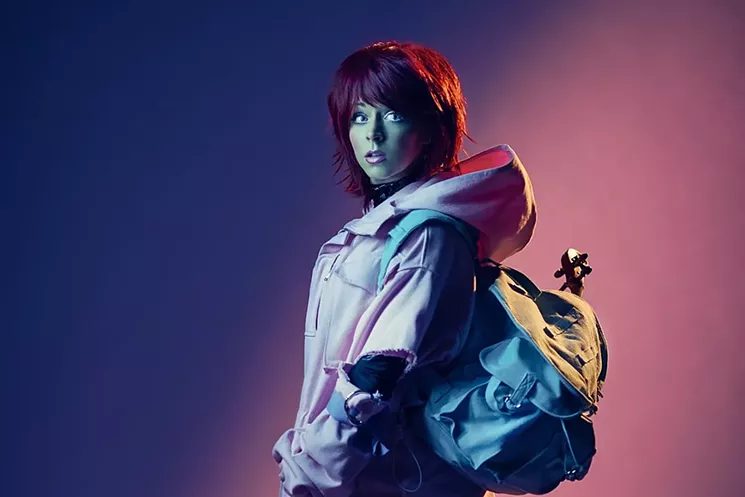 Lindsey Stirling at Arizona Federal Theatre
Lindsey Stirling, a onetime Valley resident, is the greatest musician in the narrow genre of classical/dubstep/hip-hop/Celtic folk. She's released multiple albums, selling hundreds of thousands of copies worldwide. Stirling brings excitement to each track and has filled her latest album with lyrics about overcoming her struggles. On stage, Stirling moves with grace and earnest, her bow flying across the strings to provide melodies over electronic backbeats. Her intensity is infectious. And it is impossible not to get caught up in the spectacle. Stirling returns to her hometown this week with her tour in support of her latest album,
Artemis
– which draws inspiration from Greek mythology, anime, Harry Potter, and other geeky subjects. She's scheduled to perform on Wednesday, September 1, at Arizona Federal Theatre, 400 West Washington Street, with Canadian-born pop/electronic singer Kiesza opening the 7 p.m. concert.
Tickets
start at $69.50.
Taylor Gilliam
The 40 Acre Mule at The Rhythm Room

Students of American music history will remember that there was a point in time when "rock 'n' roll" and "rhythm & blues" referred to the same kind of music, and it's precisely that style of music The 40 Acre Mule is interested in bringing to their audience. The Dallas-based band is known for its high-energy, high-intensity performances that get crowds to loosen up and get moving. Their 2019 album,
Goodnight and Good Luck
, is filled with raucous tales of one-night stands, pounding murder ballads to cheating women, and slow serenades to lovers lost, reaching back to the roots of R&B where Big Mama Thornton and Big Joe Turner met Chuck Berry and Little Richard. Catch them in concert at 8 p.m. on Thursday, September 2, at the Rhythm Room, 1019 East Indian School Road.
Admission
is $10.
David Fletcher