This week, Valley concertgoers can catch Machine Gun Kelly playing his pink guitar and gushing about his new relationship with Megan Fox between songs at Mesa Amphitheatre, hear the newest material from noise-pop act Sleigh Bells at Crescent Ballroom, or see the enigmatic R&B/neo-soul artist Erykah Badu at Arizona Federal Theatre.
Other notable shows happening at metro Phoenix music venues from Monday, October 18, to Thursday, October 21, include performances by jam band legends Phish, homegrown folk-pop artist Alec Benjamin, costumed Transformers metal band The Cybertronic Spree, and post-hardcore group Dance Gavin Dance.
Read on for more details about each of these gigs or click over to
Phoenix New Times
' online concert calendar for more music events happening this week. Keep in mind, though, that the Delta variant of COVID-19 is an ever-present danger right now and multiple local venues are requiring proof of vaccinations or a recent negative test result to attend shows. More info can be found on the ticketing sites for each concert.
Men I Trust at Crescent Ballroom

Montreal's Men I Trust makes the dreamiest indie-pop this side of the Atlantic. And if you haven't heard songs like the band's 2020 single, "Say, Can You Hear," stop what you're doing right now and listen. The group, which has played such high-profile festivals as Coachella and Primavera Sound, is currently on a North American tour with singer-songwriter Michael Seyer in support of their ironically named 2021 release,
Untourable Album
. Some dates have sold out, but
tickets
for their show on Monday, October 18, at Crescent Ballroom, 308 North Second Street, are still available for $21. The concert starts at 8 p.m.
Jessica Gibbs
Dance Gavin Dance at Marquee Theatre
Promoting their latest album
Afterburner
, post-hardcore icons Dance Gavin Dance come to town like they always do with a small festival's worth of opening acts — fellow Sacramento post-hardcore band Wolf & Bear, Salt Lake City rock band Eidola, Chicago metalcore band Veil of Maya, and Texas-born instrumental prog-rock act Polyphia. Dance Gavin Dance's ninth album,
Afterburner
,
was praised as their most accomplished album for its consistency and complexity. It builds upon the band's post-hardcore past with influences from funk, pop, rap, and Latin music. Dance Gavin Dance has always been known for putting on intense live shows that keep fans coming back for more, and their show on Tuesday, October 19, at Marquee Theatre, 730 North Mill Avenue in Tempe, is sure to be no different. The gig begins at 6:30 p.m. and
tickets
are $29.50 to $49.50.
David Fletcher
Alec Benjamin at The Van Buren
Drawing from influences as disparate as Eminem, Coldplay, and Paul Simon, Valley native and singer-songwriter Alec Benjamin returns home on Tuesday, October 19, for a gig at The Van Buren, 401 West Van Buren Street. Benjamin's breakthrough came in 2018 when his song "Let Me Down Slowly" reached top-40 status in over 25 countries. Benjamin's road to success was a long one, however. Initially signed to Columbia Records, Benjamin was dropped by the label after submitting his first album. The singer supported himself by playing in parking lots outside of music venues while handing out business cards and funded his own tours opening for Marina Kaye in France and Lea in Germany. Benjamin was finally able to release his major-label debut
These Two Windows
in May 2020, reaching 75 on the
Billboard
200 list. Benjamin's opener for the night is Kansas City emo-pop singer and TikTok sensation Anson Seabra. The show starts at 8 p.m.
Tickets
are $27 to $30.
David Fletcher
Jason Bonham's Led Zeppelin Evening at Celebrity Theatre
If the name "Jason Bonham" sounds familiar, it's because he's the son of John Bonham, former drummer of Led Zeppeli and one of the most renowned musicians in history. The younger Bonham subbed in for his late father on drums during Led Zeppelin's one-off London reunion concert in 2007. Three years later, Bonham started a band paying tribute to the iconic group of musicians, now known as the "Led Zeppelin Evening," and took the act on the road. Bonham and his band have paid tribute to his late father's legacy while performing gigs across the world, including opening for Foreigner, Cheap Trick, and other legendary rock acts. They'll roll into Celebrity Theatre, 440 North 32nd Street, on Tuesday, October 19. The concert starts at 7:30 p.m. and
tickets
are $50 to $100.
Natalya Jones
The Cybertronic Spree at The Rebel Lounge
This costumed hard rock band is aimed at fans of the old-school cartoon
The Transformers
and its 1986 big-screen adaptation. Its members are dressed in screen-accurate versions of the "robots in disguise" featured in the animated flick (including Hot Rod, Arcee, and Unicron) while performing spot-on covers of the rip-roaring hair metal songs from its soundtrack (such as NRG's "Instruments of Destruction" and Spectre General's "Nothin's Gonna Stand in Our Way"). Gimmicky? Absolutely, but it's seriously geeky fun even if you aren't an Autobot or Decepticon. The Cybertronic Spree will transform The Rebel Lounge, 2303 East Indian School Road, on Wednesday, October 20. The equally nerdy retrowave act Essenger opens the evening starting at 8 p.m.
Admission
is $18 in advance, $20 at the door.
Benjamin Leatherman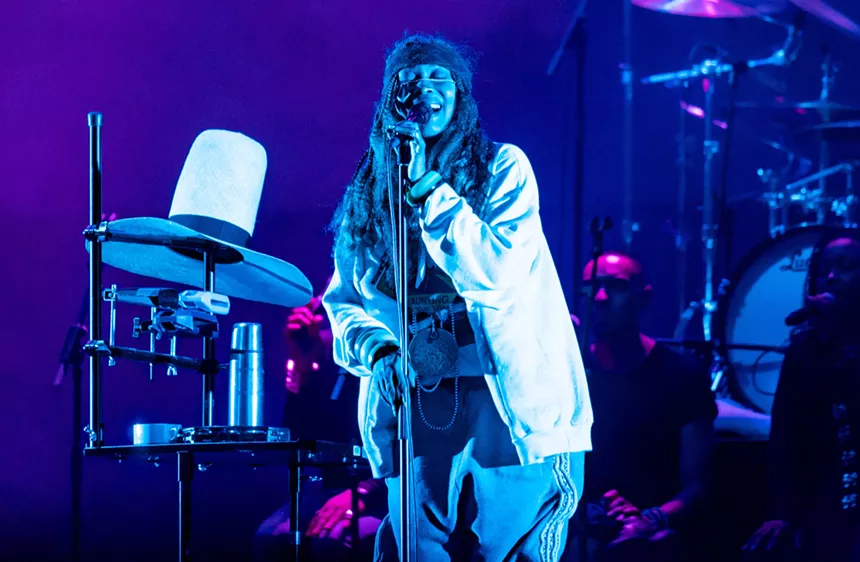 Erykah Badu at Arizona Federal Theatre
Erykah Badu has transcended musical genres, taking on neo-soul, hip-hop, pop, and even the occasional jazz track during her 27-year career. She made a name for herself after her 1997 debut,
Baduizm
, went on to win two Grammy Awards and sell over 3 million copies. Since then she's released five studio albums and cultivated a loyal mass of fans across the globe with her eccentric style, philosophy, and lyricism. Badu isn't just an icon, she's practically a mythological figure, one who's built a legend larger than her work. She's scheduled to perform at Arizona Federal Theatre, 400 West Washington Street, on Wednesday, October 20, with support from rapper Westside Gunn.
Tickets
start at $49.50 and the show starts at 8 p.m.
Jacob Vaughn and Eva Raggio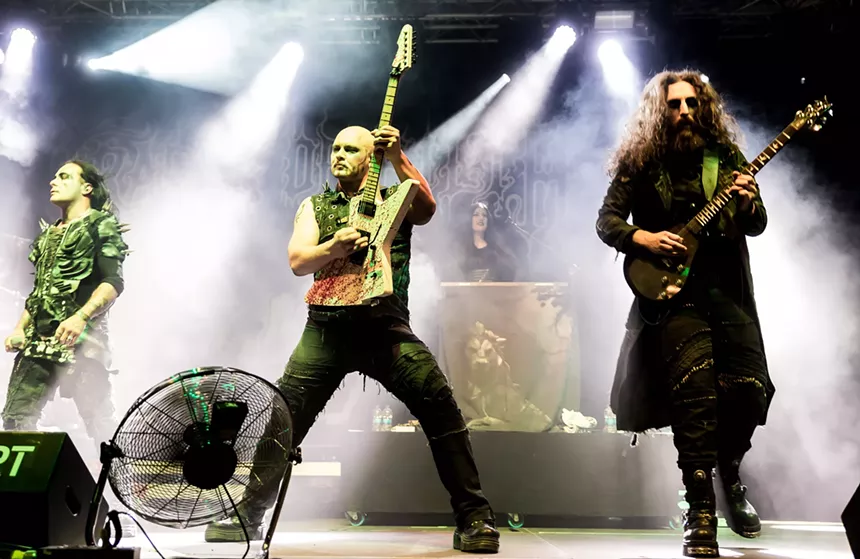 Cradle of Filth at Marquee Theatre
Cradle of Filth may not be a band for everybody, but they really aren't a band that parents should worry about. Extreme metal — a kind of umbrella term that covers the many forms of metal made by bands with hard-to-read logos — has a history fraught with violence, vandalism, and, of course, Satanism. Breaking down the "extreme metal" label a bit, Cradle of Filth began as a black metal band in 1991 and has spent the last 30 years crafting a more produced version of it. Pinning down their current genre is the subject of much debate, with labels like "gothic metal" and "symphonic metal" thrown around. For Cradle of Filth, who play Marquee Theatre, 730 North Mill Avenue, on Wednesday, October 20, that content has never centered on some biblical figure. Instead, their lyrics have been more influenced by Gothic literature, mythology, and paganism. In other words, bust out your finest black T-shirt for their show and leave your bible and crucifix at home.
Tickets
are $37.50 and 3Teeth and Once Human open.
David Fletcher
Sleigh Bells at Crescent Ballroom
Since forming in 2008, Sleigh Bells — due on Wednesday, October 20, at Crescent Ballroom, 302 North Second Avenue
—
have released two EPs, a wealth of singles, and six records, including their newest offering,
Texis
. The band's combination of heavy, expansive guitar rock and hyperkinetic, layered rhythms from Derek Miller, along with Alexis Krauss's commanding vocal delivery, caught on with audiences early on as the duo subverted the pop genre and their bombastic, visceral live performances have enchanted crowds. Their Crescent Ballroom gig starts at 8 p.m. with an opening set by Kill Birds.
Tickets
are $30 to $40.
Tom Murphy
Machine Gun Kelly at Mesa Amphitheatre

Machine Gun Kelly rose to fame after his 2012 single "Wild Boy" featuring Waka Flocka Flame. The song was an anthem for the badly behaved and the first introduction to Kelly's badass personal branding. Despite often being labeled a rapper, Kelly's made a living off of his rock star lifestyle. When it comes to his musical accolades, putting him solely in the box of hip-hop is a gross underestimation of his talent. His fourth studio album, 2019's
Hotel Diablo
, was a mashup of alt-rock and rap while 2020's
Tickets to My Downfall
was more pop-punk than hip-hop, as evidenced by the fact it was produced by Blink-182's Travis Barker. And his latest album,
Born with Horns
, delves into grunge territory. But with whatever style he chooses, MGK's still mad as hell and embracing his angst and expressing it on his terms. His concert at Mesa Amphitheatre, 263 North Center Street, on Thursday, October 21, will include songs from across his discography. Gates open at 5 p.m. and rappers Kenny Hoopla and Jxdn open.
Tickets
are $48.75.
Alma Schofield
King Lil G at Aura
In a genre that often slants toward extremes, rapper King Lil G seeks moderation. He's a moralist without being self-righteous, an ex-gangbanger and dope dealer raised by a single mom, attempting to steer people away from the traps that once ensnared him. He gets high but not too high. The songs feel real in the stories and people that they portray. They're filled with temptation, regret, and pain, as well as celebration, brown pride, and joy.
2Pac famously said it "wouldn't be L.A. without Mexicans." Lil G is the grown-up kid who heeded his call, determined to be a voice for those whom the system failed. His biography is embedded in the music. Listen to his most popular song, 2014's "Hopeless Boy" (61 million YouTube views and counting): "Fuck rapping and bragging about the way you balling / Spray cans in my backpack and I was starving / In middle school with a trey five seven revolver / My family said I wasn't going to make it / Now I'm grinding harder." He's scheduled to visit Tempe nightclub Aura, 411 South Mill Avenue, #201, on Thursday, October 21. Doors open at 8 p.m. and
tickets
are $25 to $100.
Jeff Weiss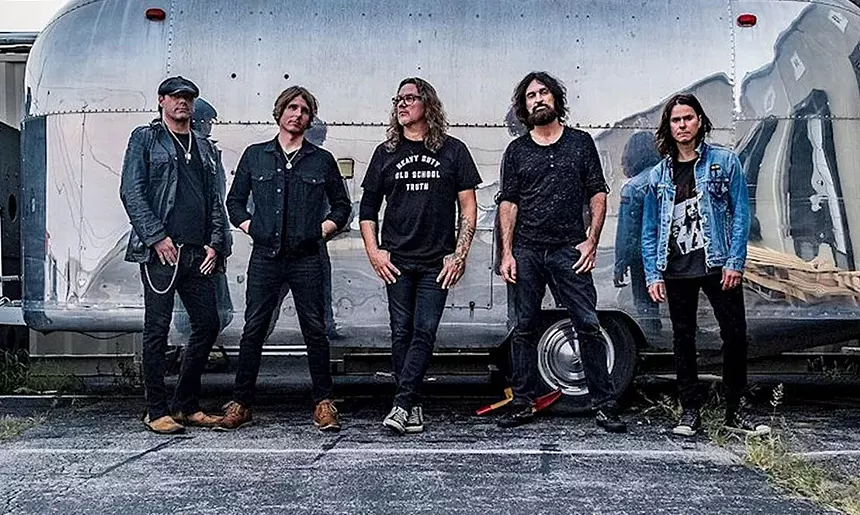 Candlebox at Crescent Ballroom
Seattle is the staph-infected armpit of America, and grunge is the second-worst-smelling music genre next to crust punk. In Seattle, it's illegal to burn flannel, and you have to meet an elitist quotient to claim residency. Thirtysomething years ago, the city thought itself too cool for Candlebox, the Seattle rock band that left its own backyard to sell about 6 million records worldwide. The group eventually succumbed to a genetic predisposition toward self-annihilation and crashed into the fiery depths of has-been-ism. For years, Candlebox accepted its role as the needle on the Washington roadside of musical trivia. The band had been to the mountaintop, drunk, drugged, crashed, and burned. But after the guys toiled in obscurity for something like a decade, a strange thing happened. Fans drank from the Candlebox discography, the music was good, and the band has been celebrated ever since. They're touring in support of
Wolves
, their newly released seventh studio album, and will perform on Thursday, October 21, at Crescent Ballroom, 308 North Second Avenue. The Whole Damn Mess and The Dead Deads open the evening at 8 p.m.
Admission
is $37 to $47.
Jacob Katel