If you're into country music superstars or punk rock legends, this weekend's slate of concerts around metro Phoenix offers a bit of both. Country Thunder Arizona will be in full swing down in Florence while Willie Nelson will bring his Outlaw Music Festival to Ak-Chin Pavilion. If you aren't into the twang thang, iconic punk bands Bad Religion, Dwarves, and The Queers all have gigs scheduled at local venues over the next 72 hours.
Other live music highlights from Friday, October 15, to Sunday, October 17, include Tennis at Crescent Ballroom, techno pioneer Carl Craig at Walter Where?House, rapper J. Cole at Footprint Center, and classic rockers The Doobie Brothers at Ak-Chin Pavilion.
Details about each show can be found below. For even more live music happening around the Valley, check out
Phoenix New Times
'
online concert calendar
. Keep in mind, though, that the Delta variant of COVID-19 is still a danger right now and multiple local venues require proof of vaccinations or a recent negative test result to attend shows. More info can be found on the ticket sites for each gig.
Tennis at Crescent Ballroom
Despite her affinity for sailing, vocalist Alaina Moore has admitted in recent interviews that she only learned how to swim in the past year. That might come as a surprise to longtime fans of Tennis, a duo that is well-known for its sea legs. Moore and her husband Patrick Riley practically live on a boat, and their ethereal dream pop has been linked with water since 2011's
Cape Dory
. But the musically intertwined couple has proven, ten years since their formation, that they are still full of surprises and heartfelt ballads. On tour in support of their fifth studio album,
Swimmer
, Tennis will perform their lo-fi, retro tunes onstage at Crescent Ballroom, 308 North Second Avenue, on Friday, October 15. The show is at 7 p.m. and Molly Burch opens.
Admission
is $23.
Matthew Keever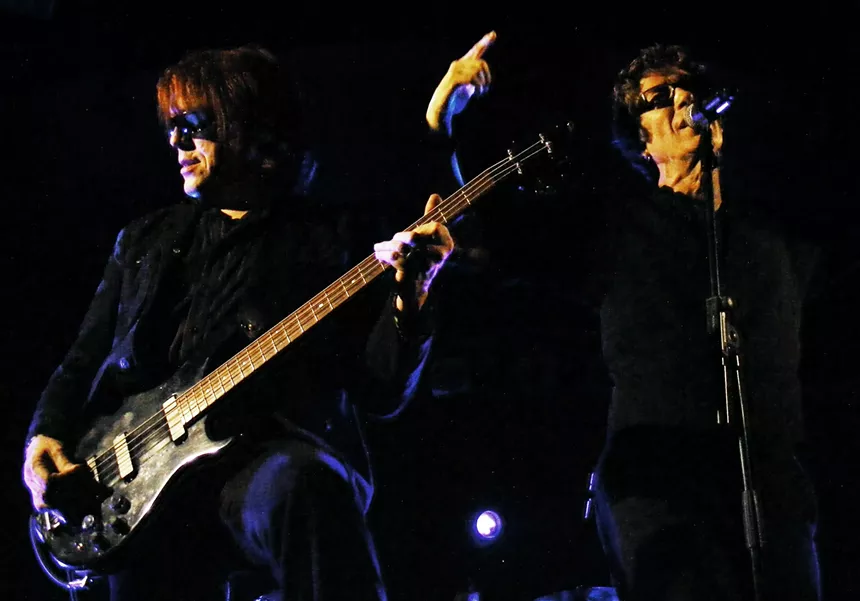 The Psychedelic Furs at Talking Stick Resort
Formed in London in the late '70s, new wave stylists The Psychedelic Furs have mastered the delicate art of staying relevant. With tracks like "Pretty and Pink," "Heaven," and "Love My Way," the first of which inspired the classic John Hughes film of the same name, the band long ago established staying power. In recent years, their stature has again risen, as songs from their vast catalog have surfaced in episodes of
Stranger Things
and on the soundtrack of the Oscar-nominated film,
Call Me By Your Name
. As edgy and strong-voiced as ever, bandleader brothers Richard and Tim Butler have a decades-worth bond built through touring and recording that makes The Furs' sound as enticing as ever. See it for yourself when they perform on Friday, October 15, at Scottsdale's Talking Stick Resort, 9800 East Talking Stick Way. Spacehog frontman Royston Langdon opens the 8 p.m. concert.
Tickets
are $25 to $75.
Jeff Strowe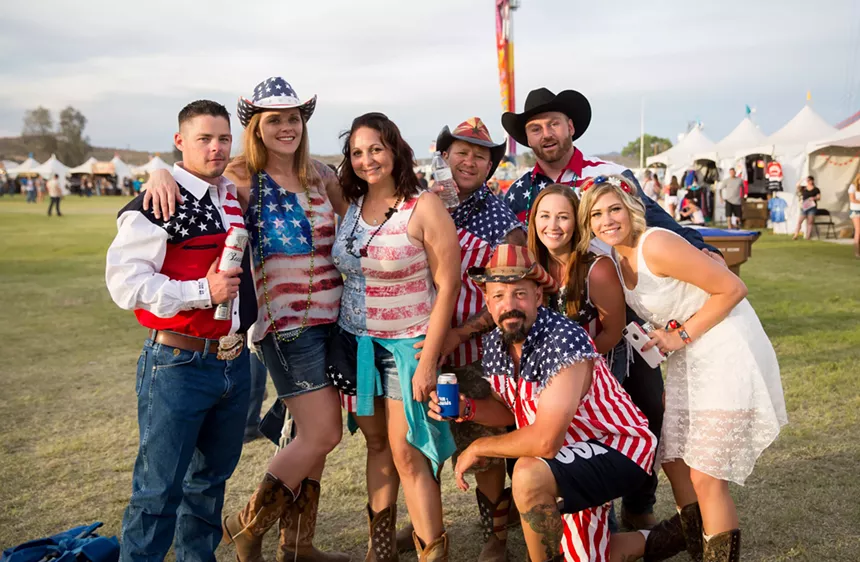 Country Thunder Arizona 2021 at Canyon Moon Ranch
Up for an adventure and a little bit of a road trip, pardner? Pack up your boots and blue jeans and hit the dusty trail down to Canyon Moon Ranch, 20585 East Water Way in Florence, as Country Thunder Arizona is finally going off after three pandemic-related postponements. As is the norm for the multi-day outdoor music festival, radio-friendly country artists dominate the massive lineup, with names like Luke Combs, Eric Church, Ashley McBryde, Parmalee, Chicks With Hits, and Chris Janson set to perform at this year's event. Tens of thousands are expected to attend the event from Friday, October 15, to Sunday, October 17, though the boot-scootin' bacchanal won't be limited to the main stage. The campground is an infamous party zone (and almost a festival in and of itself) with hootin' and hollerin' going on until the wee hours. Gates open at 1 p.m. daily. Multi-day
general admission tickets
are still available for $245.
Benjamin Leatherman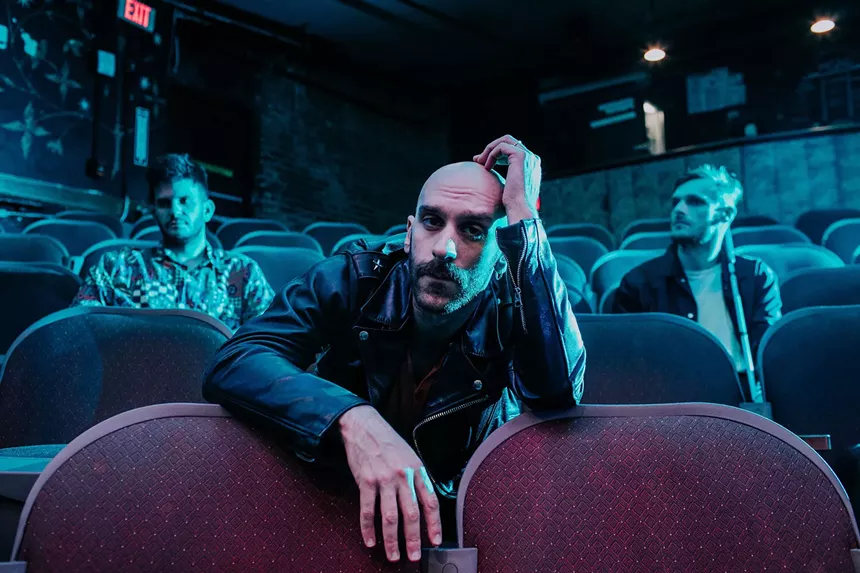 X Ambassadors at Marquee Theatre
A young band, plagued by small club numbers and a lack of radio play, claws and fights their way to some modicum of success. The reason this sounds cliche is because it's a reality for thousands. Even after years of working on side projects in addition to their main band, the members of X Ambassadors were still nearly destitute — and that was after signing with Interscope Records, thanks to a chance discovery by Imagine Dragons frontman Dan Reynolds. The quartet finally found success with the release of their major-label debut LP,
VHS
, and in particular with the platinum-selling single, "Renegades," which was released in spring 2015 and had a commercial tie-in with the Jeep Renegade. (Yes, the one that was played almost hourly.)
Since then, the four-piece — brothers Sam (vocals) and Casey (keyboards) Harris, guitarist Noah Feldshuh, and drummer Adam Levin — have been busy steadily touring and sharing their brand of indie, which combines the energy of punk, the harmonies of R&B and soul, and the swagger of hip-hop. On Saturday, October 16, they'll perform at Tempe's Marquee Theatre, 730 North Mill Avenue, with support from Scarypoolparty.
Tickets
for the 7:30 p.m. show are $30 to $125.
Angel Melendez
Outlaw Music Festival at Ak-Chin Pavilion
Whether one is glimpsing his smiling face or hearing his one-of-a-kind voice come on over a stereo or jukebox, Willie Nelson stands as one of the most instantly recognizable country music artists ever to step in a recording studio or take a stage. On Friday, October 15, Nelson and his well-worn guitar, Trigger, return to the Valley when this year's Outlaw Music Festival Tour comes to Ak-Chin Pavilion, 2121 North 83rd Avenue. For those unfamiliar with the Outlaw tour, Nelson and his family band (which includes his guitarist son, Micah, and pianist sister, Bobbi) headline the show with a rotating cast of opening acts on the road, which for this bill includes singer-songwriter Lucinda Williams and bands The Avett Brothers, Gov't Mule, and Ida Mae. The pickin' and grinnin' starts rolling at 4:25 p.m. and
tickets
are $25 to $129.95.
David Fletcher
The Doobie Brothers at Ak-Chin Pavilion
No one has ever embodied the sweet sounds of classic '70s California pop more than the Doobie Brothers. And now that the style the Doobies perfected has become a musical archetype, it's all too easy to look back through the lens of nostalgia, rather than give the band the credit it deserves. Looking at the Doobies catalog from a more objective, musical standpoint — and sober of the pop-culture fetishism we place on the era — the band expertly concocted a blend of soft pop, funk, blue-eyed soul, and light jazz under an infectious glaze of polish. Much like the sunny Pacific atmosphere in which they incubated their approach, the Doobies sound washes past you like a cool breeze. That's even as it percolates with hooks and rousing grooves, as best captured on radio staples like "China Grove" and "Black Water." Their 50th-anniversary tour stops at Ak-Chin Pavilion, 2121 North 83rd Avenue, on Saturday, October 16. The performance begins at 7:30 p.m.
Admission
is $29.50 to $350.
Arielle Castillo
Carl Craig at Walter Where?House
Pioneering DJ/producer Carl Craig will headline a night of electronic dance music at the recently reopened Walter Where?House, 702 North 21st Avenue, on Saturday, October 16, raining down one of those futuristic sets responsible for putting him on the proverbial Rushmore of Detroit techno. Craig once described the genre as "music that uses imagination to develop the fantasy of what the future can be," but his sound is just as informed by the past as it is by the future. Part of Craig's unique contribution to Detroit techno over the past three decades are his forays into EDM influenced by jazz and soul, and in a sense he considers techno a succession of traditionally black music forms in America. "There are too many parallels that make these arts the same – jazz being the premier intellectual black music recognized academically," Craig
told Miami New Times
in 2011. "And techno has that academic achievement, unfortunately not in the US, but [yes] throughout the rest of the world." Craig's gig this weekend will feature Disco Zombie, a member of local collective Techno Snobs, as the opening act. The beats begin at 9 p.m.
Tickets
are $18.
Olivia McAuley and Sean Levisman
Bad Religion and Alkaline Trio at Marquee Theatre
Before Matt Skiba was tapped to replace Tom DeLonge in blink-182, one of the most iconic trios of our time, he was known for his work in another famous punk rock trio. Alkaline Trio have made a name for themselves over the years with their dark, and at times downright morbid, brand of punk. The Chicagoans' careers span 25 years and nine studio albums with gleefully Gothic tracks such as "Radio," "Stupid Kid," "Mercy Me" and "Calling All Skeletons," to name just a few. Skiba's "dream come true" experience fronting the band became even truer recently, when the Trio announced a co-headlining tour with punk legends Bad Religion. The tour may have been delayed by the pandemic, but it's finally rolling across America and making a stop at Marquee Theatre, 730 North Mill Avenue, on Sunday, October 17. Feminist hardcore punk act War On Women opens the 7:30 p.m. concert.
Admission
is $40 to $70.
Chelsey Norris
Elizabeth Cook at Valley Bar
Elizabeth Cook's credentials within the music industry are enviable. Over the past two decades, the country singer released seven studio albums, made hundreds of appearances at the Grand Ole Opry, and is an in-demand collaborator with folks like Todd Snider, Jason Isbell, and Loretta Lynn. She's also been enormously successful in a couple of other entertainment mediums, include hosting shows on SiriusXM and multiple appearances on David Letterman. Cook also did voice-over spots on Adult Swim's infamous animated show
Squidbillies
, which proved a perfect match for her irreverent humor and unique regional perspectives. That charming personality, with her natural ability to pepper both her songwriting and conversations with witty quips, will be on display during Cook's performance on Saturday, October 16, at Valley Bar, 130 North Central Avenue. Start time is 7:30 p.m. and fellow country singer Waylon Payne opens.
Tickets
are $22.
Jeff Strowe
Dwarves and The Queers at Yucca Tap Room
Expect two things when Dwarves co-headline a show with the Queers at Tempe's Yucca Tap Room, 29 West Southern Avenue, on Sunday, October 17: punk ferocity and relentlessly abnormal behavior. While we don't expect Dwarves frontman Blag Dahlia to cause as much of a ruckus as he did in years past, we certainly expect their set to be filled with vitriolic and spirited West Coast punk, not to mention tunes with shocking lyrics. There's no new Dwarves album (not since 2018's
Take Back the Night
) to coincide with their current tour, but no matter. Chances are everyone in the room will be treated to something memorable before the night is through. Local punk bands Skull Drug and Ass Wipe Junkies will get things started at 7:30 p.m.
Tickets
are $18 in advance, $22 at the door.
Alan Ayo
J. Cole at Footprint Center
Having dropped his sixth studio album,
The Off-Season
, earlier this year, Cole is back. It would be a blessing to hear the "Middle Child" rapper drop an array of his classic hits. Yet, judging by his past two tours, judging by his past two tours, Cole is likely to stay the course and bring his new album to life with current tourmates 21 Savage, Morray, and Druski during his stop at Footprint Center, 201 East Jefferson Street, on Sunday, October 17. He'll probably end up performing all 12 tracks off the LP during the concert, which starts at 8 p.m.
Tickets
are $65 to $114.
Tony M. Centeno

Gladys Knight at Celebrity Theatre
Gladys Knight made a name for herself in the '50s and '60s with The Pips, releasing beloved hits like "Every Beat of My Heart" and "I Heard It Through The Grapevine." Following her band's retirement in 1988, the Grammy Award-winning singer continued performing as a solo act, eventually earning the nickname "The Empress of Soul." The iconic R&B/soul singer visits Celebrity Theatre, 440 North 32nd Street, on Sunday, October 17, for an 8 p.m. performance.
Tickets
are $45 to $130.
Matthew Keever