It's Halloween weekend in the Valley, which means costumes, candy, and over-the-top parties will be in abundance. The occasion also crosses over into this weekend's concert offerings around metro Phoenix. As such, a few themed music events will be happening, like the Trilloween show featuring Kool Keith at hip-hop shop Trill of Yucca Tap Room's Punk Rock Halloween Bash.
Other notable concerts happening from Friday, October 29, to Sunday, October 31, include performances by Latin singers Marc Anthony and Karol G., country king Chris Stapleton, SoundCloud rapper $not, and singer-songwriter Brandy Clark.
Details about each show can be found below. For even more live music happening around the Valley, check out
Phoenix New Times
'
online concert calendar
.
Keep in mind, though, that the Delta variant of Covid-19 is a growing danger right now and many local venues are requiring proof of vaccinations or a recent negative test result to attend shows. More info can be found on the ticket sites for each gig.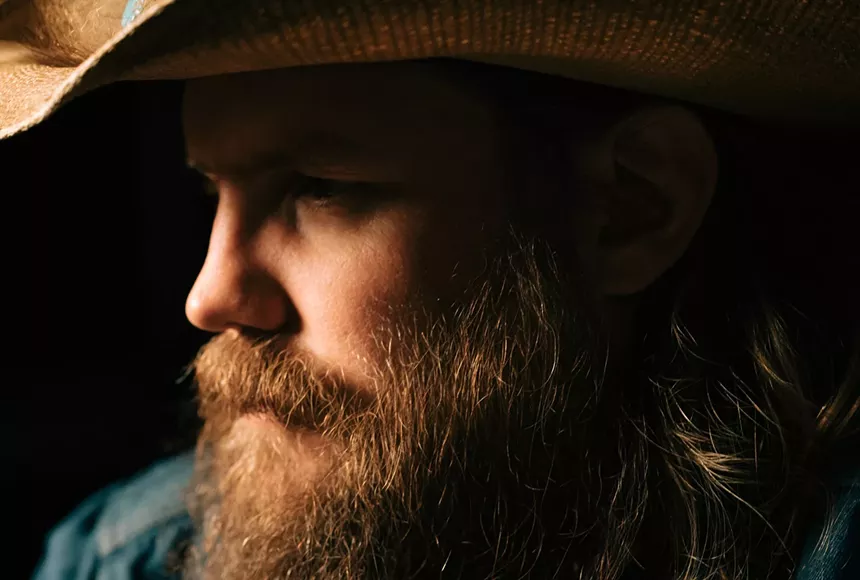 Chris Stapleton at Ak-Chin Pavilion
Country singer Chris Stapleton enjoys a level of artistic goodwill that is hard to come by these days. He's as big on country radio and among the bro-country set as he is in the independent Americana songwriting space. He's collaborated with everyone from Justin Timberlake to Tom Petty and the Heartbreakers guitarist Mike Campbell and keyboardist Benmont Tench in recent years, and in November, he'll appear on the re-release of Taylor Swift's 2012 album,
Red
. Needless to say, he'll have plenty to draw from when he brings his All-American Roadshow to Ak-Chin Pavilion, 2121 North 83rd Avenue, on Saturday, October 30, including his four acclaimed studio albums. He's also bringing outlaw country singer/guitarist Jamey Johnson and country soul artist Yola. The concert starts at 7 p.m.
Tickets
are $99 to $249.
Celia Almeida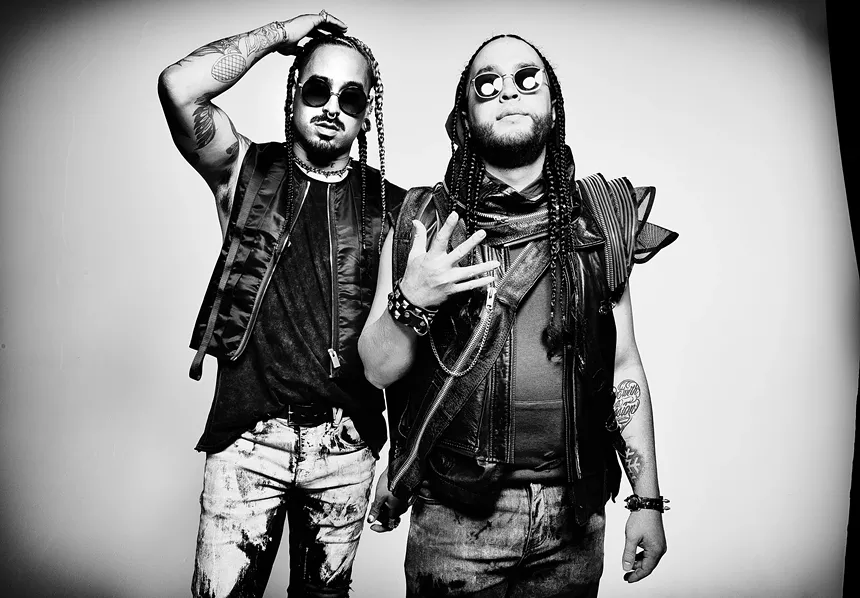 Snotty Nose Rez Kids at The Rebel Lounge
Lifelong friends Quinton Nyce and Darren Metz continue to complement each other in the rap duo Snotty Nose Rez Kids. Their fourth album,
Life After
, is out now, and the pair is preparing to embark on their first United States tour, including a stop at The Rebel Lounge, 2303 East Indian School Road, on Friday, October 29. Like their previous three albums, Life After displays Snotty Nose Rez Kids' immense pride in their culture.
Yung Trybez (Nyce) and Young D (Metz) walk in the footsteps of other Indigenous Canadian rappers like Joey Stylez, Team Rezofficial, and Mob Bounce.
Life After
's sound pairs the tenacity of the most outlandish live performers in trap (Ski Mask the Slump God, XXXTentacion, etc.) with the experimental production palette of artists like Baby Keem and Brockhampton. The majority of the album is produced by Metz and California-based producer Kyrigo. At their Rebel Lounge show, you can bet that Metz and Nyce will be delivering their signature high energy and yin and yang vibe.
Tickets
are $15 for the 8 p.m. show. Lex Leosis opens.
Gannon Hanevold
Punk Rock Halloween Bash at Yucca Tap Room
When it really comes down to it, All Hallows Eve boils down to one thing: Adopting the identity of someone else, if only for a single evening. A number of local rock musicians will do just this on Friday, October 29, at Yucca Tap Room, 29 West Southern Avenue, when they'll pay tribute to iconic bands from the punk genre (and maybe even copy their looks). The lineup In Memory Of will perform as the horror-punks of Calabrese and the members of Morgan's Bluff becoming a hybrid of Dropkick Murphys and Flogging Molly. Various local musicians will portray 7 Seconds, Blanks 77, Fugazi, and others. The transformation starts at 7 p.m. Admission is free.
Benjamin Leatherman
Max Weinberg's Jukebox at Musical Instrument Museum
What do you call a guy who began his career playing bar mitzvahs in Jersey, dropped out of college to drum for Bruce Springsteen's E Street Band, followed Conan O'Brien to
The Tonight Show
as leader of a seven-piece ensemble, and played Bill Clinton's inaugural ball in between? You call that man Max Weinberg, the renowned percussionist who's bringing his "Jukebox" show to Musical Instrument Museum, 4725 East Mayo Boulevard, on Friday, October 29. The interactive performance will involve Weinberg and his backing band playing any number of rock and pop hits requested by the audience (a rotating video screen will display a few hundred songs in the band's repertoire). Shows are at 7 and 9 p.m.
Tickets
are $44.50 to $64.50. Meet-and-greet sessions with Weinberg will also take place at 6 and 10:15 p.m. for $120.50 per person.
Jacob Katel

Karol G at Mesa Amphitheatre
Like most of the world these days, Karol G has had a tough couple of years. In early 2021, she and Puerto Rican rapper Anuel AA called off their engagement, ending one of the most high-profile relationships in the Latin music world. She also courted controversy last summer when her cringey, uninformed social-media post about the Black Lives Matter movement went viral for all the wrong reasons — an incident she later admitted cost her some professional opportunities. Things started looking up professionally in March; however, when the Colombian singer released her third studio album,
KG0516
, right around the time she split with Anuel. The record became Karol G's first album to top the
Billboard
Top Latin Albums chart, and it included "Tusa," her collaboration with Nicky Minaj, which introduced her to a wider audience and became the first song by two lead female artists to debut at number one on the U.S. Hot Latin Songs chart in late 2019. She's scheduled to perform at Mesa Amphitheatre, 263 North Center Street, at 7 p.m. on Saturday, October 30.
Tickets
are $69.95.
Celia Almeida
Coco Montoya at The Rhythm Room

In 1995, blues musician Henry "Coco" Montoya launched his career as a bandleader/singer/guitarist with the album Gotta Mind to Travel and a hectic touring schedule he's never abandoned. His most recent album, released on longtime blues label Alligator Records, is
Coming In Hot
. Its 11 tracks run the gamut from hard rocking to gut-wrenching blues, the same genres you'll hear Montoya perform if you attend his performance at 8 p.m. on Saturday, October 30, at The Rhythm Room, 1019 East Indian School.
Tickets
are $20.
Bob Ruggiero
Trilloween feat. Kool Keith at Trill

Kool Keith is a hip-hop legend going back more than 30 years to rap's early beginnings. The NYC native was a member of seminal Bronx group Ultramagnetic MCs before striking out on his own to forge some of the most outlandish rap characters in the pantheon — Doctor Octagon and his eventual assailant/replacement Dr. Doom. Keith's imagination is as rich and impressionistic as Tolkien, and produces a thick weave of reference and metaphor to abet his wild, larger-than-life persona. The staff at local hip-hop shop Trill, 1817 East Indian School Road, are expecting he'll don one of his alter egos when he co-headlines the Trilloween party on Saturday, October 30. "Knowing him, we're pretty sure he'll be doing something involving dressing up or doing something crazy," a Trill employee told
Phoenix New Times
. The event, which goes from 11 a.m. to 8 p.m., will also include sets by Tha Alkaholiks, J the Wildchild, All Flows Reach Out, Bronze Nazareth, Bukue One, and Teek Hall. Local DJs Fact135 and This Just-In will also perform and a hip-hop swap meet is planned.
General admission
is $20 and
VIP packages
are $79.99.
Chris Parker and Benjamin Leatherman
Brandy Clark at Musical Instrument Museum

Even if you haven't heard Brandy Clark's name, chances are good that you've heard her music. The Washington native and country music artist has penned quite a few hits for the likes of Miranda Lambert, The Band Perry, Kacey Musgraves, and Ashley McBryde since she graduated from Belmont University. Clark has also received four Grammy nominations since 2013, though wins have escaped her. Still, her star continues to rise among country and singer-songwriter enthusiasts. Her most recent album,
Your Life Is a Record
, came out in 2020 hit the country charted in both the U.S. and U.K. Clark is due at the Musical Instrument Museum, 4725 East Mayo Boulevard, on Saturday, October 30, for a 7:30 p.m. show.
Tickets
are $38.50 to $44.50.
Matthew Keever
$not at Crescent Ballroom
Florida-born rapper $not has been in the mix of the underground rap scene since 2016, but he has managed to construct an immense following beyond the Sunshine State in recent years. After dropping his breakthrough single "Gosha" in 2018, he began to gain national attention with his signature look — a hoodie with the hood tied up tight enough that only eyes, nose, and the top of his mouth can be seen. Last year $not returned with his
- TRAGEDY +
project, which included the track "Beretta," featuring Wifisfuneral. A few months later, he came through with
Beautiful Havoc
, which features Denzel Curry, newcomer Flo Milli, and Iann Dior. In addition, he appeared on "Blue Bills" with Fenix Flexin off DJ Scheme's Family album. And early last December, $not delivered his most recent release, "Murda Murda." This weekend, you can find him performing at Crescent Ballroom, 308 North Second Avenue, on Sunday, October 31. Doors open at 7 p.m. and
tickets
are $25 to $125.
Tony M. Centeno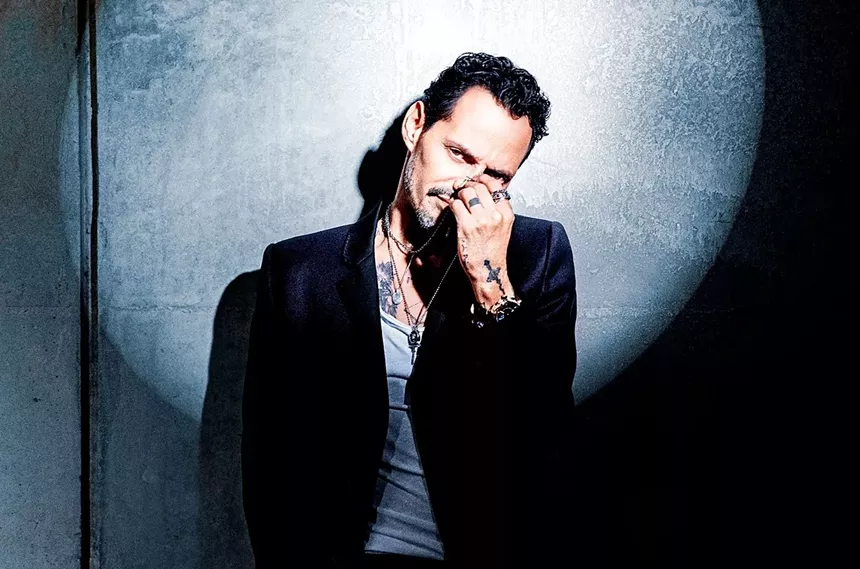 Marc Anthony at Footprint Center
Three-time Grammy and six-time Latin Grammy winner Marc Anthony has stayed relatively quiet compared to his past tradition of consistently producing new albums every two years. After releasing his 2013 album
3.0
, Anthony would not release his next,
Opus
, until 2019. His current 23-date tour is a continuation of the Opus tour, which sold roughly 240,000 tickets in the U.S. alone before the pandemic. Anthony, the top-selling tropical salsa artist of all time, spent the COVID year returning to the big screen to play Gapo de la Vega in an adaptation of Quiara Alegría Hudes and Lin-Manuel Miranda's musical
In the Heights
. One of the most highly regarded performers in Latin music — or any genre, really — Marc Anthony's electrifying show is surely not one to be missed. His concert on Sunday, October 31, at Footprint Center, 201 East Jefferson Street, starts at 7 p.m. and
tickets
are $61 to $181.
David Fletcher
(Hed) P.E. at Pub Rock Live
Since 1994, (Hed) P.E. has blended punk rock and gangster rap with dashes of reggae to create something wonderfully chaotic. Since then, they've released 13 studio albums, performed innumerable shows, and tackled a unique range of issues in their lyrics (from social justice and 9/11 to extraterrestrial life in the universe). And although they've gone through more than a dozen members over the years, (Hed) P.E. have managed to stick around for the past couple of decades and isn't going away anytime soon. Their latest Valley gig is on Sunday, October 31, at Pub Rock Live, 8005 East Roosevelt Street in Scottsdale. Burn'd Bridges and Blood Eagle Army open the Halloween night show, which kicks off at 7 p.m.
Tickets
are $18.
Diamond Rodrigue