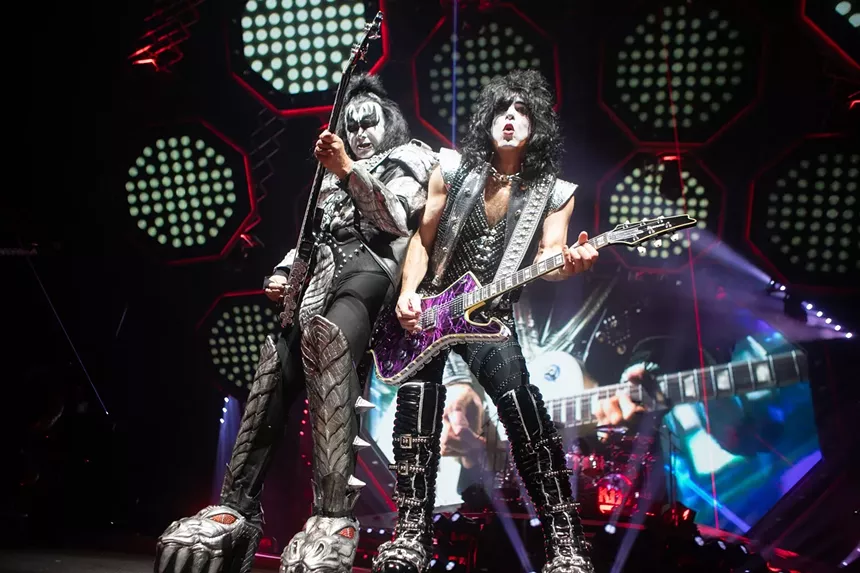 The
fall concert season
in metro Phoenix kicks off this weekend in earnest and there's no shortage of high-profile shows happening. KISS will stage its last show-stopping performance in the Valley (and this time they
mean
it). The Goldrush Music Festival will bring more than 60 DJs and thousands of electronic dance music fans to Rawhide Western Town in Chandler. And John Legend is coming to downtown Phoenix with his latest tour.
If that weren't enough, the Eagles are playing a two-night stint at Footprint Center, Mesa Amphitheatre is offering free concerts, Cactus Jack's is planning a three-day outdoor festival featuring Spafford, and Soulfly will celebrate the life of the later Dana "D-LOW" Wells at Tempe's Marquee Theatre.
There are other notable concerts happening from Friday, September 24, to Sunday, September 26, which you can learn about each by checking out the following list. For even more live music happening around the Valley, check out
Phoenix New Times
'
online concert calendar
.
Keep in mind, though, that the Delta variant of COVID-19 is a growing danger right now and multiple local venues have started requiring proof of vaccinations or a recent negative test result to attend shows. More info can be found on the ticket sites for each gig.
Luke Bryan at Ak-Chin Pavilion
Luke Bryan is considered the King of Bro Country, a title he seems to embrace while also hoping to be treated as a serious artist. Count all the lyrical references to alcohol, trucks, gurrls (not just girls), rural settings, and catfish you like. Thing is, the thousands of people who will come to Ak-Chin Pavilion, 2121 North 83rd Avenue, on Friday, September 24, will want to have a good time, pure and simple. Most mainstream country music is for people who grew up on Garth Brooks, Bob Seger, Tim McGraw, and Def Leppard, and weren't afraid of hip-hop, either. Plus, it's family entertainment. As easily mocked as the bro country genre is, it sure isn't losing any steam by snark from those who don't get it. Runaway June and Dylan Scott open the 7 p.m. concert.
Tickets
are $41 to $136.
Eric Grubbs
Boz Scaggs at Chandler Center for the Arts
Throughout his lengthy recording career — now clocking in at five decades — singer-songwriter Boz Scaggs has been a tireless sonic alchemist, whose output is the epitome of musical amalgamation. While best known for the blue-eyed soul and dance grooves of the monstrously successful 1976 Silk Degrees record, a casual listen to his discography also shows dips in the waters of blues, R&B, jazz, crooning, Latin, and rock styles. His latest visit to the Valley comes on Friday, September 24, when he performs at 7 p.m. at Chandler Center for the Arts, 250 North Arizona Avenue.
Tickets
are $58 to $98.
Bob Ruggiero
Eagles at Footprint Center
In a lineup that brings original members Don Henley, Joe Walsh, and Timothy B. Schmit together with country singer Vince Gill and Glenn Frey's son Deacon, the Eagles play on Friday, September 24, and Saturday, September 25, at Footprint Center, 201 East Jefferson Street. Each night will feature two sets by the band. The first is a performance of the classic album
Hotel California
in its entirety. The second set will be a performance of the band's greatest hits. The concert is somewhat of an extension of the band's Las Vegas residency, which saw the Eagles in its current lineup performing
Hotel California
for three nights at the MGM Grand Garden Arena, though this time without the 46-piece orchestra and 22-voice choir. The Eagles' current lineup put out its first release in October 2020 —
Live from the Forum MMXVIII
— its third live album in almost 50 years of existence. The band's only studio recording without Glenn Frey is a cover of Dan Fogelberg's "Part of the Plan." Both concerts start at 8 p.m. and are sold out, but there are plenty of verified resale tickets available through
Ticketmaster
and the
secondary market
.
David Fletcher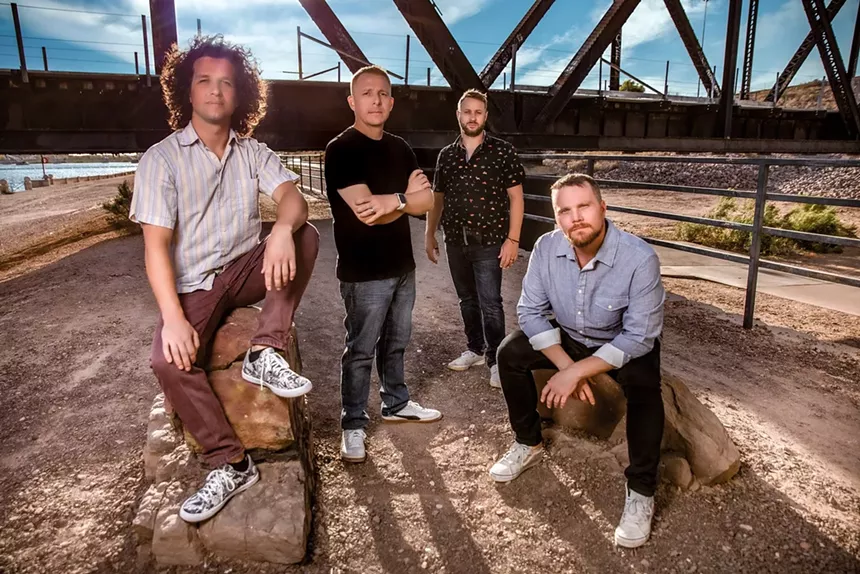 Cactus Jack's Outdoor Music Festival
Phoenix-born jam band stars Spafford hasn't played Ahwatukee live music joint Cactus Jack's, 4747 East Elliot Road in almost seven years, but will make their return this weekend during the venue's three-day music festival from Friday, September 24, to Sunday, September 26. The event will extend out into Cactus Jack's parking lot and most of the performances will happen on an enormous outdoor stage. Spafford will headline the first two days of the festival, which will also feature sets by Grateful Dead tribute acts The Harvest and Xtra Ticket and local funk/soul/R&B act Power Drive on Friday, and jam/funk band Groove Session and classic rockers Zeppapotapuss on Saturday.
Speaking of homecomings, indie singer-songwriter and Tempe native Stephen Ashbrook (who recently moved back to Arizona) will headline on Sunday with support from The Noodles. Gates open at 4 p.m. each day. Daily
general admission
is $35 and three-day tickets are $99.
Benjamin Leatherman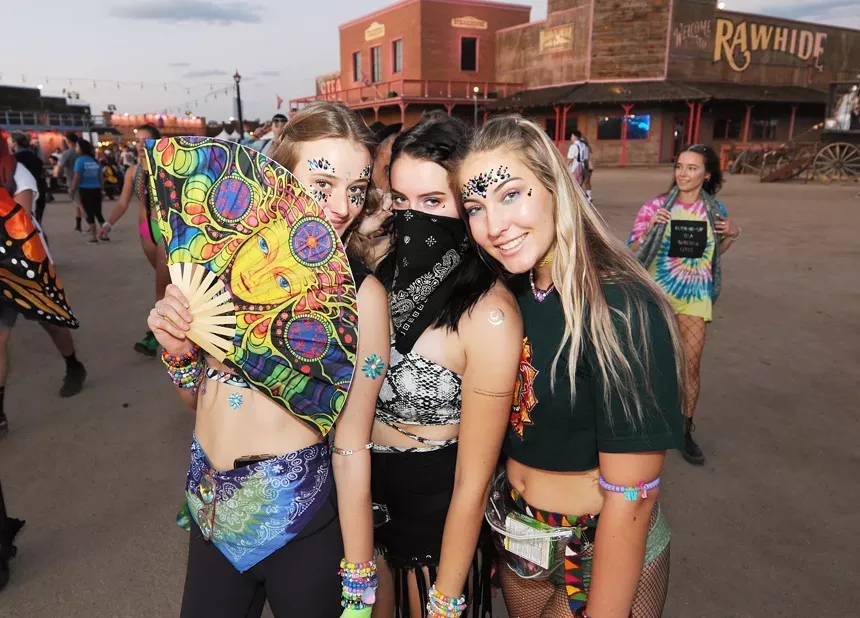 Goldrush Music Festival 2021 at Rawhide Western Town
Local electronic dance music promoter Relentless Beats has been putting on outdoor events for most of the pandemic, but nothing as massive as this three-day rager from Friday, September 24, to Sunday, September 26, the largest music event to happen in Arizona in the last 18 months. More than 60 DJs, producers, and EDM artists (including Mad Decent founder Diplo, future bass/trap king Illenium, trance trio Above & Beyond, dubstep artist Jauz, and deep house duo Zeds Dead) will perform across three stages located within the kitschy Rawhide Western Town, 5700 West North Loop Road in Chandler. Besides all the beat-slinging, Goldrush will also feature a mix of attractions, ranging from carnival rides to western-themed activities. Gates open at 5 p.m. each night. Body glitter and glow toys are optional.
General admission
is $99 each evening with
VIP and platinum packages
available for $179 to $1,099.
Benjamin Leatherman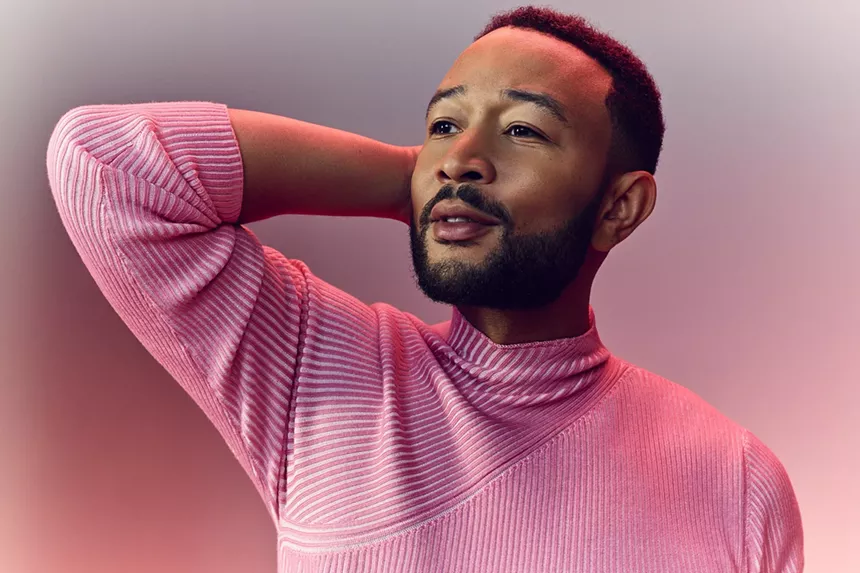 John Legend at Arizona Federal Theatre
With a multitude of Oscars, Grammys, and Golden Globes, plus a high-profile marriage to model Chrissy Teigen, it's sometimes difficult to remember that at his core, John Legend is a piano player. He's also a versatile singer and songwriter who incorporates varied traits of R&B, pop, hip-hop, and jazz into a uniquely personal style that has made him one of the world's most popular performers. Take some time to see the Renaissance man in action on Saturday, September 25, as the Legend entourage sets up shop at the Arizona Federal Theatre, 400 West Washington Street, for a show that's sure to be memorable. The War and Treaty open the 8 p.m. concert.
Tickets
are $61.50 to $132.
Jeff Strowe

Michael Franti Trio and Young the Giant at Mesa Amphitheatre

The city of Mesa has a pretty good offer for local concertgoers this weekend: They're putting on a pair of outdoor concerts featuring notable bands on Saturday, September 25, at Mesa Amphitheatre, 263 North Center Street, and both are completely free. The first show starts at 4:30 p.m. and will be headlined by reggae, roots, and funk act the Michael Franti Trio and feature an opening set by Latin soul singer Quetzal Guerrero. A separate concert by indie/alternative band Young the Giant follows at 8:30 p.m. Tickets and more information are available on the Mesa Amphitheatre's website.
Benjamin Leatherman
D-Low Memorial Show feat. Soulfly at Marquee Theatre
As the leader of Sepultura for over a decade, Max Cavalera helped put Brazil on the map. From the beginning, the outfit were clearly influenced by punk as much as by other metal bands, as evidenced by their socially conscious lyrics, grassroots efforts to get their music out into the world, and disregard for strict genre conventions. Shortly after the release of Sepultura's 1996 album
Roots
, Cavalera suffered a personal tragedy when his stepson Dana "D-LOW" Wells was murdered. Cavalera, a longtime Valley resident, returned to music two years later with the eponymous Soulfly record – a piece of work that reflected his own search for spiritual meaning in times of great personal darkness.
Since their debut, Soulfly have been a different kind of metal band, not just in terms of lyrical content, but also for their unique use of guitar sounds and nontraditional instrumentation. Cavalera and Soulfly will stage its annual memorial concert in Wells' honor on Saturday, September 25, at Tempe's Marquee Theatre, 730 North Mill, with support from metal and hard rock acts Incite, Go Ahead and Die, Healing Magic, Saintbreaker, Ocean Harvest, Shadowguilt, and Necessary Space. The afternoon show starts at 3:45 p.m.
Tickets
are $29 to $59.
Tom Murphy
KISS at Ak-Chin Pavilion
The band has been scaring mothers since 1973, when its name was first rumored to be an acronym for "Knights in Satan's Service." The reality was far less sinister when KISS turned out to be a metal and shock-rock band. Though the shock has waned with each decade, the band has never let go of the live spectacle, including over-the-top pyrotechnics and elaborate costuming. The End of the Road World Tour is purported to be the band's final worldwide jaunt (and already rolled through the Valley
in 2019
); however, the 2000-01 Farewell Tour was also supposed to be its last and we all know how that went. Still, maybe you should attend this show on Sunday, September 26, at Ak-Chin Pavilion, 2121 North 83rd Avenue, which kicks off at 7:30 p.m., just in case. David Garibaldi opens.
Tickets
are $39.50 and up.
Jose D. Duran
Trippie Redd at Arizona Federal Theatre
Trap star Trippie Redd has delivered his fourth studio album,
Trip at Knight
, which includes an amalgam of features from genre pioneers like Lil Uzi Vert and Playboi Carti, as well as posthumous appearances from Juice Wrld and XXXtentacion. On Sunday, September 26, the "Miss the Rage" singer heads to Arizona Federal Theatre, 400 West Washington Street, as part of his latest tour. Redd will share the bill with rappers Iann Dior and SoFaygo at the 7 p.m. concert. Tickets are $39.50 to $69.50.
Olivia McAuley
Red Elvises at The Rhythm Room
The Red Elvises claim to be your favorite band, and if you were given enough time with the crazy music the combo generates – a mixture of traditional Russian folk combined with surf, hard rock, rockabilly, ska (well, you get the picture) – its infectious nature could easily take hold. Before long, one might also be wearing ostentatious outfits, sporting pompadours, and building oversized instruments. Stranger things have happened. Yet to hear band founder, lead singer, and songwriter Igor Yuzov tell it, it's not so strange after all. "It's pretty natural, the two. I've always loved rock 'n' roll, surf music, and all. I tried to kind of play like that, but with Russian background, it comes out a little different," Yuzov says. "We don't try to play Russian style. It just sort of comes to us. We grew up with that kind of music, so that's how we make those sounds." Hear it live starting at 8 p.m. on Sunday, September 26, at The Rhythm Room, 1019 East Indian School Road.
Admission
is $10.
Glenn BurnSilver