Raheem Jarbo, better known as Phoenix-based rapper and geek icon Mega Ran, was dealt a blow after $5,000 of his gear and merchandise was stolen recently while he was in Los Angeles for a gig.
Jarbo tells
Phoenix New Times
the theft occurred on Sunday, July 25, outside of the Beverly Center shopping mall after thieves broke into a Dodge Charger owned by fellow local rapper Justin Penny Correa (a.k.a. Penny The Great).
Jarbo's backpack – which contained his MacBook Pro laptop, backup iPhone, webcam, wireless microphone, various Mega Ran T-shirts, and a plastic arm cannon he uses during shows – was taken from the trunk along with Corea's jewelry and clothing and sneakers owned by both men.
Jarbo and Correa, who are currently collaborating on an upcoming project, were in the L.A. area after performing on July 24 at the
Firewater Bar
in Ontario, California, and were getting food at the Beverly Center before returning to Phoenix. Correa's car was parked outside the mall.
Ugh. As soon as I'm ready to leave town….car broken into. They took everything. My laptop, merch, clothes… this is horrible. pic.twitter.com/Te444Ckejq

— Mega Ran (@MegaRan) July 25, 2021
"We stayed at a hotel in Hollywood, packed up everything in the trunk, and wanted to get something to eat before coming home," Jarbo says. "And then we got got."
Jarbo says he normally takes his backpack with him everywhere he goes to prevent theft, particularly after his gear was stolen from a car in Oakland while on tour four years ago. He admits he and Corea "might have gotten a little careless this time."
"I think being cooped up in the house for so long maybe got my guard down [and] I violated a rule of mine where I always carry my backpack with me. But this time I didn't want to open the trunk to expose the things we had in there, so I was like, 'Let's just go,'" Jarbo says. "I don't know if somebody watched us put everything in the trunk or what, but there was nothing in the back seat and the windows were tinted. Someone took a guess and lucked up."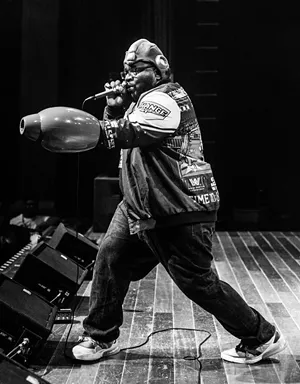 Jarbo estimates his gear and merch was worth "between $4,000 to $5,000," but says Corea's jewelry and other items were worth more. Both rappers lost items that had a great deal of sentimental value.
"Some of it was stuff that can be replaced. Some of it is sentimental, like the arm cannon I use onstage that a fan bought me or some cool shirts, like retro Mega Man tees," Jarbo says. "Penny took it pretty hard because these were he was given as gifts and were taken away and even if he replaced them, like another necklace, it's not the one you got from your grandma."
Jarbo and Corea reported the theft to Los Angeles Police Department. None of the items were insured and Jarbo doesn't expect they'll be recovered.
On July 25, Jarbo asked any fans to donate money through his
PayPal account
to replace the stolen items. He's raised around $3,000 so far and plans to split the money with Corea.
Jarbo is grateful since the laptop didn't include any new music, as his more recent tracks (including material for upcoming albums) is being recorded on a home computer.
"It sucks but it could've been worse. I didn't have any hard drives with me and we were only in L.A. for the weekend and were about to leave town and head home. If we had to stay longer or lost passports or plane tickets, it could've been really bad," Jarbo says. "I just feel bad for Penny, since he lost a lot more than I did. He's been gutted."