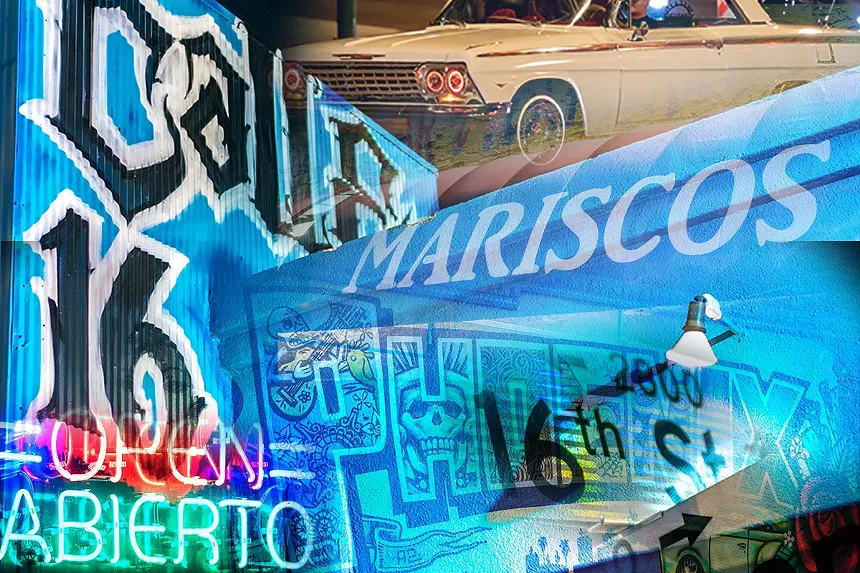 Maybe vibrant street art makes you hungry. If so, you might consider eating your way up and down Calle 16, that stretch of 16th Street that's essentially an outdoor mural gallery as well as a regional tour of excellent south-of-the-border cuisine.
Starting way down south and heading north, you might stop in at Asadero Norte De Sonora, known for its Sonoran-style grilled meats. First-timers like the parillada, a sort of sampler platter that comes with three different meats and house-made tortillas. If it's huevos you're after, up the road a bit you'll spot La Cocina Economica Mexican Kitchen, a no-nonsense diner that serves breakfast all day. If you haven't had a chorizo-and-egg burrito for breakfast, with a side of poblano, you haven't lived. Check out Economica's zany indoor mural and the fiesta-painted tables and chairs.
Early in the day, or any time you're sleepy, there's Descent Coffee, home to cold-brew, pour-over, and macchiato Joe, all made from locally roasted beans. Feeling a little loco? Try the Creamsicle Sunrise, java enhanced with orange juice, coconut milk, and vanilla syrup. While you wait for your made-to-order bebida, go admire the outdoor murals here, most by local artists.
Or maybe you want to skip a traditional sit-down meal in favor of lunch with a street-fair vibe, in which case TEG Torta Shop offers piles of grilled steak wrapped in soft, pillowy telera bread. You're probably anxious to check out more Calle 16 murals, but don't drive while eating a TEG torta. They're piled to the ceiling with pepper, onion, tomato, and drippy cheese. Your auto upholstery will thank you.
Maybe exterior walls painted with vibrant colors by super-talented locals give you a sweet tooth; who knows? Either way, drop in at Realeza Michoacana, an authentic paleteria where you can score a Mexican-style ice pop crammed with guava or lime or tamarind. Feeling extra gringo? These guys also serve vanilla ice cream cones and banana splits.
Probably your final destination is Barrio Café, the jewel in Calle 16's crown, where superstar Chef Silvana Salcido Esparza revolutionized tableside guacamole, popularized regional Mexican cuisine, and commissioned the outdoor mural that launched Calle 16 in 2010. Originally located on the side of a sporting-goods store a few doors down from Barrio, the mural started out as an outline of the state of Arizona surrounded by Mayan symbols, images representing Mexican culture, and a prominent portrait of Frida Kahlo. The mural has grown and now continues for colorful yards down the Windsor Street and Edgemont alleys and beyond. Set aside some real ogling time for this one, originally created by Mexican-American artist Gennaro Garcia and Bolivia-born artist Hugo Medina and filled in by community members and activists. (A second mural was created by Jenny Odom Ignaszewski, and these have been added to each year during Paint Phoenix, an annual mural arts festival.)
Should Barrio Café be full up (hey, it wouldn't be the first time) and you're hankering for a bowl of menudo, there's always Casa Corazon just a few blocks away, where enchiladas are themselves an art (try one with roasted beet sauce) and a salsa bar is a delicious experience.
And, hey, it's always cinco en punto somewhere, right? That's reason enough to wrap up your art and dining tour at Calle 16 staple Rips Bar, a geometric postmodern piece of local history built in 1959 and home to live music and incoming hangovers ever since. Maravilloso!