There are a few farmers' markets around the Valley, but Phoenix native Jozh Watson knew something was missing. For years, he tossed around the idea of a downtown farmers' market for vegans, but it wasn't until his friend, Kell Duncan, owner of the Churchill, offered up a small parking lot near First Street and Central Avenue on Garfield Street that things started to click.
"Kell was able to host a space for me to do it," Watson says. "We just used the parking lot up the street."
Watson's first
vegan night market
in April had 11 vendors. A second night market took place in May before going on hiatus for the summer. The market returned in September with more space for vendors, but the weather wasn't perfect, Watson says.
"It was still hot outside," Watson says of the September market. "Very humid. We were still getting that heat. A lot of vendors made it work, and we still had a good turnout."
By the next month's event on October 9, the weather was more cooperative for an outdoor market, Watson says. The October effort drew 43 vendors, packing Garfield Street between First Street and Central Avenue, and the adjacent alleyway.
According to Watson, vendors were better prepared for the October crowd.
"Last month, we sold out," says Tia Ferguson, owner of
Teacup's Treats
. "It was so busy."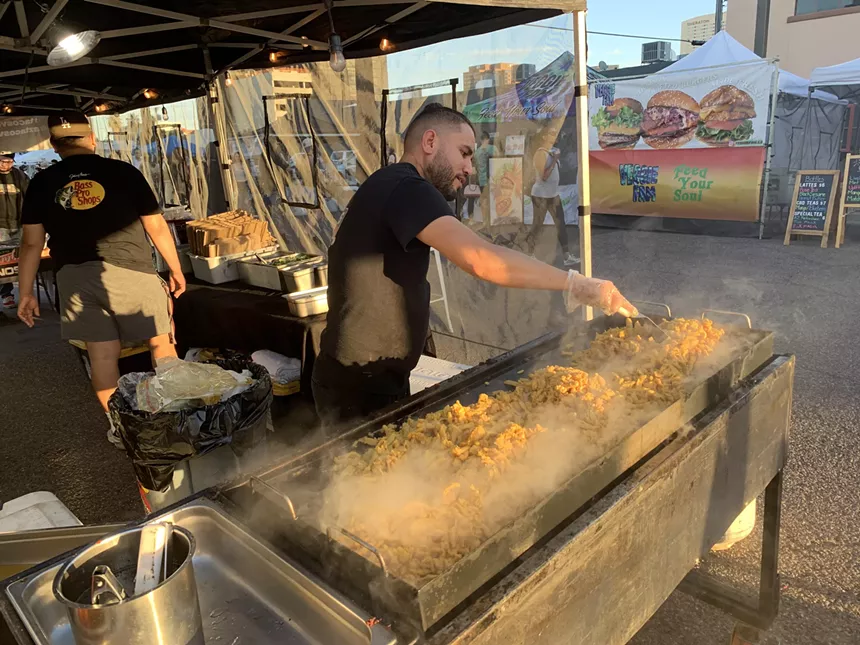 "A lot [of vendors] tripled their supply [this month], just so they could sustain themselves until 10 p.m., because that's when the market ends," Watson says. "Some of them sold out by 9 p.m. [at September's market]. And some sold out at 7, but were still making food until 10."
Watson recommends staying late, adding that "things pick up when the sun goes down."
"Later, it gets packed," he says. "Vendors start playing music and people tend to come out more. Passers-by are curious. It's a pretty good vibe."
The next night market is November 13 and will feature an autumn market theme, Watson says. December's event will be holiday-themed.
"So, a lot more holiday gifts and things for the season," Watson says.
The market will continue monthly through May before taking a break for the summer and resuming in September 2022, Watson says.
"Next year, we're thinking about expanding to the other side of the street," he says. The expansion would allow more space for vendors and provide a space for beverage service.