Last Monday, a craft beer bar and bottle shop called the Vanilla Gorilla kicked off a soft opening that will run most of September. Another craft beer bar, you might be wondering? Yes, but this one is different.
For one, north Scottsdale and this stretch just south of Kierland Commons is something of a craft beer desert.
Second, the taproom has sourced and will be sourcing limited offerings from some top Arizona breweries, not to mention other West Coast standouts.
Finally, the leadership at the Vanilla Gorilla overlaps with that of the restaurant next door: Hush Public House, one of the Valley's great New American restaurants, captained by chef Dom Ruggiero.
This is pretty big news for people who love not just beer, but the combination of food and beer. Dom will remain mostly in the Hush kitchen. His wife, Holly Ruggiero, who has front-of-the-house experience at restaurants like La Grande Orange, will be leading The Vanilla Gorilla. This setup allows for Hush to prepare beer-friendly snacks for the taproom on the other side of the wall.
Dom and the Hush crew will be cooking up pub-style beer cheese, pretzels, smoked trout dip, bar nuts, sausage sandwiches, and more, fitting the Vanilla Gorilla's inclusive, low-key vibe.
"We want it to be comfortable for everyone, approachable," Holly says. "You could know everything about beer, or you could know nothing and just want to hang out here."
The Vanilla Gorilla has high ceilings, plenty of space, and a giant, 500-square-foot mural of a neon sunset, black saguaros silhouetted against the pinks and oranges. The room has several fridges stocked with to-go drinks, mostly beer, some wine, and a smattering of cider, including a few bottles from Stoic Cider out of Prescott. A 12-seat bar has 24 taps, a gas-station-style sausage roller, and a rendered gorilla with the mural opposite reflected in its sunglasses.
The mural is by Geremy Cites, and it's a stark departure from the darker, moodier vibe at Hush. Dom says he wanted to lighten things up with bright colors, neons, ample light, and rock and roll.
Another familiar face will be a key force behind the bottle shop and taproom. Todd Oltmann, who co-owns The Golden Pineapple, helped open The Sleepy Whale, and has been a mainstay of the craft beer community for several years will be the number two, managing with Holly. Oltman knows the local craft beer landscape intimately and will be sourcing some of the heady, rare, harder-to-find limited offerings.
Why a craft beer bar for such an accomplished chef?
"Really, the kickstarter was Covid," Dom says. "We needed to make a pivot to somewhere where we could still be open, still be able to do sales without having to close. With Hush, we were closed for six months of 2020. It was tough."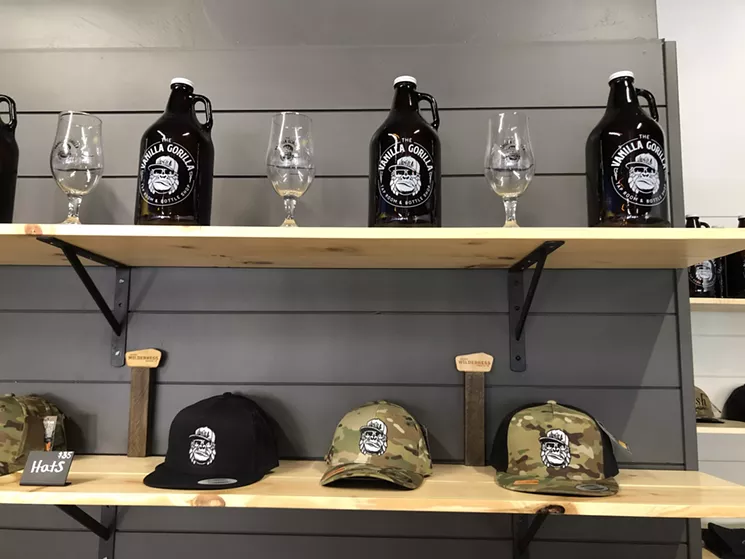 The decision to open a craft beer bar is unconventional but not unprecedented for a local chef. Probably the most notable precursor is former La Grande Orange chef Shay Gau, a co-owner of The Wandering Tortoise, a veteran craft beer bar in Central Phoenix that changed the genre locally.
In fact, Gau served as a sounding board for the Ruggieros as they turned the Vanilla Gorilla from idea to realized space.
Its beer selection will feature some of Arizona's greatest, including Wren House, the Shop Beer Co., and Arizona Wilderness. Nicely, at the Vanilla Gorilla, you can bring in or order food from wherever you want. It doesn't have to be Hush.
Dom and Holly are pumped for the venture for many reasons, one being the chance to spend more time together.
"We're able to make our own schedules," Dom says. "Now we don't have to go weeks without seeing each other."
"Weeks," Holly echoes.
The Vanilla Gorilla's grand opening is currently planned for late September. For now, though, the beer is flowing in soft-opening mode.
For hours and information as it comes out, follow the Vanilla Gorilla on Instagram.