The holiday season is gaining momentum, especially with Thanksgiving around the corner. This year (thankfully) this means gatherings with family and friends, the permission to overeat, and take a nap during the football game. Here are 10 Valley restaurants offering to-go and dine-in options for Thanksgiving day:


Doughbird
4385 East Indian School Road
Want to eat a Thanksgiving meal all month long? In November,
Doughbird
is offering "Grateful Plateful" serving half a rotisserie chicken, rosemary stuffing, gravy, roasted Brussels sprouts, and fresh cranberry sauce for $20. Enjoy this seasonal special at Doughbird or order it to-go. Bottles of wine and beer are 25% off.
The Americano
17797 North Scottsdale Road, Scottsdale
From noon to 3 p.m. on Thursday, November 25,
The Americano
will showcase its prix-fixe menu. Highlights include a seafood tower, bay scallop crudo, braised beef short ribs, or truffle potato gnocchi. Entrées feature a turkey plate, Maple Leaf farm spiced duck breast, salmon or gnocchetti and a variety of steaks. For dessert, choices are pumpkin budino and a pie and cake cart. The cost is $105+ per person. Visit The Americano website for reservations.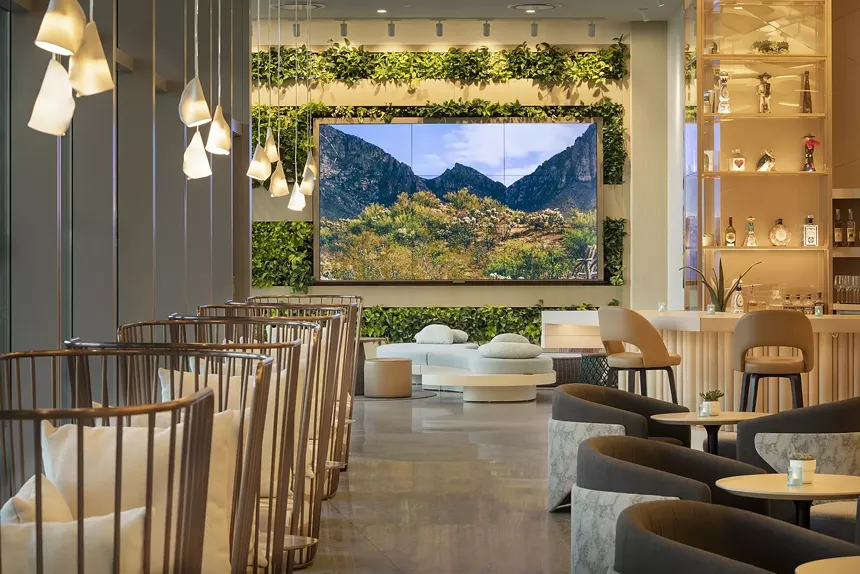 Terra Tempe Kitchen & Spirits
11 East 7th Street, Tempe

Leave the cooking to Chef Alexander Robinson at
Terra Tempe Kitchen & Spirits
on Thanksgiving Day. From 11 a.m. to 7 p.m. on Thursday, November 25, the menu will highlight roasted pumpkin soup, followed by seared jumbo scallops. Entrees include slow-roasted turkey breast, apple cornbread stuffing, cranberry sauce, and brown butter giblet gravy or oven-roasted cauliflower steak with forbidden rice, asparagus, foraged mushrooms, golden raisins, and crunchy chili garlic sauce. Dessert is a spiced pecan tart with salted caramel fresh fruit and vanilla ice cream. The cost is $75+ per adult and $25+ for children ages six to 12. To book a reservation, call 480-968-8885.
Jacy & Dakota's
333 North Central Avenue
Get your Thanksgiving or Friendsgiving started early from 5 to 10 p.m., on Saturday, November 20, or Sunday, November 21, at
Jacy & Dakota's
. Begin the evening with a sparkling wine toast, artisan bread, and a fall salad followed by cider-brined roasted turkey, pumpkin mac and cheese, and sautéed winter squash. Dessert includes pumpkin tiramisu. The cost is $56 per person. Reservations can be made by calling 602-429-3500.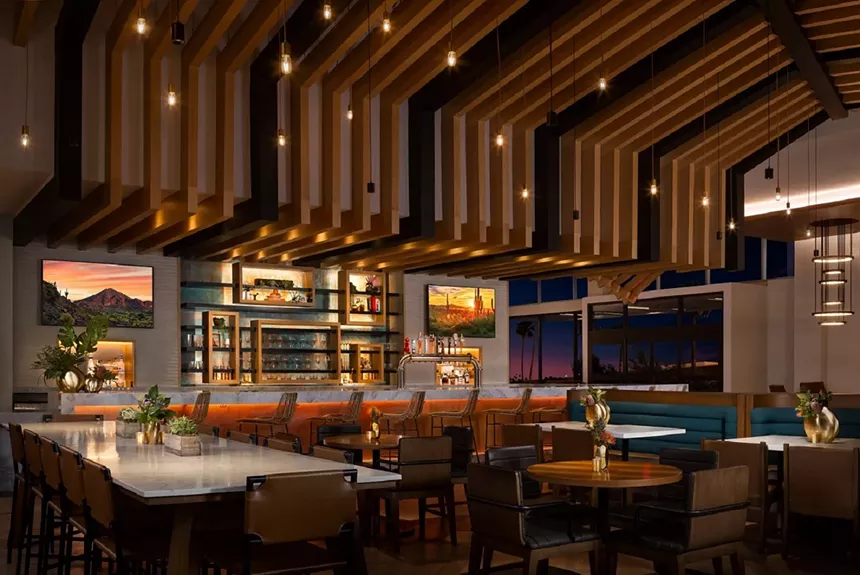 Cobre Kitchen & Cocktails
7142 East 1st Street, Scottsdale

Chef Patrick Gaudet will be serving a three-course prix fixe menu at
Cobre Kitchen & Cocktails
. From 1 to 7 p.m., on Thursday, November 25, the menu highlights include a choice of roasted butternut bisque or local mixed greens with Brussel sprouts, pomegranate seeds, pistachios and honey lemon vinaigrette to start; herb-roasted turkey with roasted garlic whipped potato, stuffing, roasted heirloom carrots, green beans, house gravy and cranberry citrus sauce for the entrée; and a choice of apple crumble with cinnamon apple and oat crumble or pumpkin pie with brûleed marshmallow for dessert. The cost is $52 plus tax and gratuity per person. Reservations are available on
Open Table.
Mora Italian
5651 North 7th Street

From noon to 3 p.m. on Thursday, November 25, at
Mora Italian
, enjoy a prix-fixe menu. Patrons can choose between pinzimonio, salad, pork and veal meatballs, fritto misto and prawns. Entrées include a porcetta-spiced turkey with chestnut pancetta stuffing, roasted branzino alla livornese, New York strip steak, roasted chicken al limone and fettuccine pasta. Dessert consists of bombolini, salted caramel budino and a table-side ice cream cart containing options for several toppings. Visit the Mora Italian website for reservations.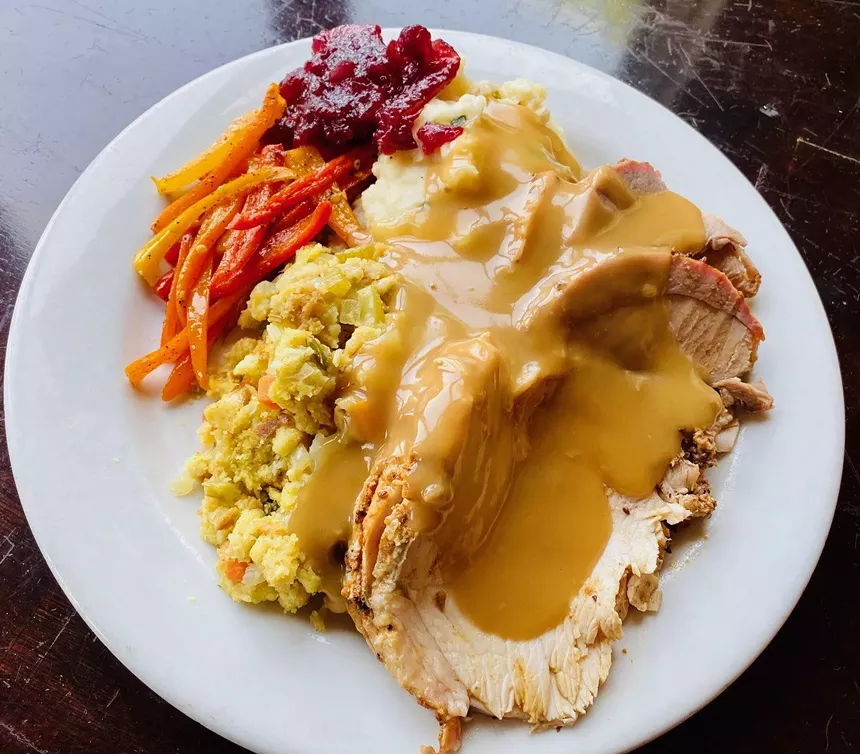 Z'Tejas
Multiple Locations
If you're hosting at home,
Z'Tejas
is offering a to-go option for dinner including sliced and deboned light and meat turkey, mashed potatoes, cornbread stuffing, veggies, cranberry sauce and turkey gravy. You can also add a pumpkin cheese cake or ancho fudge pie. The cost is $100. Preorder the meal for pick up Tuesday, November 23, or Wednesday, November 24. The last day to place orders is Friday, November 19.
Sweet Republic
Multiple Locations
Thanksgiving festivities aren't complete without pie.
Sweet Republic
is offering three ice cream pies priced at $27 each. Choose from apple, sweet potato marshmallow, and maple pecan piece. Order directly at the stores for pick-up between Monday, November 22 to Wednesday, November 24.
Miracle Mile Deli
4433 North 16th Street
To-go Thanksgiving meals is the buzz word at
Miracle Mile Deli
in November. From Monday, November 1 to Wednesday, November 24, pre-order dinners, sides, desserts for pick-up. Highlights include a family feast that serves up to six people which features three pounds of oven-roasted white meat turkey breast, two quart of homemade mashed potatoes, one quart each of gravy, stuffing, coleslaw, macaroni and cheese, one pint of cranberry sauce, six Kaiser rolls, and a pie. The cost is $170. Single dinners cost $17 and include white meat or dark meat served with mashed potatoes, gravy, stuffing, cranberry sauce, rye bread and butter. Various sides are available for a la carte purchase. Call 602-776-0992 to place your order.
Trapp Haus BBQ
511 East Roosevelt Street

Trapp Haus BBQ
is selling to-go orders of hickory smoked or Cajun fried turkey and whole hickory prime brisket. Sides for purchase include sweet potato casserole, collard greens, smoked Mac and cheese, black-eyed peas, and corn bread. Cost for meals range from $250 to $300 and can feed up to 12 people. Orders must be received by Monday, November 22. Pick-up is between 6 to 8 p.m. on Wednesday, November 24, and between 11 a.m and 3 p.m. on Thursday, November 25. Call 602-466-5462 to place your order.