When the Phoenix Mercury advanced to the WNBA Finals in early October to face the Chicago Sky, the mayors of the two cities made a friendly bet on the five-game championship series. When the Sky eventually won the series 3-1, Phoenix Mayor Kate Gallego had to pay up. The wager? A handful of local goods from women-owned businesses in Phoenix, including a few treats from
FernDiggidy Sweets & Treats
.
According to FernDiggidy owner Fernanda Sayles, Gallego grew fond of the Mason jar desserts after Sayles applied for, and received, a $3,000 resiliency grant from the city of Phoenix in 2020 as part of federal Covid relief funding.
"She remembered me from receiving the grant," Sayles said.
Sayles, a one-woman show, has been baking her entire life but says she started FernDiggidy in 2015 after family members kept arguing over the last corner piece of her much-sought-after peach cobbler dessert. To remedy the situation, she began baking pans of cobbler and scooping helpings into Mason jars for friends and co-workers.
News spread quickly via word of mouth, and FernDiggidy was born. Initially, she made peach cobbler and banana pudding desserts. Her multi-layered banana pudding concoction has a layer of pudding on the bottom, followed by three vanilla wafer cookies, two bananas, more pudding, three more cookies, two additional bananas, even more pudding, and a vanilla wafer topper.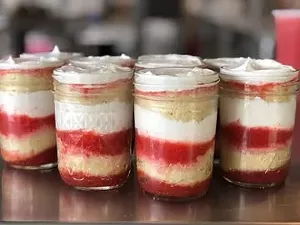 From there, Sayles added a few others, like a multi-layered strawberry shortcake, red velvet, and a butter cream cheese poundcake. She also makes "Nana's Pudding," which is her banana pudding without bananas, and is working on a few seasonal tastes, like white chocolate pumpkin spice cake and Texas-sized pecan squares.
"Everyone has a favorite," Sayles says. "It's just a good ol' Down South dessert."
FernDiggidy Sweets & Treats can be stored in the fridge for up to a week, Sayles said. She regularly attends the
Uptown Farmers Market
at Bethany Home Road and Central Avenue, but her aim is to get her products into major food chains like Whole Foods, Trader Joe's, and Sprouts in the near future.