If you haven't made plans for the weekend, it's not too late. Over the next few days, you can attend a film festival, meet some dogs, get some free comic books, and much more.
Flower Power
Maybe Gilbert isn't the first place you think of when you're looking for local arts and culture. But it's actually home to several creative spaces, including Art Intersection gallery and The Art House, a venue designed to art classes and parties with a creative twist.
The Art House
, 36 North Gilbert Road, Gilbert is presenting an Abstract Florals Canvas Class from 6:30 to 8:30 p.m. on Friday, August 13. It's a chance to paint a floral scene while guided by an experienced artist, and order a drink from the bar if you feel like that might up your artistic talent. The class costs $39, and you'll leave with a painting you can proudly display in your home or office.
Lynn Trimble


Food Passport
Perhaps Finland isn't the first place that comes to mind when you're ready to experiment with cuisines and cocktails from other countries. But don't sell Finland short when it comes to delicious offerings. It'll be the center of attention at the Match Market & Bar on Saturday, August 14. That's where
FOUND:RE Phoenix
, 1100 North Central Avenue, is holding its Passport Series: Finland event from 6 to 10 p.m. They'll be transforming the pool and bar areas with decorations and entertainment inspired by Finnish culture. Tickets are $15, which includes a specialty drink. Pick up a passport while you're there, because you can get stamps at various events in the series, which could help you win some fun giveaways.
Lynn Trimble
Phoenix Championship Wrestling's Rebirth at the Revelry

Alexander Hammerstone is a formidable foe in the squared circle. The 6-foot-4 professional wrestler and Valley resident is 251 pounds of muscle who has made a career out of pummeling opponents with slams, suplexes, and powerbombs between the ropes. This weekend, Hammerstone will dish out more punishment when he takes on the equally intimidating Dom Vitalli and Joe Graves in a "Bully Brawl" during the main event of Phoenix Championship Wrestling's Rebirth at the Revelry on Saturday, August 14. The local wrestling event will take place at Mesa bar and entertainment venue
The Revelry
, 1065 North Dobson Road, and feature several other hard-hitting bouts, including Mr. Klassic battling Jon Wolfgang and the fearsome Lord Drako and Krazzy Chaoz in a tag-team match against Dallas King and Michael Benjamin Wexler. Bell time is 7 p.m. and
tickets
are $15.
Benjamin Leatherman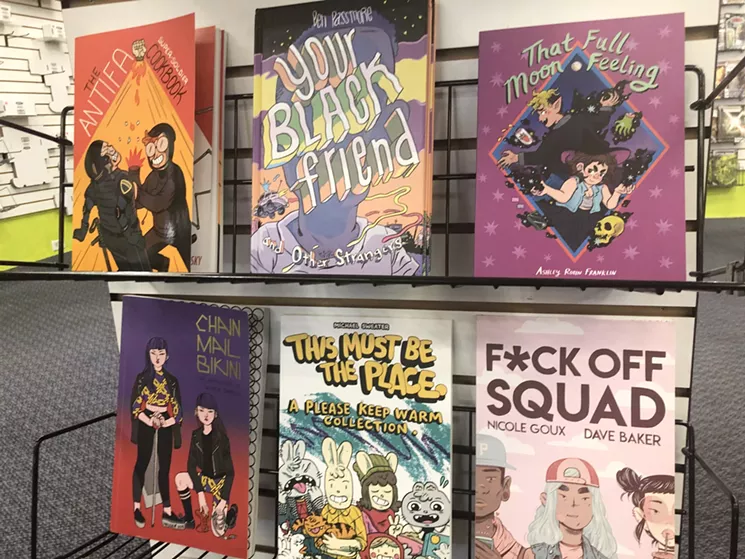 Arizona Comic Mini Expo
Like other local comic book shops around the Valley,
Samurai Comics
is expecting a crowd on Saturday, August 14, during
Free Comic Book Day
, although the festivities will involve more than just giving away special editions of famous titles. The chain's locations in Mesa, 2639 East Broadway Road, and Chandler, 1994 North Alma School Road, will host the annual
Arizona Comic Mini Expo
, a daylong celebration of the sequential art form showcasing local comic book creators. More than a dozen artists will be featured at both stores, including appearances by Jay Fotos (
Rising Rebels
), J. Gonzo (
La Mano del Destino
), and Meredith McClaren (
Heart in A Box
) in Mesa, and Scott Godlewski (
Copperhead
) and Val Hochberg (
Mystery Babylon
) in Chandler. Hours are from 10 a.m. to 4 p.m. Admission is free.
Benjamin Leatherman
Works in Progress
It's hard to miss all those construction projects happening around Roosevelt Row. But developers aren't the only ones working to shift the local landscape. Over at
Eye Lounge
, an artist collective that counts many of the region's most accomplished artists as alumni, three current members will be showing their own works in progress in a new exhibit titled "Convergence WIP," giving viewers a chance to explore the ways they're building new meanings and perspectives. See how Gina DeGideo uses photography to explore things that impede her daily path, how Megan Driving Hawk addresses the ways present choices can heal both future and past, and how Charles Kurre investigates transformation through wilderness and urban environments. The Eye Lounge gallery, 419 North Roosevelt Street, will be open 11 a.m. to 3 p.m. on Sunday, August 15.
Lynn Trimble

Phoenix Mercury v. Atlanta Dream
After helping the U.S. women's basketball team conquer the world at the Tokyo Olympics and win its seventh-straight gold medal, Diana Taurasi and Brittney Griner face their next tall task: reversing the fortunes of the Phoenix Mercury. The Valley's WNBA team heads into the second half of the current season near the bottom of the standings and facing an uphill battle. Prior to the mid-season break for the Olympics, the Mercury lost six of its last 10 games and have only won three at home this year. In other words, Phoenix will need to rally and win most of their remaining 13 games in order to make the postseason. First up is a battle against Atlanta Dream on Sunday, August 15, at
Footprint Center
, 201 East Jefferson Street. Tip-off is at 3 p.m.
Tickets
are $27 and up.
Benjamin Leatherman