Here's a quick look at culture news to help you keep up with the city's creative side, whether you're into poetry, film, visual arts, theater, or dance.
Phoenix Zine Fest
The
Phoenix Zine Fest
is going virtual this year due to public health concerns. The event, which is being presented by Wasted Ink Zine Distro, will happen November 13 and 14. Zine authors and publishers can apply to participate through September 5, and there is also a sticker design contest that anyone can enter.
Photography Book Award
Stephen Marc, a professor of photography in the ASU School of Art, received a Gold Medal in the photography category for the
2021 Independent Publisher Book Awards
. His book
American/True Colors
tied with
Refuge: America's Wildest Places - Exploring the National Wildlife Refuge System
by Ian Shive.
Crossfade LAB Returns
The
Crossfade LAB
series presented by CALA Alliance will return with its ninth installment this fall, featuring an evening with visual artist Teresita Fernández and music and performance artist San Cha. The November 17 event at the Herberger Theater will include conversation moderated by Josh Kun, as well as installations, music, and literary arts.
Local Artists in SMoCA Exhibit
Eleven emerging artists will be showing their work as part of
"Forever Becoming: Young Phoenix Artists,"
which opens at Scottsdale Museum of Contemporary Art on September 11. The artists are all under or about 30 years old, and use diverse mediums such as figurative painting, abstract drawing, sculpture, video, and installation. Their work explores themes including marginalized communities, environmental degradation, and more.
Poetry Out Loud
The University of Arizona Poetry Center will oversee the
Arizona Poetry Out Loud
program, which is part of the national Poetry Out Loud recitation contest organized by the National Endowment for the Arts and the Poetry Foundation. The program was previously administered by Arizona Commission on the Arts. Registration recently started for teachers who want their schools to participate during the current school year.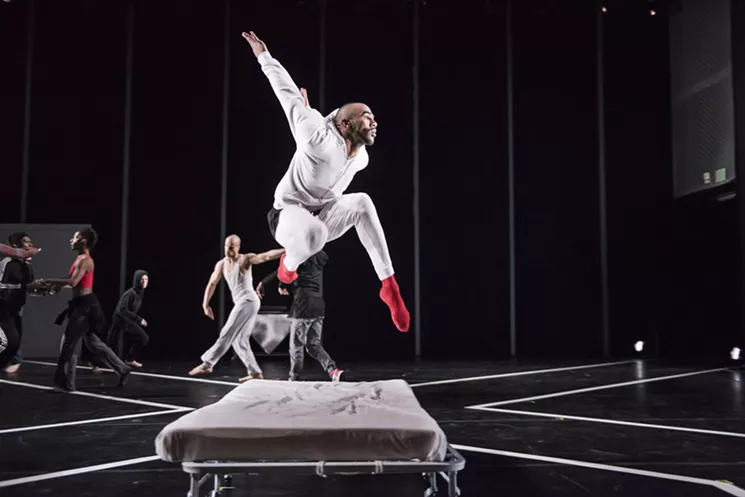 New Beyond Season
Tickets are now available for the 2021-22
Beyond series
at ASU Gammage. The lineup includes Sojourn Theatre:
Don't Go
, Bassem Youssef, Lemon Andersen:
When Aliens Fall from the Sky
, Bill T. Jones/Arnie Zane Company:
What Problem?
, and Kronos Quartet, Nikky Finney, and Michael Abels:
At War With Ourselves: 400 Years of You
. A free preview night will happen on October 24.
Canal Convergence Artists

Scottsdale Public Art has announced the artists for
Canal Convergence
2021, scheduled for November 5 to 14 along the Scottsdale Waterfront. International artists hail from Brazil, France, and the United Kingdom. Creatives based in Los Angeles and San Francisco are also showing works. The lineup also includes Phoenix-based artists Casey Farina, Roy Wasson Valle/Fireweather Studios, and Walter Productions.
Best Book Award
The
American Political Science Association
has recognized co-authors Mark Ramirez and David A.M. Peterson for their book titled
Ignored Racism: White Animus Toward Latinos
. Ramirez is an associate professor with ASU and Peterson is a professor at Iowa State. The book was named the best book on race, ethnicity, and politics for 2020.
Harry Potter Films
Harkins Theatres will be celebrating the 20th anniversary of
Harry Potter and the Sorcerer's Stone
with a series of
Wizarding Weeks
, when they will be screening every title in the Harry Potter film series. Select theaters will shows the films for $5 each between August 27 and September 23.
CaZo Dance Theatre
CaZo Dance Theatre, which specializes in kinetic movement and narrative storytelling, is holding its
annual fundraiser
on September 18. The evening will include live music and painting, an auction of artworks created for the event, a sneak peek at upcoming performances, food and drinks, and a chance to talk with company's dancers about their work.