Now that we're back to five-day work weeks, you're going to need some fun events to keep your spirits up. Over the next several days, you can take a Sicilian cooking class, watch the Phoenix Mercury, check out the goods at a punk rock flea swap, and more.
The Sicilian Kitchen
You've mastered your basic ravioli and fettuccine, but now you want to push your Italian cooking skills in some new directions. Watching TV cooking competitions or how-to videos will only get you so far. Better to just jump in and take a cooking class filled with fabulous dishes from the Sicilian culture of Southern Italy, where flavors blend deeply satisfying notes of Greek, Spanish, French, and Arab cuisine.
Sweet Basil Cooking School
, 10749 North Scottsdale Road, Suite 101, Scottsdale, is bringing the Mediterranean flair to a class called The Sicilian Kitchen, where you can learn to make several dishes with pasta, vegetables, seafood, and more. The class runs from 6:30 to 9:30 p.m. on Thursday, September 9. The cost is $75. And yes, you should absolutely run right out and buy a fancy apron with an Italian vibe just to be sure the recipes come out just right in your own kitchen after you've completed the class.
Lynn Trimble

Sticks and Stones

"Sticks and stones may break my bones, but words can never hurt me." It's a sentiment some adults share with bullied children, hoping to convince them that vicious words hold no power. Quite the opposite is true, of course, as evidenced by a series of portraits photographed by Holly Shoemaker, whose models have chosen the powerful words written all over their faces: gay, vindictive, annoying, useless, fearful, scarred, and more. She'll be sharing more than three dozen works at
Alwun House
, 1204 East Roosevelt, during an event called Sticks and Stone, which happens from 8 to 11:30 p.m. on Friday, September 10. The evening also includes live burlesque and sideshow entertainment for the over-21 set, as well as refreshments. Tickets are $15 in advance or $20 the day of the event. If you feel inspired by buy some art while you're there, know that 25 percent of art sales will help an organization focused on mental health and wellness for at-risk youth, a fact that might inspire a wholly different set of words: acceptance, community, generosity, and peace.
Lynn Trimble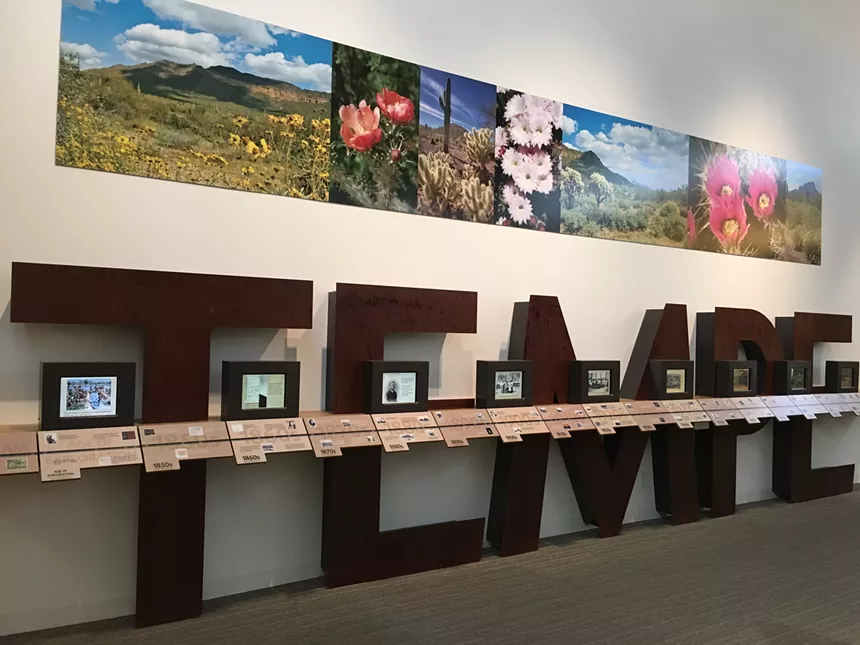 Natalie Gallatin Quartet
Maybe you're used to thinking of local bars or big arenas as your best music options around town, but it turns out that concerts are happening in some delightfully unexpected places from museums to front porches. The
Tempe History Museum
, 809 East Southern Avenue, Tempe, has a series called Performances at the Museum, which typically runs from September through May. On Friday, September 10, you can hear the Natalie Gallatin Quartet perform at 7 p.m., when they'll be highlighting the great American songbook. Every musician is a graduate student at ASU, and they'll be staying on after the concert for a Q & A with audience members who want to know more about their sound. There's limited seating due to COVID-19 protocols, and all patrons will be expected to social distance and wear masks for the event. If you've been wanting to broaden your horizons in terms of musical styles, or you're eager to support the local music scene amid the challenges presented by public health conditions, this is a great way to do it without spending a dime. The event is free.
Lynn Trimble
Suzi Q
When singer and bassist Suzi Quatro burst onto the British music scene during the '70s era, hard rock was still a man's game. The Detroit-born musician made it big in the United Kingdom and Australia, but didn't quite capture a broad swath of the American audience. Some recall her appearances on the TV sitcom
Happy Days
, where she played the perky Leather Tuscadero. But for most, her calling card is a 1978 song called
Stumblin' In
. Take a deeper dive into her life and times with the film
Suzi Q
, which shows the musician returning to Detroit as she reflects on challenges and triumphs experienced along the way. The film features insights and perspectives from Alice Cooper, Joan Jett, Deborah Harry, KT Tunstall, and others who had significant impacts on the era. It's being screened at
FilmBar
, 815 North Second Street, at 6 and 8:15 p.m. on Friday, September 10. Tickets are $11, plus fees. All that gel you use to bring the big hair on Saturday night is on you.
Lynn Trimble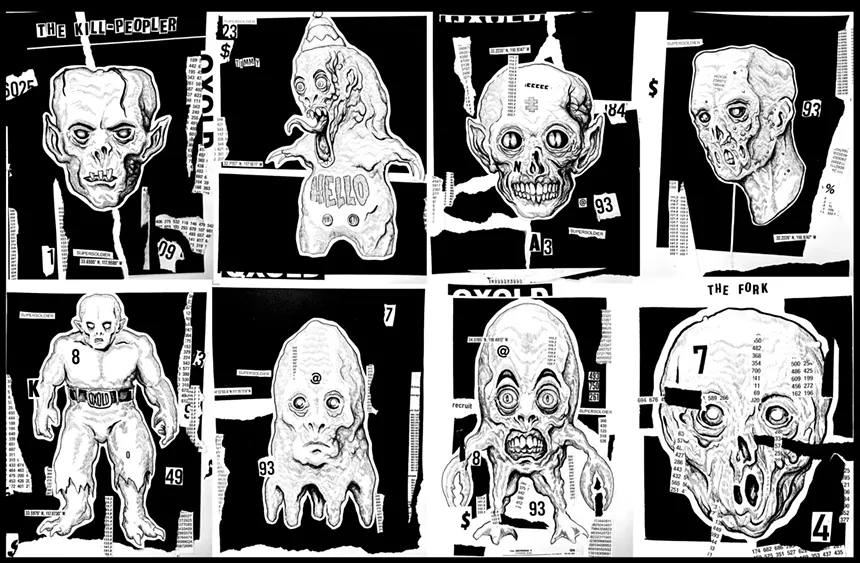 Zine Release Party

If you want to know what's happening in Roosevelt Row, take a good look at telephone poles covered with flyers, posters, and invitations. Odds are, you've seen work by artist James B. Hunt, who uses the moniker NXOEED, because his drawings have graced plenty of these unofficial exhibition spaces. Now you can see 100 of this prolific artist's works in a free art show and zine release party that kicks off at 7 p.m. on Saturday, September 11. It's coming to a creative space called
Azokoza
, 440 West Fifth Street, Tempe. In a city filled with polished artworks displayed in sparkling spaces, it's refreshing to see a show like the NXOEED Poster Morgue Retrospective, which reflects the everyday travels of a longtime staple of the underground art scene in Phoenix, whose work often references those he meets along the way.
Lynn Trimble
Fabulous '40s
Open a history book about the 1940s in Arizona, and you'll find a mixed bag of milestones. It was the era of Japanese internment camps, the launch of Motorola's first Phoenix site, the founding year for The Phoenix Symphony, and the start of Falcon Field in Mesa. It's a fascinating place to visit, if you want to take a trip back in time to explore World War II-era artifacts and history. From 10 a.m. to 1 p.m. on Saturday, September 11, you can join the official 80th anniversary celebration for Falcon Field, happening at Falcon Field Park and the Historic World War II Hangar, 4636 East Fighter Aces Drive, Mesa. The free Fabulous '40s Fair will include tours, aircraft displays, carnival rides and games, live performances, aviation-inspired activities, food trucks, and an aviation-themed photo booth. A brief official ceremony will take place at noon.
Lynn Trimble

Phoenix Mercury vs. Connecticut Sun
When the Phoenix Mercury host the Connecticut Sun on Saturday, September 11, at
Footprint Center
, 201 East Jefferson Street, it could be a preview of this year's WNBA Finals. The Sun currently top the league's standings, their spot in the playoffs has been a forgone conclusion for weeks, and ESPN is picking them as favorites to win it all. Meanwhile, the Mercury have made up a lot of ground in the second half of the season and are riding a nine-game winning streak and team leaders Diana Taurasi and Brittney Griner are both playing in top form. In other words, expect a hard-fought battle when the Sun and Mercury meet this weekend. Tip-off is at 7 p.m. and
tickets
start at $24.
Benjamin Leatherman
Punk Rock Flea Swap
Itching to do a little shopping without hitting the mall scene? Head over the
Yucca Tap Room
, 29 West Southern Avenue, Tempe, between noon and 5 p.m. on Sunday, September 12, where you'll find a flea swap featuring an eclectic mix of good stuff. Think art, collectibles, records, skateboards, zines, clothing, jewelry, and more. More than two dozen sellers will be there, including Desperation Skate, Eternal Noir, Pig City, and Wasted Ink Zine Distro. The swap is free, but you need to be at least 21 to attend. While you're there, check out all the murals painted by local artists in the Danelle Plaza that's home to Yucca Tap Room — and Laura Spalding Best's landscape painted decommissioned traffic signs.
Lynn Trimble
City and Colour
Singer songwriter Dallas Green sought to "siphon serenity from stress" on his sixth full-length studio album called
A Pill for Loneliness
, and now you can hear him perform its 11 tracks under the name City and Colour, a moniker that references the city and color in his given name. He'll be performing at the
Orpheum Theatre
, 203 West Adams Street, at 8 p.m. on Monday, September 13. The artist promises to bring the balance between eloquence and energy during this, one of several shows he's performing across the country in small, intimate venues. Tickets start at $41, and patrons need to show either proof of COVID-19 vaccination or a negative COVID-19 test result within 72 hours of the show.
Lynn Trimble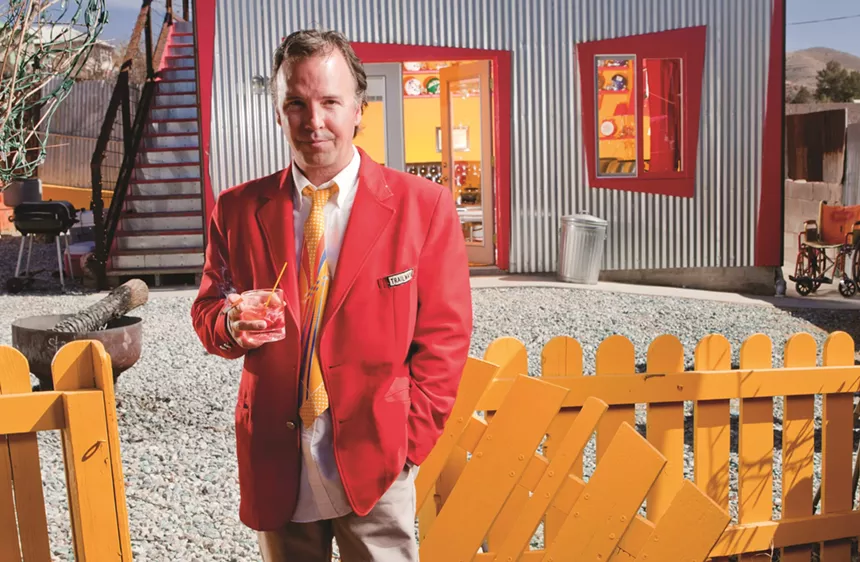 Doug Stanhope at Stand Up Live
Comedian Doug Stanhope is brutal, honest, and completely hilarious. When the stand-up veteran and Arizona resident takes to the stage, frequently with a cocktail in hand, he'll lay into politicians, celebrities, and the idiocy of people in general with mercilessly savage and profanity-laced barbs. Basically, he doesn't suffer fools easily. It's always funny, so you'll definitely be laughing if you attend any of Stanhope's sets at
Stand Up Live
, 50 West Jefferson Street, on Monday, September 13, or Tuesday, September 14. Just don't wind up in his sights. Start times vary and
tickets
are $45 each.
Benjamin Leatherman

Eating Our Way to Extinction
As forest fires and floods have ravaged American cities in recent weeks and months, there's been a lot of talk about human impacts on the environment. The impact of typical eating habits, and how food gets to our tables, doesn't get nearly as much attention. But filmmakers for a new documentary titled
Eating our Way to Extinction
decided to shine a light on the issue, in part by taking viewers around the world to see the interconnections between what people chose to eat and the perils of ecological collapse. Narrated by Kate Winslet, it features insights from indigenous people and scientists who see the dangers growing across the globe, in places like the U.S. Dust Bowl, Taiwanese mountains, and Norwegian fjords. Be one of the first people to see it on Tuesday, September 14, when it's being screened at 7 p.m. at the
AMC Esplanade 14
, 2515 East Camelback Road. Tickets are $13.58.
Lynn Trimble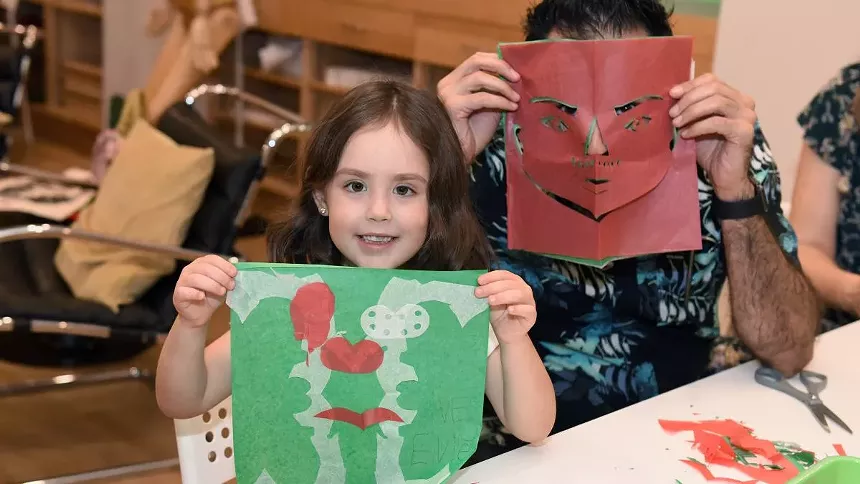 Mexican Independence Day
If you've been drinking margaritas on Cinco de Mayo, thinking you were celebrating Mexican independence day, here's a little history lesson for you: Mexicans actually celebrate achieving independence from Spain on September 16, recalling a Catholic priest credited with prompting a peasant march on Mexico City with the "Cry of Dolores." They'll be celebrating Mexican Independence Day at
ASU Art Museum
, 51 East 10th Street, Tempe, from 5 to 7 p.m. on Wednesday, September 15. Expect an evening of art-making, dance, music, and food that "highlights the contributions and culture of Mexican and Mexican-American communities in Arizona." Admission is free — and you'll need to wait on the margaritas until after you get back home.
Lynn Trimble
Phoenix Rising vs. Las Vegas Lights FC
Are the Phoenix Rising on the cusp of winning another United Soccer League championship? There are still a dozen or so games left to play in the current season, but things are looking good for the team. They've got one of the best records in the league (13-3-5 as of this writing), have won six out of their last 10 games, and are still unbeaten at home. The team will try to keep the streak going on Wednesday, September 15, when they play the Las Vegas Lights FC at Phoenix Rising FC Soccer Complex, 19593 South 48th Street in Chandler, and continue their momentum as they make a final push into the playoffs. Kickoff is at 7:30 p.m.
Tickets
start at $20.63.
Benjamin Leatherman