We're happy to say that officially into "gorgeous fall weather" territory. Make the most of it this week by getting out and doing something fun, like watching a concert at Desert Botanical Garden, observing Veterans Day, or filling up at a cook-off in Chandler.
Veterans Day Tribute
The
Heard Museum
, 2301 North Central Avenue, opened the country's first memorial dedicated to three centuries of American Indian military service back in 2012, and will be honoring the service and sacrifice of all who have served in the U.S. military in several ways on Veterans Day, Thursday, November 11. From 1 to 4 p.m., the museum will present live music by the 108th Army Band and works by veteran artists in its courtyard. At 5 p.m., the museum will present its ninth annual Veterans Day Sunset Tribute, which will feature distinguished speakers, the Hualapai Bird Singers, traditional drum, and the Color Guard from the Ira H. Hayes American Legion Post 84. The free event is open to the public. Also in recognition of Veterans Day, veterans and one guest can get free museum admission through Sunday, November 14. Regular admission is $23 (or $20 if you get tickets online).
Lynn Trimble
Gabriel Iglesias
COVID-19 pretty much wrecked everyone's plans for 2020, including those of comedian Gabriel Iglesias. His Beyond the Fluffy World Tour Go Big or Go Home tour was put on hold, forcing him to reportedly eat the cost of a ton of shirts and other merch he had made. As a kicker, the stand-up comic also was infected with the coronavirus, though he recovered. Iglesias is back on the road and will bring the tour to Footprint Center, 201 East Jefferson Street, on Thursday, November 11. He's promising an all-new set of material, including quips about his family, friends, and his bout with the virus ("I basically [quarantined] in the kitchen eating cereal," Iglesias
recently told the Arizona Daily Star
). And even though he's not as "fluffy" as he used to be, owing to the fact he's dropped more than 100 pounds since 2019, he'll still offer many jokes poking fun at his weight. The laughs start at 8 p.m. and
tickets
are $35 to $76.
Benjamin Leatherman
Music in the Garden
Typically, the music you hear while strolling through the
Desert Botanical Garden
, 1201 North Galvin Parkway, comes from birds that chip amid the desert plant life. But this time of year, you can experience a different type of live music, as local bands perform as part of the Music in the Garden outdoor concert series. On Friday, November 12, Americana singer and songwriter Namoli Brennet will be taking to the outdoor stage for two performances. Tickets are $29.95, which includes garden admission so you have some time to explore the lovely fall landscape before the show gets underway. Doors open at 5 p.m. for the 6 to 7 p.m. concert, and at 8 p.m. for the 8:30 to 9:30 p.m. concert. You can dine at Gertrude's before the show, or eat at the Patio Café during the performance if you want to add another layer to your garden experience. There will also be a full cash bar complete with a selection of boutique wines. Just be sure those chirping songbirds birds don't mistake your wine glass for a birdbath.
Lynn Trimble

Phoenix Afrobeat Orchestra
Experience live music on an intimate scale as
Tempe Center for the Arts
, 700 West Rio Salado Parkway, Tempe, presents a free concert by the Phoenix Afrobeat Orchestra as part of its 48 LIVE lineup. The 16-piece orchestra finds inspiration in the music of Fela Kuti and Tony Allen, longtime musical partners credited with creating the genre that's infused with a driving beat. Doors open at 7 p.m. for the 7:30 p.m. concert on Saturday, November 13. Launched by David Marquez in 2010, the band played its first shows in 2013. That's the year vocal powerhouse Camille Sledge, the band's leader, joined the group. Today, they have one of the region's most distinctive, compelling sounds. You'll need to register online if you want to attend. While you're at it, check out other local artists coming to the venue's new 48 LIVE series, where you can get a feel for the energy and diversity of the city's musical scene.
Lynn Trimble
Chuck Wagon Cook-Off
You might have a long list of things you don't love about the Old West, yet find yourself intrigued by chuck wagon-style foods. The National Cowboy & Western Heritage Museum in Oklahoma City describes the chuck wagon, where beans and biscuits were regular fare, as America's first food truck. According to the museum, it was founded by Charles Goodnight during early cattle drives out of Texas, and friendly competitions continue to keep the tradition alive. One of the largest events happens in the city of Chandler, where this year's Chandler Chuck Wagon Cook-Off happens from 10:30 a.m. to 1:30 p.m. on Saturday, November 13. Head to Tumbleweed Ranch at
Tumbleweed Park
, 2250 South McQueen Road, Chandler, if you want to watch the competition. You'll encounter period dress, equipment, and cooking methods that'll renew your appreciation for yoga pants and microwave ovens.
Lynn Trimble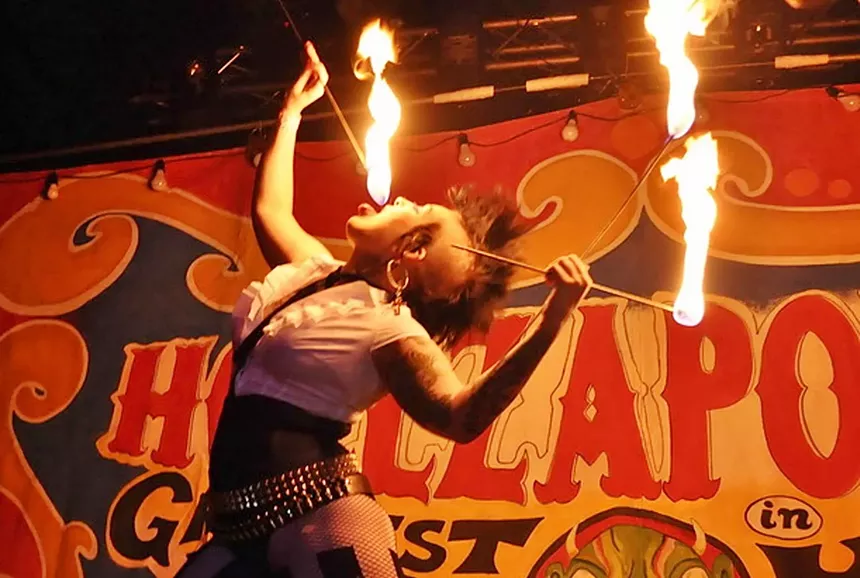 Hellzapoppin Sideshow Revue
If the thought of people swallowing razor blades, walking barefoot over broken glass, or drilling a corkscrew into their faces gives you the shivers, the members of the
Hellzapoppin Sideshow Revue
want to help you face your fears. As a matter of fact, that's the theme of the latest tour by this self-described "cavalcade of human curiosities," which features aerialists, daredevils, and other sideshow oddities performing astounding feats. Those willing to attend their latest stop in the Valley on Sunday, November 14, at Tempe's Marquee Theatre, 730 South Mill Avenue, will also witness such stunts as eye socket weightlifting, fire-eating, and sword swallowing. At only $23.50 per person for
general admission tickets
, it's cheaper than a therapy session. The odd action begins at 8 p.m. and
balcony access
is $35.25 to $47.
Benjamin Leatherman
Intro to Chakras
Maybe you've seen a series of chakra paintings by renowned artist Alex Grey on view at Mesa Contemporary Arts Museum, or you've been to a yoga class organized around the principles of chakras centering energies in different parts of the body. If you're intrigued by the concept but don't know much about it, you can learn some chakra basics with a Practical Intro to Chakras class that's being presented by
Fantasia Crystals
. The class actually takes place off-site at 10850 North 32nd Street, and you should be sure to RSVP online before attending. It's happening from 1 to 2:30 p.m. on Sunday, November 14. Instructor Neil Rasmussen has participants pay $15 cash when they arrive, so be sure you take exact change. Once you learn a bit more about chakras, you might begin to recognize more related images and ideas in your everyday surroundings or decide you'd really love to dig a bit deeper.
Lynn Trimble
Trivia Time

Trivia might be happening five nights a week at your house, if you're a loyal
Jeopardy!
viewer doing your best to adjust to life without Alex Trebek. But trivia's also fun in other settings, especially local bars and creative spaces around town where you can test your knowledge with friends and your favorite drinks. Over at
GenuWine
, 888 North First Avenue, #101, they've got a free Monday Trivia Night so you can start the new week off by testing your brain cells, altered as they might be after months of pandemic weirdness. The next brainpower bonanza happens at 6 p.m. on Monday, November 15. GenuWine suggests you bring your smartest friends along, then get ready for a bit of friendly competition. Alas, you won't get any extra points for showing up in a wacky Mayim Bialik blazer or a boring Ken Jennings tie.
Lynn Trimble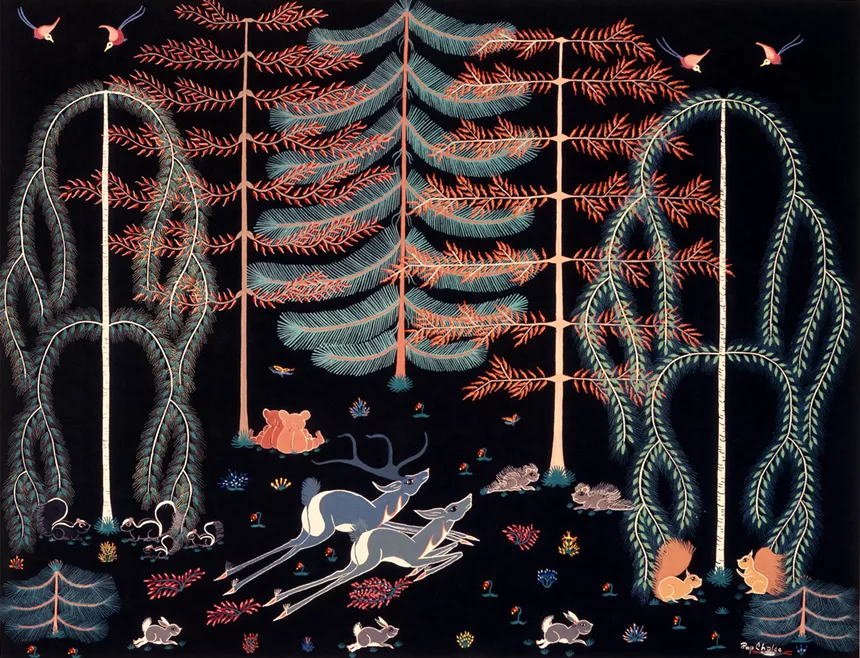 New Art Exhibit
Tourists who come to Phoenix this time of year often visit the
Heard Museum
, 2301 North Central Avenue, expecting to find endless variations of baskets, rugs, and pottery made by artists a long time ago. Then they're surprised to discover that the museum showcases a rich variety of contemporary works of art. If you're guilty of making the same assumption, head over to explore a new exhibition called "Remembering the Future: 100 Years of Inspiring Art," where you'll learn more about American Indian artists of the 20th and 21st centuries as well as their roles in several significant art movements. Everything in the exhibit is part of the museum's extensive collection. You'll see works by some artists with more familiar names, such as Allan Houser and Fritz Scholder, but also works by artists who might not be on your radar yet, such as Kay WalkingStick and Kent Monkman. Collectively, they counter the misconception that American Indian art is a monolith. Museum hours on Tuesday, November 16, are 10 a.m. to 4 p.m. Admission is $23 (or $20 for advance tickets online). The exhibit continues through January 2, 2023.
Lynn Trimble
Paint Holiday Ornaments
For those who like to deck the halls this time of year, making your own Christmas ornaments is a fun way to infuse the stressful holiday season with a bit of creative whimsy. Of course, crafting isn't all that relaxing if you feel like you don't know what you're doing. That's where crafting classes at local creative spaces like
Sunshine Craft Co
, 700 West Campbell Avenue, come in. It's a way to learn new skills while exploring your own style in a no-pressure environment. Sunshine Craft Co is offering a Painted Holiday Ornaments workshop from 6:30 to 8:30 p.m. on Wednesday, November 17, where they'll have everything you need to make three flat ornaments using Arizona state or ornament bauble shapes. It's being taught by creative Jennifer Duran, the founder of Pace Creative Design Studio. Registration is $55. Once you get home, you can get creative about where you hang your festive masterpieces.
Lynn Trimble