Halloween week is upon us, and there are plenty of cool things to do, both holiday-related and not. Over the next couple of days, you can attend the Monsters Ball at Alwun House, see
Mean Girls
the musical in Tempe, catch a couple of football games, and more.
Destiny Child

Mention animated films and most people think of titles like
Toy Story
or
Frozen
, but there's a wide range of animated cinema beyond the beaten path. Expand your film horizons with an animated feature titled
Howl's Moving Castle
, which was directed by Hayao Miyazaki, one of Japan's most prominent filmmakers. Based on a 1986 fantasy novel by British author Diana Wynne Jones, the movie is set in a fictional monarchy where a young girl working in a hat shop crosses paths with a mysterious wizard named Howl. The film tackles themes of destiny, love, and courage, while conveying feminist and anti-war sentiments. See a dubbed version of this fantasy adventure, complete with high-profile voices from Lauren Bacall to Christian Bale, at 7 p.m. on Thursday, October 28. It's being screened through Fantom Events at
AMC Westgate 20
, 9400 West Hanna Lane, Glendale. Tickets are $13.65. Of course, there's also a witch in the film, so it's especially fun to watch in the run-up to Halloween.
Lynn Trimble

Arizona Cardinals vs. Green Bay Packers
The Arizona Cardinals' game against the Green Bay Packers on Thursday, October 28, at State Farm Stadium, 1 Cardinals Drive in Glendale, could be seen as a showdown between two of the NFL's top teams this season, at least on paper. Both the Red Birds (7-0) and Packers (6-1) have big winning streaks going, ace quarterbacks (Kyler Murray and Aaron Rodgers, respectively), and top-ranked defenses. Arizona gets the edge, though, owing to Green Bay's thinning offensive roster after wide receivers Davante Adams and Allen Lazard were taken out because of COVID-19 protocols. The Cardinals are
5.5-point favorites
going into the contest, which kicks off at 5:20 p.m. If you can't swing the cost of a resale ticket (they're
currently starting at $195
), the game will air on the Fox network.
Benjamin Leatherman
Sunset Baby

Dominique Morisseau realized during college that there weren't enough theatrical roles for women of color, so she set about writing her own plays. Now her work titled
Sunset Baby
, which had its off-Broadway premiere in 2013, is being performed by the
Black Theatre Troupe
. The play imagines a former revolutionary and political prisoner reuniting with his daughter, hoping to secure a trove of love letters written by his wife while he was in prison. Based in Detroit, Morisseau's own parents have roots in Haiti and Mississippi. In 2018, she was named a MacArthur Fellow, joining the select list of "genius grant" recipients. Morisseau wrote the book for the musical
Ain't Too Proud: The Life and Times of the Temptations
, which opened on Broadway in 2019, and became the first Black woman to receive a Tony Award nomination for the best book of a musical. Show dates include Friday, October 29, when it's being performed at 7:30 p.m. at The Helen K. Mason Performing Arts Center, 1333 East Washington Street. Tickets are $44.
Sunset Baby
continues through November 7.
Lynn Trimble

Gang Life
So-called "cocaine hippos" have been in the news lately, as animal rights activists have sought protection for the animals that are proliferating in Colombia, decades after now-deceased drug lord Pablo Escobar illegally imported hippos into the country. Coincidentally, Escobar is also at the center of a play being performed by Stray Cat Theatre, which imagines a gang of girls who seek to conjure the narcotic trafficker's spirit from a Florida treehouse. Written by Boston-based creative Alexis Scheer,
Our Dear Dead Drug Lord
has been described as both "terrifying" and "hilarious." It's being performed at
Tempe Center for the Arts
, 700 West Rio Salado Parkway, Tempe. Tickets to the 7:30 p.m. performance on Friday, October 29, are $20. Take note: Stray Cat Theatre has a content advisory for this show, noting that it contains "adult language, adult content, and simulated acts of extreme violence." Not to mention all that teen angst, and a twist you won't see coming.
Our Dear Dead Drug Lord
continues through November 13.
Lynn Trimble
Jim Bob's Burgers
One of the biggest hallmarks of the Halloween season (next to all the candy) is the chance to adopt the identity of someone – or something – else. And you don't necessarily need to be a person to do it, as the folks at
Worth Takeaway
, 18 West Main Street in Mesa, demonstrate when they transform the eatery into a pop-up tribute to
Bob's Burgers
every October. It's called Jim Bob's Burgers (so named for Worth co-owner Jim Bob Strothers) and involves the staff dressing up as characters from the show and serving themed menu items. Such will be the case on Friday, October 29, and Saturday, October 30, during the
fourth edition of the pop-up
. Amusingly named burgers will be served, including a few taken straight from the show like the "Paranormal Pepper-Jacktivity," and "Texas Chainsaw Massa-Curd." Feel free to dress up and bring your erotic friend fiction. Hours are from 9 a.m. to 9 p.m. (or while supplies last).
Benjamin Leatherman
Doggie Dress-Up
For pet lovers on Instagram or TikTok, every day is doggie dress-up day. There's no need to wait for Halloween to haul out their pooch's collection of posh vests, hats, or booties. Even so, it's the perfect time of year to take it to the next level by dressing your canine companion in a fabulous Halloween costume, then heading over to the Dog Costume Party at
Hair of the Dog
, 3133 South Lindsay Road, #107, Gilbert. That's where dog lovers Randy and Marleen Duren started their neighborhood bar where you can get beer, cider, mead, bar snacks, coffee, or tea. The party starts at 2 p.m. on Saturday, October 30. That means you still have a bit of time to decide whether your fur baby should attend dressed as a zombie, a jalapeño, or a terrifying calico cat.
Lynn Trimble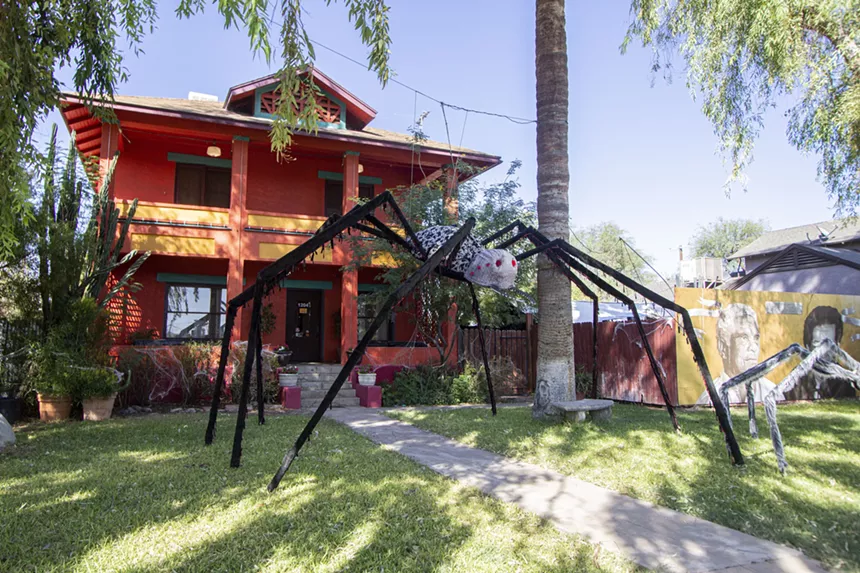 Monsters Ball
Now that you're too old to canvas the neighborhood with a pillowcase and a Disney villain mask, you might want to try something a little sexier for Halloween.
Alwun House
, 1204 East Roosevelt Street, is holding its Monsters Ball on Saturday, October 30, when the fun begins at 7 p.m. and goes until 11:30 p.m. The entertainment line-up includes a quartet called the Blood Feud Family Singers, vinyl tunes spun by DJ Rebot, and a kinky burlesque performance called the Ghoulesque Show. While you're there, check out the Monsters Menagerie exhibit filled with uncensored artworks meant to be provocative and profane. You can reserve a table for four for $250, which will put you close to the stage and set you up with a bottle of champagne. Or you can reserve a cocktail table for two for $120, or get a general admission ticket for $20. Alwun House will have a cash bar, in case you want to add some spirits to the mix. It's an age 21 and up affair, by the way, so the little monsters need to find another place to play that night.
Lynn Trimble
ASU Football vs. Washington State
There's just over a month left to go in college football's regular season and Arizona State University's football team is in great shape. The Sun Devils are tied for the
Pac-12 South's best record
at 3-1 with a definite shot at winning the conference and a probable bowl appearance in their future. They've got five games to go, all of which will be against conference teams, starting with a home game against Washington State on Saturday, October 30, at Sun Devil Stadium, 500 East Veterans Way in Tempe. The Cougars are
the underdogs
due to a variety of offensive issues, which means ASU has a good chance at adding another win during the season's final stretch. Kickoff is at noon and
tickets
start at $19.
Benjamin Leatherman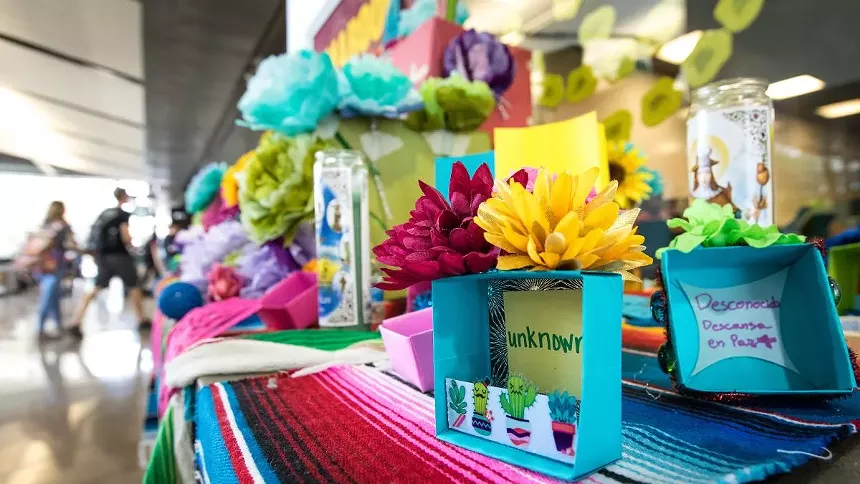 Day of the Dead
Celebrate Day of the Dead with a one-mile walk or run followed by cultural activities at the
ASU Polytechnic
campus, 7001 East Williams Field Road, Mesa. The Day of the Dead Walk with Ancestors event is happening from 4 to 6 p.m. on Monday, November 1. RSVP online before you attend. Bring along a photo of the ancestor you're walking to honor, which you can leave on a community altar at the Student Union building after the walk if you like. Student groups will be showcasing an exhibition inspired by migrant experiences and altars created to honor artist Frida Kahlo. The free gathering also includes painting traditional skulls, mariachi music, and food and drink. It's a chance to celebrate not only ancestors, but also community, arts, and culture.
Lynn Trimble
Apex Predator
Lions. Polar bears. Killer whales. They're all apex predators, renowned for being at the top of the food chains in their own habitats, where they kill for food instead of being killed and eaten. For some, recalling time in high school brings back memories of a different sort of apex predator: the mean girl who manages to dominate the social scene through intimidation and manipulation. It's perfect fodder for musical theater, where song and dance can deliver social commentary in entertaining ways.
ASU Gammage
, 1200 South Forest Avenue, Tempe, continues its 2021-22 Broadway Across America season with the musical
Mean Girls
, featuring book (parts spoken, not sung) by comedy great Tina Fey. It's directed by Casey Nicholaw, whose other credits include the smash hit
The Book of Mormon
. Opening night is Tuesday, November 2, when the show starts at 7:30 p.m. The musical continues through November 7. Ticket prices vary (and were nearly sold out as of this writing).
Lynn Trimble
The '90s Called

The 1990s gave us text messages and Tickle Me Elmo, along with accessories like fanny packs and scrunchies. On the music scene we got Nirvana and R.E.M., while film favorites included
Forrest Gump
and
Pretty Woman
. There were some ugly politics at the time, and national tragedies ranged from school violence to weather disasters. Still, it's likely you'll only think about the best things of the decade when you head to the '90s-theme public skate at
Great Skate
, 10054 North 43rd Avenue, Glendale. It's happening from 6 to 8:30 p.m. on Wednesday, November 3. Admission is $7 and rentals are $4.50. Go, have a good time. But maybe leave your Tamagotchi and Furby at home that night.
Lynn Trimble