The throng of thousands who invaded Indian Plaza in Scottsdale for the Sound Wave Block Party this past Saturday were definitely in the mood to move their bodies to the beat. And believe us, they had plenty of big beats to soak up.
Like the three previous editions of Sound Wave, which were held at Big Surf in Tempe, the event was awash in a sea of bright lights, hot sounds, and colorful partiers, not to mention a definite blithe spirit of revelry that EDM seems to encourage. And, of course, dancing, which there was an excess of during the day-long event that encompassed three stages and two nightlife venues (Maya and the WET Deck at the W Scottsdale Hotel).
Sound Wave has typically showcased some pretty premier talents from the beat-juggling world. And the 2013 version was no exception as such superstar DJs and EDM kings as Tiësto (who made his first Valley appearance in four years), Porter Robinson, Audien, Danny Avila and Deniz Koyu served as headliners. And every performer seemed to bring their respective A-games.
Tiësto worked the mixers hard and slung his explosive spectacle of electro, trance, and progressive stylings for more than an hour and a half (and even has Sound Wave's troupe of gorgeous go-go girls join him onstage).
Robinson, however, weaved together an intoxicating and exhilarating sound stew that included both club hits and high-energy tracks along with futuristic bass and a funky array of visuals from the titanic LED screens. Although one unidentified attendee generated a bit of drama by tossing his water bottle onstage (resulting in the DJ having to halt his set and quickly replace some malfunctioning mixers), it didn't kill the upbeat mood and high-energy fun of Robinson's set.
Meanwhile, a slew of superstars -- like progressive wunderkind Audien, the renowned DJ Craze, and dance music czars Sultan and Ned Shepard -- were busy working their own mixer magic throughout the dat over at Maya and the W, both of which were in close proximity to the main stage. Sound Wave's diverse selection of selectors, which ranged from electronica mixmasters to top turntablists, has always been one of its highlights.
And its setup and block party format this year (besides sorta symbolizing of how EDM has always straddled the club and festival worlds) also resulted in less of a walk for attendees between the various stages, which left plenty of energy for its neon-drenched attendees to dance. And believe us, they did a lot of dancing.
But don't just take our word for it, as we captured a lot of the movement of Sound Wave in 25 different animated GIFs of Sound Wave attendees shaking their groove thing, unleashing some impressive-looking popping and locking, feeling the beat, or even breathing some fire (seriously).
The One-Man Dance Party
Day of the Dreads
Want Some Fries With That Shake?
Sweet Moves
Nice Fro, Bro
Popped, Locked, and Ready to Rock
Hoop Dreams
Hot to Swat
Wait for It...
Masked Avengers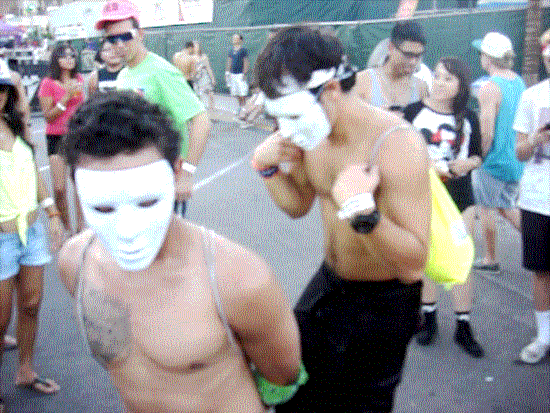 Jump Around
The Definition of a BAMF
Nerd Girl Gone Wild
Dude, She's Showing You Up
How Low Can You Go?
Big Top A Go-Go
Smoking It
Horsing Around
Keep Your Hat On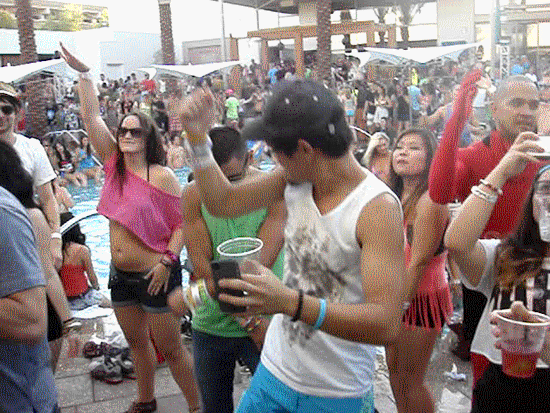 Fancy Footwork
The Gun Show
Flame On!
P.L.U.R. Energy
This is What Tiësto Does to People
See also: The People of Sound Wave Block Party, 9/21/13
We Believe Local Journalism is Critical to the Life of a City
Engaging with our readers is essential to Phoenix New Times's mission. Make a financial contribution or sign up for a newsletter, and help us keep telling Phoenix's stories with no paywalls.
Support Our Journalism
Find other DJ events and cool EDM gigs that are happening in Metro Phoenix this weekend via our comprehensive online concert calendar.
Top 40 Songs with Arizona in the Title 9 Tips for Using A Fake ID To Get Into A Show Here's How Not to Approach a Journalist on Facebook The 30 Most Disturbing Songs of All Time
---
Like Up on the Sun on Facebook or follow us on Twitter for the latest local music news and conversation.