Conventions dedicated to QAnon have lately been cropping up in major cities.
First, in May, followers of the far-right movement — which preaches, among other things, that a Satanic network of pedophiles controls the world — gathered at an upscale Dallas hotel. Now, another convention is scheduled for Las Vegas in October, with tickets priced at nearly $700 for the weekend.
And, as it turns out, three of Arizona's state legislators will be speaking.
Those legislators are: Rep. Mark Finchem, Sen. Sonny Borrelli, and Rep. Leo Biasiucci, all Republicans, and all known for their fervent support of Arizona's unending, conspiratorial election "audit," which is increasingly
entangled with
QAnon conspiracies.
The event's organizers — a group called
"Patriot Voice"
— have been promoting the politicians as "special guests" of the event (which is called the "great awakening weekend" and, alternatively, the "patriot double down").
Finchem is
particularly notorious
for his support of far-right conspiracies. A quick scroll through his Gab page turns up too many false claims to be counted, including posts that call the pandemic a "manufactured illusion" and vaccines a "crime against humanity." Finchem has regularly, and openly,
voiced his support
for QAnon — breaking from some other Arizona legislators, who have courted the movement
from a distance
.
But the Arizona GOP's planned presence in Vegas is a reminder of the extent to which QAnon has
infiltrated the Republican party.
The three Arizona speakers are scheduled to appear on an "audit superpanel," according to the event's organizer, John Sabal (better known by his alias, which is, yes, "QAnon John"). Sabal, an ardent QAnon supporter, has views that are sometimes even too radical for his fellow extremists: He was booted off a QAnon Telegram channel on Thursday for
calling for
"military mutiny" against Biden.
In an interview on a right-wing podcast this week, Sabal called the three Arizona legislators the audit "trifecta" — though added that he was disappointed that Sen. Wendy Rogers had not yet returned his calls.
"I'm waiting for her to reach back out to me," he said. "We'd love to have her as well."
Rogers, like Finchem, Borrelli, and Biasiucci, did not respond to multiple inquiries from
Phoenix New Times
regarding the event. Sabal and his organization, Patriot Voice, also did not return
New Times
' requests for comment.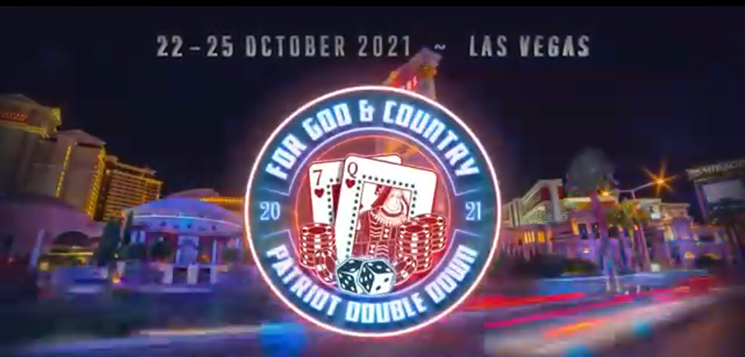 The legislators will be joined in Las Vegas by some of QAnon's most idolized figures, including George Papadopoulos, 8chan (now 8kun) owner Jim Watkins, and former national security adviser Michael Flynn, who
has become
a Q ringleader of sorts since his inglorious exit from the White House.
In a dramatic trailer for the event from earlier this month, Flynn tosses playing cards into the air as QAnon slogans — "Where We Go One, We Go All" — flash across the screen. The event's name, the "great awakening weekend," is itself a reference to QAnon's bizarre lore, which suggests that the imagined evil cabal of elites running the country is soon to be revealed and overturned.
Arizona's presence at the event is outsized: No other state legislators are slated to appear. Nevada secretary of state candidate and former legislator Jim Marchant was on the speakers' list as recently as last week, the AP
reported
, but he has since disappeared from the itinerary.
The Vegas convention is notable, says Alex Kaplan, a senior researcher with Media Matters for America tracking QAnon support among politicians, because of its open affiliation with QAnon — as opposed to other conservative events that merely
hint or wink
at the movement.
"They are explicitly QAnon," he told
New Times
. This was the case in the Dallas conference, too, which was also organized by Sabal.
In Dallas, some residents
roused opposition
to the conference: "They did not want us there," Sabal complained in this week's interview. The group had been forced to move to a new venue after the first one bailed. Not so in Las Vegas: It has been "smooth sailing," Sabal said. Caesars Entertainment, a major casino and hotel company, has happily allowed the group to use its convention space and famed "flamingo pool," and is offering guests discount rates on hotel rooms.
"The owner of the company knows about us," Sabal claimed. "And they're totally okay with what we're doing." (A Caesars spokesperson
told Forbes
last week that its events "are not indicative of the company's views.")
It's a sign, Kaplan said, of the increasing influence QAnon wields in conservative politics, despite efforts to crack down on the movement, and its
sometimes violent
tendencies. The ballot review in Arizona has drawn Q supporters to the state (
including
Cyber Ninjas CEO Doug Logan), but politicians who endorse the conspiracy continue to crop up across the country.
"You see Republican politicans interacting with it and pandering to it in order to get some type of political gain from it," Kaplan said. "And I think that's the bottom line with why some of them are going to Vegas."