18 Animated GIFs of Faygo-Fueled Juggalos and Juggalettes Gone Wild
Friday, June 7, 2013 at 3:58 p.m.
Juggalos and Juggalettes gathered for ICP's recent show at the Pepsi Amphitheatre.
Benjamin Leatherman
Wanna know what happens when you mix hundreds of raucous Juggalos and Juggalettes hyped up on hip-hop with gallons of Faygo and the wicked antics of the Insane Clown Posse? Probably the same sort of wild and sticky that ensued at the Pepsi Amphitheater up in Flagstaff when ICP brought its Mighty Death Pop! tour to the Northern Arizona concert venue recent.
Violent J and Shaggy 2 Dope, backed by a cadre of evil costumed clowns and other sinister figures deluged a teeming crowd with their trademark soda while blasting out some of their biggest hits, resulting in an epic rager of chaos and movement during ICP's headlining set. There was plenty of energetic moshing, Juggalos/Juggalette hijinks, and other whack activity during the rest of the evening (including during sets by horrorcore hip-hop artist Kung Fu Vampire and the country rappers Moonshine Bandits), which we captured in the following 18 animated GIFs.
Read More: - ICP's Shaggy 2 Dope Speaks: "There's Always Been Juggalos." - 20 Photos of Arizona Juggalos (And Juggalettes) Just Doing Juggalo Things
When Juggalos Attack Watch out for the pointy teeth
Tongue and Groovin' How's about a kiss? Promise he won't get any makeup on you.
Old School This is what happens when your father takes you to an ICP show. We bet he can kick Rave Dad's ass.
The Juggalette Jive Sorry boys, she's already taken
Put Your Hands in the Air Kung Fu Vampire waves 'em around like he just don't cay-ur.
Getting Psyched... ...Alongside Venom, who's apparently a Jesus freak now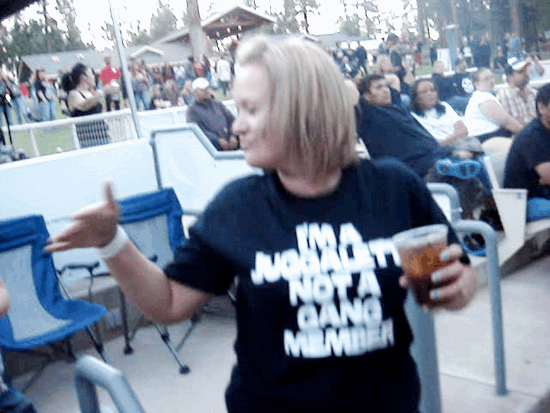 She's A Juggalette Not a professional dancer
Getting Sticky Wit' It A bizarre bucket brigade of ICP's masked minions douse the crowd with even more Faygo
The War on the Floor They may take our lives, but they'll never take our facepaint!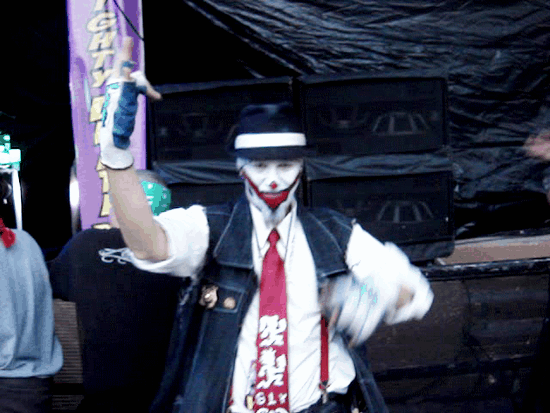 The Return of Juggalo Dad New Times cover boy Shawn Wolf in his element
Sorry Princess But your rave is at another venue.
Clowning Around More funky than the Hatchet Man
Dark Carnival Games Bounce around with your friendly neighborhood Juggalos
Pop Star Shaggy 2 Dope punts some Faygo like a sticky football
Grand Slam A Juggalo-on-Juggalo fracas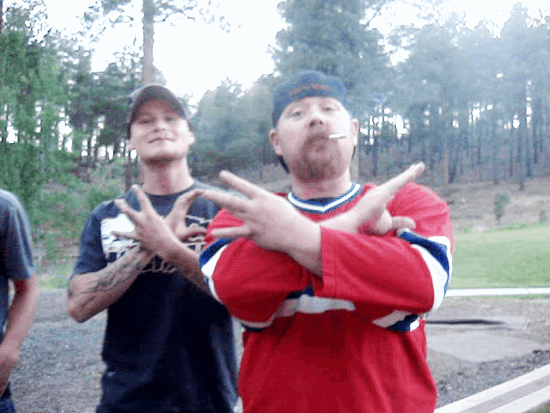 Whoop! Whoop! The mating call/rallying cry of Juggalos everywhere
Spray and Pray... ...That you won't stick to the car seat after getting hosed down by a clown
Birdbrained Just in case thing weren't already messy enough, ICP's crew tossed out a flurry of chicken feathers.
The Ten Most Metal Deaths of Metal Musicians The 10 Coolest, Scariest, Freakiest Songs About Heroin 9 Metal Stars Dead Before Their Time Can We Stop Inventing New Metal Subgenres? 9 Tips for Using A Fake ID To Get Into A Show
Use Current Location
Related Location
2446 Fort Tuthill Loop
Flagstaff, AZ 86001
Get the ICYMI: Today's Top Stories Newsletter Our daily newsletter delivers quick clicks to keep you in the know
Catch up on the day's news and stay informed with our daily digest of the most popular news, music, food and arts stories in Phoenix, delivered to your inbox Monday through Friday.