"My background is not in vinyl," Mike Esposito told me when I called to talk about his record shop last month. "I owned furniture stores, and collecting vinyl was a hobby. I started out really just wanting first crack at records before other collectors got to them. I'd buy a $20,000 collection so I could get some of it for myself, and I ended up with a lot of leftovers. It got to the point where I needed a place to sell the leftovers."
That place became
The 'In' Groove
, Mike's record store on East Thomas Road. I should probably be embarrassed to admit it, but the first time I walked into the place, my mouth actually watered. Here, at last, was a hyper-tidy, super-organized room full of records in extra-good shape. Sure, Mike's prices are a little higher than a lot of other record joints, but I defy you to find much in his bins that's not in near-mint condition. For many of us who've been collecting for a long time, that can matter.
Mike figures he began collecting records when he was 10 or 11. "My father gave me a box of his old records, and that kind of started things. I grew up in a relatively poor family, and records were cheap in flea markets. I was into music, and that was an affordable way to get some."
Back then, Mike was after classic rock — The Beatles, The Doors. These days, he's more interested in sound quality than in genre. "I consider myself an audiophile," he tells me. "That higher-end sound is what brought me back to vinyl. I'd started a family and didn't have time for music for a while there."
Today, his collection takes up four rooms in his house. He considers himself a choosy collector, not someone who piles up records just to have them. "If it's not something I'll listen to, it doesn't stick around."
Mike moved here from Florida 20 years ago and could never find a local record shop he really loved. "There was no place with a great selection of audiophile records or higher-end things. I wanted to open a store that I would also shop at."
He was inspired by the record shows he'd worked and shopped at in Europe, and by the music shops in London, which were curated, exceptionally clean, and full of high-end vinyl. Mike wanted something like that in Phoenix, and in 2015 he opened The 'In' Groove.
"I'd like to say we're a collectible-focused store, but it's not the case. We cater to everyone. A lot of local stores are great but they're not going to have Justin Bieber and ABBA. I carry that stuff. I don't listen to it, but I carry it. We have a lot of seasoned collectors and a lot of audiophiles, but people are coming in for Journey albums, too."
Those Journey albums are usually in sparkling condition.
"I have a major OCD issue," Mike confides. "That's part of the reason everything in our store is meticulous. I feel like, Who wants to thumb through a lot of crap records to find a good one? Some people criticize me for that, because the truth is a lot of people actually
do
want to do that digging to find the one gem."
Mike like to keep his customers happy, so he half-grudgingly offers neatly tended under-the-counter dollar bins for those shoppers who live for the hunt and don't mind a little ring-wear on their album sleeves. Mostly, though, his stock is spotless; both the LP jacket and the record itself are sleeved in antistatic plastic.
In addition to healthy sales at his extra-orderly shop, The 'In' Groove does a respectable online business. "It's crazy how many local people I sell to online," he says. "They live down the street and they want to buy online. That's the mentality in 2021. Groceries, cars, mattresses — everything is bought online now."
I tell him I'm worried vinyl music is a trend that will pass, that music fans will return to streaming or whatever.
"We're past trendy," he assures me. "Trends don't last for a decade, and vinyl has been selling again for that long or longer. We don't even know if we've hit peak vinyl sales yet, because there are so many people just getting started buying records."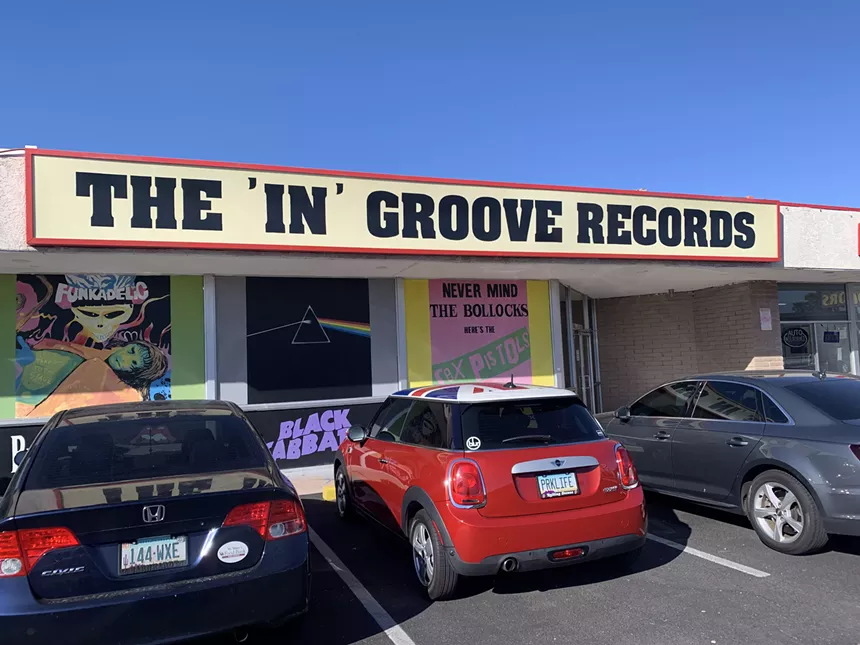 Mike and I bitch for a while about that sad time when the major labels stopped pressing music on vinyl.
"That was just straight up about the money," he says. "Digitizing the music ended up biting the record companies in the ass because it made the music more shareable on Napster later on."
"Remember when the major labels stopped taking returns on vinyl LPs in the late '80s?" I ask Mike.
He does. "That was the last nail in the coffin. It's what prematurely killed vinyl. It would have stuck around a lot longer if they'd kept our return allowances. The whole thing was just a huge cash grab by record labels."
I tell Mike it must be awful when people come in with a box of crappy, worn-out REO Speedwagon records and expect to get big bucks for them because they're "old." He says it's less an issue now than it once was.
"Unless it's Lawrence Welk or Mantovani or that kind of stuff, and if it's in decent shape, I can sell it in an hour," he explains. "A clean copy of Fleetwood Mac's
Rumours
is a $40 record these days. All that dollar-bin shit that was unsellable 10 years ago, like
Toto 4
and R.E.M. records and
Rumours
, you couldn't give those away. Now? That's bread and butter for a record store. If I buy an album by the Thirteenth Floor Elevators, it goes on the wall at a big price, but a bunch of clean Journey albums will go out on the floor and sell right away."
Yeah, I say, but don't people come in with scratched-up copies of Men at Work LPs and piles of David Rose records they found in Mom's attic?
"I have a very easy way of approaching that conversation," Mike says. "I tell them that just because it's old doesn't mean it's worth something. And then I say, 'Look, do you listen to Lawrence Welk?' That always works. They get it."
I heard Mike recently bought jazz great George Benson's record collection.
"That's right," he says. "A friend of his was tasked with finding the right person to buy it. He didn't need the money, he didn't want the records, but he wanted them to get into the right hands."
A big chunk of the collection was stuff Benson, who lives in the valley, had been given from fellow artists. So there were a lot of 12-inch singles from the 1980s, Mike says, and a bunch of hip-hop records that had probably belonged to Benson's kids. Mike was most interested in the old jazz records.
"There was a lot of great Blue Note stuff, some records on Prestige, a lot of bebop-era jazz." There was also a copy of Benson's
Breezin'
album, one of the bestselling jazz records of all time.
"That was cool," Mike says. "If you're a record guy, you've seen that album a thousand times before. But this was
George Benson's
copy of
Breezin'
."
Mike admitted he was planning to keep a good chunk of the Benson collection for himself. "George knew that," he says. "We sat and talked about the records, and I asked him questions about them, and he asked me questions about how well different things sell.
"And that's one of the perks of this job that I didn't count on when I started selling records."