^
I Support
Local
Community
Journalism
Support the independent voice of Phoenix and help keep the future of New Times free.
Guests of the Sheraton Phoenix Downtown Hotel -- not to mention the patrons of the Arizona Center and the residents of a few apartments building along Third Street -- got a bit of unexpected entertainment this past Saturday evening.
The uproarious Phoenix Annual Parade of the Arts rolled past each of the locations just after sundown and brought with it plenty of revelry in the form of the Village Blasting Club marching band and a number of funky floats and costumed participants, as well as the megaphone-wielding Dr. Reverend Stephen Strange leading the colorful cavalcade.
See also: Phoenix Annual Parade of the Arts 2013 (slideshow)
"Good evening guests of the hotel! This is the Phoenix Annual Parade of the Arts," Strange shouted out of his megaphone. "Thank you for coming out and checking us out. Hope you like the music!"
We're guessing that they must have, considering that we witnessed a few hotel guests clapping their hands and bopping along a little bit with the marching band's jaunty tunes while staring at the parade from their windows or along the sidewalk.
It wasn't the only movement to be seen, as parade participants strutted and danced as they followed Strange, who dressed as a cowboy and rode on a modified bicycle decorated with a plastic horse in honor of the event's "Weird, Wild West" theme along the three-mile route from the A.R.T.S. Market down to Monroe Street and back.
And there was also a variety of dance moves taking place at the A.R.T.S. Market before the parade, thanks to the local and visiting troupes of belly dancers, jugglers like Chase Archer, the members of the Heady Hoop Tribe, and other performances artists doing their thing on the adjacent outdoor stage at Bodega 420.
We got a bunch of footage and clips of some of the activity from both the parade itself and the pre-parade entertainment, all of which has been transformed into 13 different animated GIFs for your enjoyment.
Spin Session You spin us right round, baby/Right round/Like a record, baby/Right round round round.
Belly Dance Fever Can we get some fries with those shakes, ladies?
Blade Play Warning: Try not to get entranced by this hypnotic GIF.
Hoop Dreams This lass has some mad hula-hoop skills and awesome boots to, uh, boot.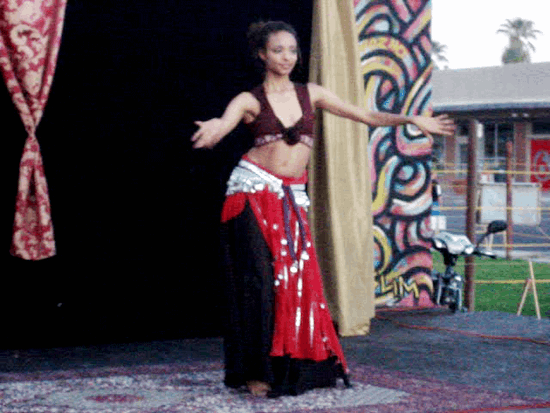 Rock the Cashbah Her Middle Eastern-style belly dancing routine has more bumps than an unpaved road.
Hi, Robot He's half human, half dancing machine, and a total blast to watch.
Juggling Gigolo Chaser Archer really knows how to handle his balls.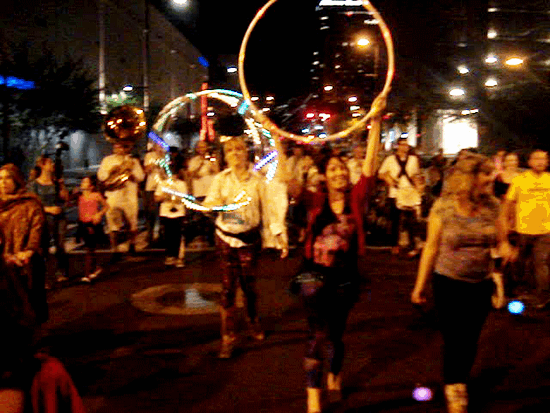 Electric Light Parade Who needs streetlamps when you've got these lasses leading the way?
Dance, Dance, Revolution We're getting dizzy just looking at this.
Plug 'n' Play This particular parade participant was rather electrifying. [RIMSHOT.]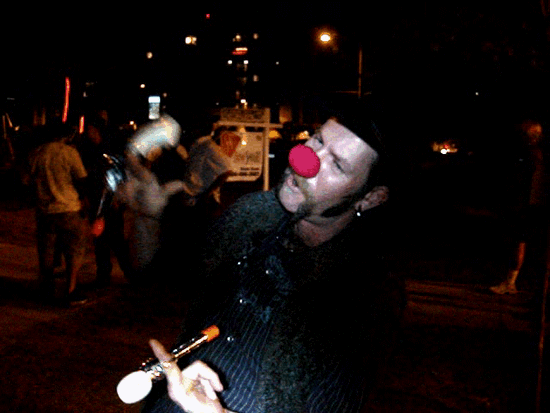 Cowboy Clown The fastest gun on Fifth Street, pardner.
Six String Silliness His strolling troubadour antics were entertaining enough to begin with before he busted out that tongue-wagging rock 'n' roll head shake for good measure.
Little Miss Sunshine Arguably the most jazzed-up participant in the parade. And the funkiest.
Follow Jackalope Ranch on Facebook, Twitter and Pinterest.
Keep Phoenix New Times Free... Since we started Phoenix New Times, it has been defined as the free, independent voice of Phoenix, and we would like to keep it that way. Offering our readers free access to incisive coverage of local news, food and culture. Producing stories on everything from political scandals to the hottest new bands, with gutsy reporting, stylish writing, and staffers who've won everything from the Society of Professional Journalists' Sigma Delta Chi feature-writing award to the Casey Medal for Meritorious Journalism. But with local journalism's existence under siege and advertising revenue setbacks having a larger impact, it is important now more than ever for us to rally support behind funding our local journalism. You can help by participating in our "I Support" membership program, allowing us to keep covering Phoenix with no paywalls.