Sarah and Zach Hartke spent the pandemic developing their coffee roasting business,
Wilderbloom Coffee Roasters
, at their home in Tempe. Both full-time engineers, the married couple used the side business as a creative outlet and an escape from endless emails and presentations at their demanding careers.
"We've been roasting for a lot longer than [a year] but just for ourselves," Zach says. "Last year, I think with everything going on, we put our time and effort toward something that we thought would be helpful to people."
They roast all their beans in a converted, "quarantined" part of their home using a one-kilogram roaster.
Shifting between engineering and crafting coffee is a natural transition for the duo, Zach says.
"Coffee is a big small moment of our lives," he says. "The first thing a lot of people do is make their cup of coffee. So, we wanted to make opportunities for people to have those small moments of bliss and small moments."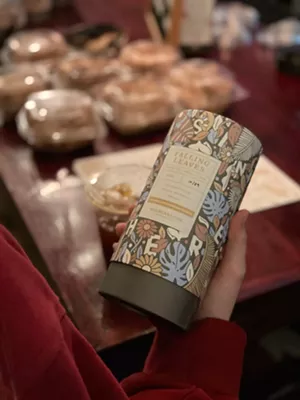 Wilderbloom Coffee Roasters is named for the way coffee blooms when it makes contact with hot water, and for the wilderness of Arizona that the Hartkes are passionate about. This theme extends through the flavor profile of the beans, like Falling Leaves, a washed Guatemala bean, and Steadfast, a smooth, Honduran decaf.
Wilderbloom celebrated its first birthday in November with a stylish pop-up hosted at
Pair Cupworks
in Mesa. Kimhak Em, part-owner of Pair and a micro-roaster himself, has been a key mentor in helping the Hartkes realize their passion and move the business forward.
"We're just really, really thankful for this," Zach says. "We've been growing Wilderbloom for a year in our private home and keeping it how we want it to be. But, this is the first time going into the world. ... We've just been met with crazy amounts of support and love, and we're just grateful for everyone."
Future plans for Wilderbloom is to continue roasting their small-batch goodness, connect with farmers, and build partnerships in Phoenix's robust coffee community. The Hartkes are hoping to plan a few more pop-up events. They are also working to land their goods on a few shelves throughout the Valley.
For now, the website is the primary source to buy Wilderbloom products. The Hartkes regularly rotate coffee offerings as inventory changes, so there's always something new to be found. They offer a $15 monthly Coffee Adventure box and coffee sets for the adventurous palate. Local delivery is also available.
Java lovers can keep up with Wilderbloom Coffee Roasters on
Instagram
.