Some parts of the Valley have better Mexican food than others. This well-known fact shapes expectations. Recently, I was looking for new places to eat near McDowell Mountains Regional Park — an enclave not known for Mexican food. It was happy hour when I sat down on the patio of
The Wandering Donkey
, just before management kicked a drunk dude out of the bar.
In the realm of food, expectations can be honed with experience, but they remain elusive. Gaps between expectation and reality can be thrilling to close. Exploring these gaps are one reason I'm drawn to trying new foods, new drinks, new places.
Expectations set, shift, and can even shatter.
At The Wandering Donkey, a polished, casual brick-and-mortar transposed from a food truck, the menu is deeper than expected. There's campechano tacos, lamb birria, Sonoran hotdogs, butter-poached lobster, and other specialities served up in a North Scottsdale strip mall.
Expectation shifts as I viewed this menu? Up.
Happily, I ordered a draft beer. It came out with a basket of chips. Each crunched with a tidal wave of salt. Expectations? Down.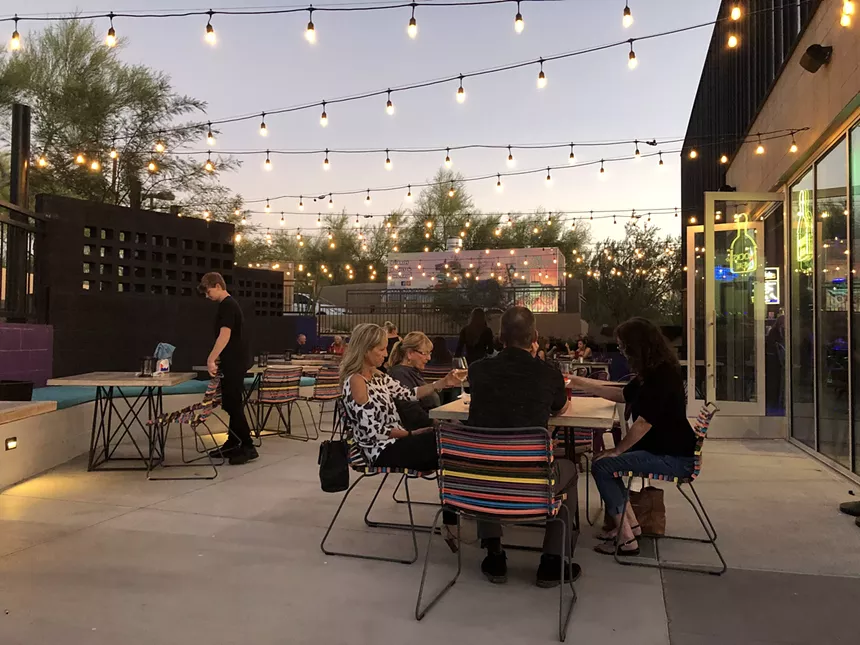 Dusk started to fall and the twinkle lights blinked on. Apparently, the patio, set low into the crook of a hill that's all parking lot and faraway mountains above, often fills with live music. My food came. The ribeye tacos that came in one of those accordion-like metal taco holders were alright — meat a little chewy, not much going on beyond beef, not too memorable.
But there was also this quesadilla. When I first saw it coming to my table, I thought it was a pizza. It was that big, covering a whole large plate. In reality, it was a wheel-sized quesadilla tightly zagged with crema, topped with sliced avocado at center, riddled with grill pocks, sliced into four pieces, and oozing cheese.
In my hands (yes two of them), the warm flour tortilla flopped. The queso Oaxaca did its molten, ultra-slow-mo leak, all milky tang and gooey thickness. Inside the outsize flour tortilla were shreds of pork butt stewed in a Sinaloan style with three kinds of chiles.
This quesadilla was good. Very good. The chile-thick sauce was suffused with rendered animal fat and had nice depth, the pepper notes long and the heat muted, showcasing the muscle and beauty of the chile from a restrained, less-common vantage point. The pork? Completely fall-apart. The flour tortilla was crisp from its toasting, fragrant, and a bit wafery, contrasting dramatically with the tender pork. And the queso Oaxaca functioned as only melted cheese can — but also kept the pork in place as I tore through.
This was one of the better quesadillas I've eaten this year, a truly unexpected find so far northeast. A really nice, surprising meal that hit every note. Sure enough, the dish exceeded my expectations.
Later, I called the restaurant to learn what I could. I expected that a grandmother had passed down the recipe, that someone had perhaps learned through years of practice, that maybe the chef (Ben Tasa, I would learn) proudly played this ace laboriously added to his deck during a long stay in Sinaloa.
I felt confident here. I even told my wife, who shared the overall so-so meal with me, what I was expecting. Again, I was dead wrong. One of the owners, Lance Smith, simply found the recipe on the internet.
The Wandering Donkey
10121 E. Bell Road Suit 150, Scottsdale
480-414-1212
Monday to Tuesday 11 a.m. to 10 p.m.; Wednesday to Thursday 11 a.m. to 11 p.m.; Friday and Saturday 11 a.m. to 11:30 p.m.; Sunday 10 a.m. to 8 p.m.