Purple glass forms rise up amid green saguaros at Desert Botanical Garden, one of two Phoenix-area sites showing artworks by renowned glass artist Dale Chihuly. They're part of "Chihuly in the Desert," a collaborative exhibition undertaken with Taliesin West in Scottsdale, where tall red forms interspersed with glass orbs ascend from a pool of water as if reaching for the desert sky.
The exhibition highlights the intersection of nature, art, and architecture, primarily through large-scale installations set outdoors and smaller-scale pieces shown in interior spaces. Several pieces were created specifically for this exhibition, which continues through June 19, 2022.
"What comes through here is nature as a source of tremendous inspiration," says Stuart Graff, president and CEO of the Frank Lloyd Wright Foundation. He's based at Taliesin West, which was designed by Wright as his winter home and desert laboratory for organic architecture integrating built and natural environments.
"What we're seeing is two masters who push their materials to the limit, and the conversations between their masterpieces," explains Graff.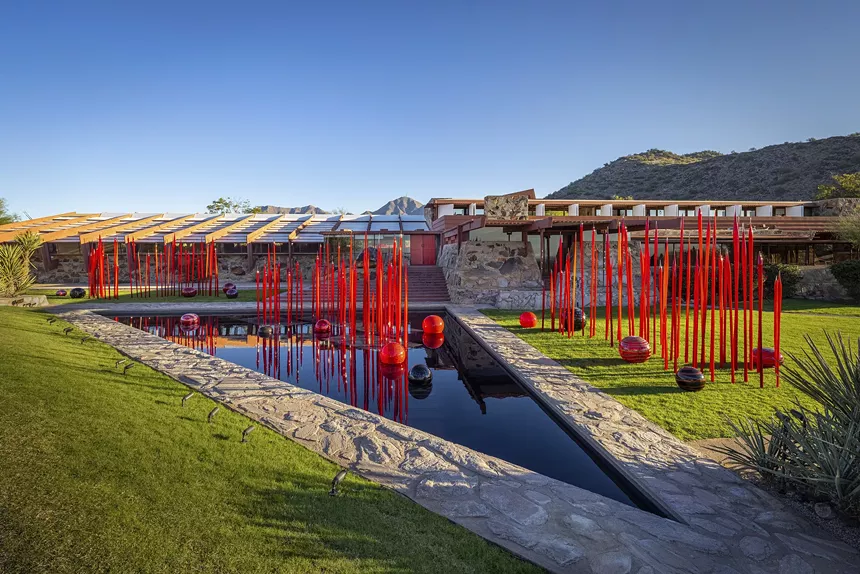 Taliesin West is showing five installations outdoors, where they interplay with grass, water, and desert plant materials. Inside a garden room, viewers see several of Chihuly's basket forms. General admission tickets for a 90-minute guided tour called In a New Light: Wright and Chihuly, which includes all six installations at Taliesin West, cost $49.
In January, the venue will launch a 60-minute self-guided tour held Friday through Sunday nights, which will feature five Chihuly installations with illumination. Select works are also visible during ticketed Sunsets and Sips happy hours at the site.
Desert Botanical Garden is showing Chihuly works in several outdoor spaces, as well as an indoor gallery space. Like Taliesin West, visitors can explore these works during the daytime or at night. For each experience, general admission tickets cost $29.95 to $39.95.
"It's really like seeing two different exhibitions," says Elaine McGinn, chief experience officer for Desert Botanical Garden. "We're finding that people are especially intrigued by the neon-lit tumbleweed they see after dark," she adds.
With "Chihuly in the Desert," Taliesin West is presenting the artist's work for the first time. For Desert Botanical Garden, the exhibit follows earlier installations of his work during 2009 and 2013.
His work was first shown in Arizona during 1982, when Phoenix Art Museum presented "Dale Chihuly: Glass" and Tucson Museum of Art presented "Dale Chihuly: Recent Works in Glass." In 2002, Phoenix Art Museum mounted another exhibition of the iconic artist's work.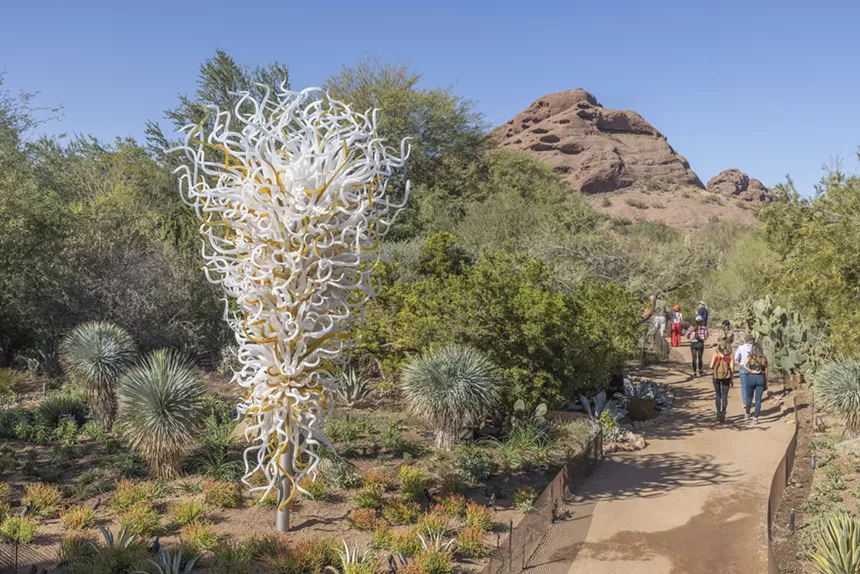 Chihuly's pieces are included in more than 200 museum collections around the world, by the way. Desert Botanical Garden owns the
Desert Towers
artwork comprising a trio of tall botanical forms located near the entrance to the garden.
This is just the latest collaboration for Desert Botanical Garden, and for Taliesin West. For several years, the garden has worked with Ballet Arizona to present performances on an expansive outdoor stage with desert plants and rock formations as the backdrop. Recent Taliesin West collaborators include CONDER/dance and Southwest Shakespeare Company.
Realizing this particular partnership was a multi-year process, according to McGinn, who recalls that a preview team from Chihuly's Seattle-based studio did a walk-through in September of 2019. She's especially excited about how the timing turned out, given all the shutdowns that venues and patrons have experienced due to Covid-19.
"We really wanted to come back with something special for the community," explains McGinn. "We know Chihuly's work makes people happy."
"Chihuly in the Desert" continues through June 19, 2022, at Desert Botanical Garden and Taliesin West. Get your tickets in advance on the exhibition website.